Bank holidays in India are dependent on various factors. The first most important fact is in respect to region. India is a diversified country with many beliefs and thoughts.
Different festivals and events are celebrated across different cities of India. Based on these regional jurisdictions, the bank holidays are altered. A person residing in Kolkata will have a different list of festive holidays, compared to the one residing in Bangalore.
Different banks have different holiday schemes, some nationalized banks are open on regional festive occasions, while the others remain close. The list of holidays specified by Punjab National Bank might well be different (slightly) from the list of holidays specified by Bank of India or any other bank. Different banks have different policies and the bank holiday vary according to them.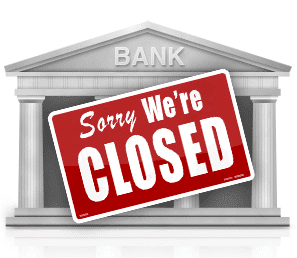 On events symbolized at a national level for instance, Republic Day, Independence Day, etc., the bank holidays are must. These Holidays are given in table below:
| S. no. | Date | Occasion |
| --- | --- | --- |
| 1. |  26 January, 2016 |  Republic Day |
|  2. |  1 April, 2016 |  Annual closing of Banks |
|  3. |  6 July, 2016 |  Eid Al-Fitr |
| 4. |  15 August, 2016 |  Independence Day |
|  5. |  2 Oct, 2016 |  Gandhi Jayanti |
|  6. |  11 Oct, 2016 |  Dussehra |
|  7. |  25 December, 2016 |  Christmas Day |
A new proposal has been floated to declare holidays on alternate Saturdays. No clear information however is still available, as it has not yet been implemented.
But, the alternate Saturdays (2nd and 4th) will be declared as bank holidays soon in the near future. So, watch your bank calendar or call your bank branch, in case you are uncertain about the functioning of the bank on a particular day.