Recurring deposits are growing in popularity, mainly because, it does not require a big initial deposit, to employ your money for additional returns. The post office has been one of the most trusted financial institutions over the years. The distinguished policies launched by post offices on behalf of the government are still luring, in spite of so many competitors in the market. In terms of recurring deposits, Indian Post Office features various advantages, which nationalized or private banks skip.
1. Get started with recurring deposits at just 10 rupees per month!
The biggest advantage is with respect to the minimum slab. Any customer can make an investment of just 10 rupees every month, in the recurring deposit scheme of the post office. 10 rupees is a nominal amount and is affordable by most Indians, who want to empower their future with the help of savings. Also, there is no upper limit on the amount of savings and people based on their capacity can realize an amount to be deposited every month, in their recurring deposit account.
2. Minors can also build their future
Indian families are quite dedicated to savings. A small child also has some savings, which will only depreciate, by holding them in a piggy bank. The post office scheme allows children below 10 years initiate the saving habit through a recurring deposit account, through the representation of an adult.
People above 10 years, still seen as minor in eyes of other financial institutions, can operate their recurring deposit accounts on their own, without the assistance of an adult. This is a very important feature incurring habit of saving from a tender age, which is so essential to building a bright future.
3. Completely functional like normal banks
The recurring deposit accounts of the post office are completely functional like the national and private sector banks. The post office also issues a passbook, which can be used to track the investments, as well as the growth of investments. One can also open a savings bank account in a post office and attach it with the recurring deposit account, to minimize the burden of depositing installment every month.
4. Flexibility of accounts
The recurring deposit account of the post office can be managed by an adult on behalf of a minor, it can be a joint account and it can also have a nominee. With such features attached to the account, there is a high percentage of flexibility on offer, in the recurring deposit accounts of a post office. Adding to this, people can easily modify or change these features, based on the requirement, which endorses furthermore flexibility.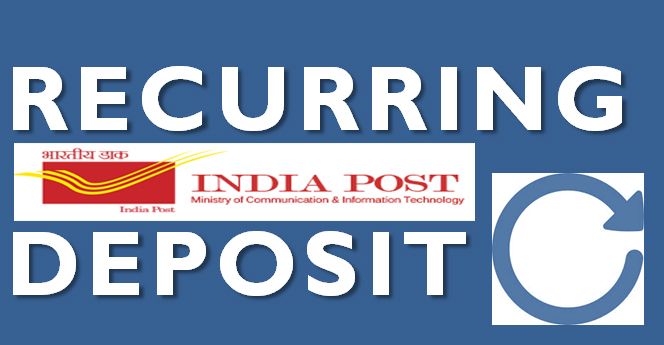 A customer of Indian Post Office can shift his/her account to any other post office, throughout India. Further, one can also open and access any number of post office accounts in India. These features further free customers from common restrictions imposed by the nationalized or private sector banks.
5. Tenure and interest crediting system
The deposits inclined towards the post office have a minimum tenure of 5 years. The tenure can be extended to another 5 years, after the completion of tenure, but the tenure cannot be decreased or increased, during the recurring deposit period. Lack of short term recurring deposit schemes, unlike some nationalized and private banks (of 1 year or 2 years) is slightly a backlog for the people investing in post office recurring deposit scheme.
The interest crediting system of Indian Post Office is the same as other banks. It is credited on a quarterly basis, at a fixed rate of 7.3% (current rate, may vary in future), immune to various fluctuations in the market, during the recurring deposit term.
6. Tax benefits
The government certainly promotes investments directed towards post offices. Post offices are actually a source of long term funds for the government. Hence, to promote investment in the post office, there are various schemes dedicated to this aspect.
Firstly, an investor is relieved from tax deducted at source (TDS), for the returns realized by recurring deposits. Following this, an investor gets special tax rebates under section 80L, which minimize the total net tax liabilities.
7. Liberal default schemes
If due to some reason, an investor fails to make a timely deposit of the installments, an investor is provided with a maximum of 4 windows to make-up for the defaulted installment. In case, an investor makes 5 or more defaults, the recurring deposit account will be written off. This scheme is still liberal on the investor, as it features 4-5 opportunities to retrieve the recurring deposit account.
8. High liquidity
Post office deposits are often associated with liquidity. They are by far the most liquid assets in the market. Premature encashment facility can be exercised after paying installments for the period of 1 year or more. The premature encashment realized will be in the form of a loan, which will attract interest as per the prevailing market rates.
9. Prepayment benefits
An investor can realize some concession or rebate if he/she decides to make a lump-sum prepayment of the installment. Any lump-sum prepayment of 6 or more installments receives a concession. For people with inconsistent income, this can be a good scheme to make-up for months with low or no income.
10. Overview
Considering the overall package offered by the post office, it can certainly be a good option for investors with big portfolios. One should always compare the interest rates and other benefits with respect to other nationalized banks, before moving ahead. Interest rate fluctuates based on market rate and the decision has to be on the basis of interest rates offered by other financial institutions.
Post offices can be the best investment pool for minors, particularly those, who have just attained 10 years in age. Make a wise investment decision by evaluating all aspects!