Do you have fixed deposit account at State Bank of India? Fixed deposit is indeed a safe investment option in comparison to investments in mutual funds or shares. State Bank of India offers excellent offers for the fixed deposit account holders.
If you are not satisfied with the services or it is the time of maturity, you need to close the fixed deposit account. Experts advise closing fixed deposit account only after the time of maturity if you want to prevent the extra charges.
But, you may face some instance when you need the money on an urgent basis. You are left with the only option to close the account bearing the extra charges.
If you have finalized to close the fixed deposit account, you need not visit the bank! You can close the account from your home or office or any other place. Every account holder must have proper info about how to close fixed deposit in SBI online.
You need to follow simple steps to close the Fixed deposit account in SBI online.
Steps to close the FD Account in SBI online
Step 1: Visit the official website of State Bank of India and enter the login User ID and Password. After you logged in, move to the Fixed deposit tab, click on the 'Tab' that mentions ETDR/STDR (FD).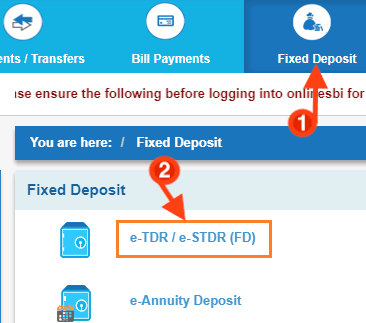 Step 2: Now select the type of fixed deposit account and click the proceed button.

Step 3: Select 'Close Account Prematurely' featured under the option ETDR/STDR (FD) tab. A new page will display the list of Fixed Deposits linked to the account. Select the FD account you wish to close and click on 'Proceed' button.

Step 4: Make sure to verify the details of the account before confirming to close the selected account. You need to specify the reason for deciding the close the Fixed Deposit account. Click on 'Confirm' button.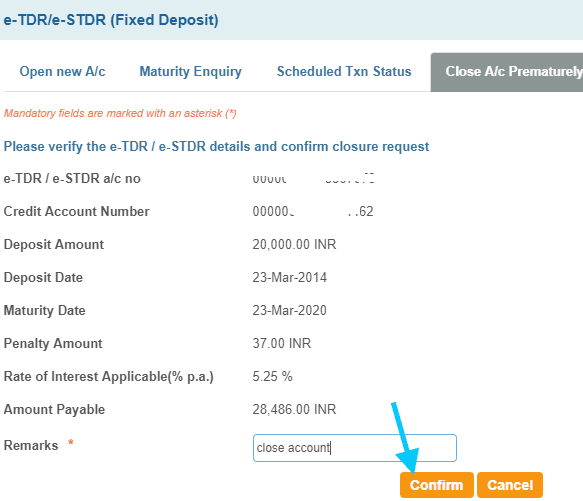 Step 5: You will receive a 'high-security password' on your registered mobile number. Enter the password in the box displayed on the screen and click on 'Confirm' button.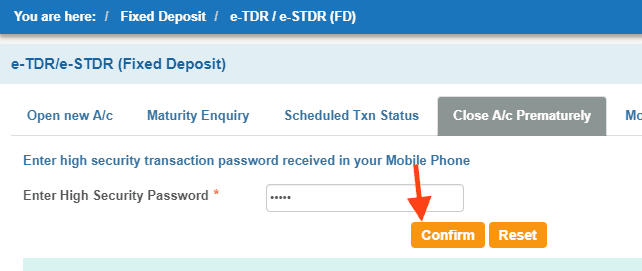 A message will get displayed on the screen stating; the selected FD account successfully was closed. The next step is to check the account linked with the closed FD account. Make sure the FD amount returned to the linked account.
Important Note: You will receive the FD amount after the deduction of the penalty charges.
You need not wait for long days to close the SBI Fixed deposit account. Accessing online and requesting for closing the account will take a few minutes. You need not even visit the bank and waste your time and energy.