Do you have an account with Union Bank of India? Do you enjoy the advanced banking services offered at the bank? If you are not satisfied with the services, you can close the Union Bank of India account and switch over to any other bank.
You may also have your reasons for closing the account. You can follow the step-by-step process to close the bank account. There is no any online option is available to close Union Bank of India account.
You have to visit a home branch to close your account with identity and address proof documents.
Steps to Close Union Bank of India Account
Visit the home branch of Union Bank of India and collect the Account Closure Form. Account closure form also can be downloaded from the official website.
Fill up the Account Closure Form completely, i.e., Account Holder's Name, Account Number, Mobile Number, Option to receive the account balance amount via cash, cheque or balance transfer to any other account.
And, at last, Signature of the Authorized person.
You need to deposit the form along with your Debit Card, Cheque Book, and Passbook.
You also have to submit your address and identity proof documents.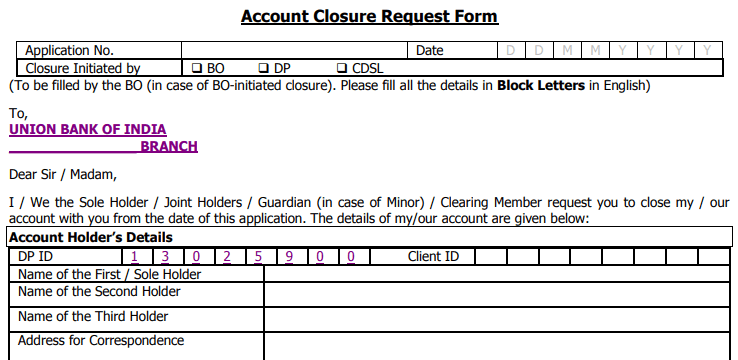 After submission of the required documents and the form, Union Bank of India will process your request for account closing. The bank will close the account after verification, and you will receive the account balance in the mode of payment as specified in the form.
Union Bank of India doesn't offer online option to close the account. You have to visit the branch and request to close the account following the steps. But make sure to take the final decision of account closing smartly.