Do you have an account in the State Bank of India (भारतीय स्टेट बैंक)? Maybe there are multiple reasons why you want to close the banking account that you have in SBI. If you wish to close your account in SBI through online means, then there are no such steps or processes. You need to go to your home bank branch and close the account that you have.
You can take the help of the net to download the forms that you require for such closure, but ultimately you will have to be at the branch where you opened your account. Over here we will be discussing how you can close the account that you have in SBI.
Things that you must remember before you close your account in the State Bank of India

There are certain things that you must make sure of before you close your account. The things to remember are:
If you close your account, you can never open an account in SBI
The account balance must be zero before you close it
If you have any dues to the bank, you must clear those before you intend to close the account
You need to take a complete bank statement before you close your SBI account
How to Get the account closure form?
You need to have a specified account closure form so that you can close your bank account in SBI. By being at https://retail.onlinesbi.sbi/sbi/downloads/PPF/Application_for_closure_of_account.pdf you can easily have the form or you can get it from the branch. You need to fill up the form carefully so that no mistakes are made.
Steps to be followed for closing the SBI account
There are basically three steps that you must follow to close the SBI account. Let us see the steps:
Step 1: Filling up the form: The account closure form has to be filled in without any mistakes. The following details have to be mentioned in the form.
Name of the account holder
The account number
Account holder contact number
Mention the process of transferring the remaining amount if any. You can choose any one of the following as per your wish, cash, cheque, DD or transfer to another account.
Signature of the account holder.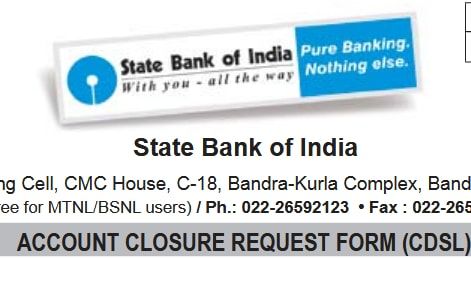 Step 2: Returning the debit card, passbook, and chequebook: You need to return the debit card, passbook, and chequebook that have been issued by SBI to the bank.
Step 3: The requirement of address proof: Some branches of SBI may be asking for your address proof of yours. So, it is prudent to keep it handy in case they ask for the same.
After the account is closed by SBI you will be receiving an e-mail at your registered e-mail address and also an SMS to your registered mobile informing you about the closure.
You can also call the toll-free number 1800 11 2211 or 1800 425 3800 if you face any problem with closing your SBI account.