Kotak Mahindra Bank (कोटक महिंद्रा बैंक) is a reputed bank in India. It can be said that you have an account at such a bank. But, it cannot be said that even though it is a reputed bank you always wish to continue having an account there.
The reasons may be many such as the bad behavior of staffs, higher interest rate or not having facilities which you can have from other banks that prompt you to the closure of such account.
It is good to say at the beginning that there is no such process where you can close your Kotak Mahindra Bank account online. You should always visit your home bank branch to close your account physically. Alternatively, you can take the online help to download the forms required for closing your account.
However, you need to visit your home branch where you opened your account. This read will help us in knowing the ways by which you can close your Kotak Mahindra Bank account.
Important things you should remember prior to closing your account
There are certain considerations that you must make sure before you close your account. The things to remember are:
If you close your bank account in Kotak Mahindra Bank, you can never open an account in KMB.
The balance in your account must be zero before the account closure.
You may have certain dues payable to the bank; you need to clear those dues first. After that, you proceed to close your account in Kotak Mahindra Bank.
It is prudent that you obtain a full bank statement prior to closing your account. This statement may be required in future.
 The process involved in closing your account
If you have decided to close your account, then there are certain steps involved that you should follow. Let us carefully check out those steps as mentioned below:
Step 1: There is a requirement of a stipulated account closure form to close your bank account in KMB. Visit the site http://www.kotak.com/account-closure-form to download the form or get form from branch.
Step 2: Proper filling up of closure form: The said form has to be filled up by the account holder without making a single mistake. You need to mention the below-mentioned details in the closure form.
Account holder name
The account number that you wish to close
The mobile number of yours
You need to specify how you intend to have the remaining money from the bank. You can opt for any either cash, cheque, DD or transfer the amount to another account.
The account holder signature must be done in the proper place.
Step 3: Surrendering your debit card, passbook and cheque book: The debit card, passbook and cheque issued by Kotak Mahindra Bank must be surrendered along with the closure form.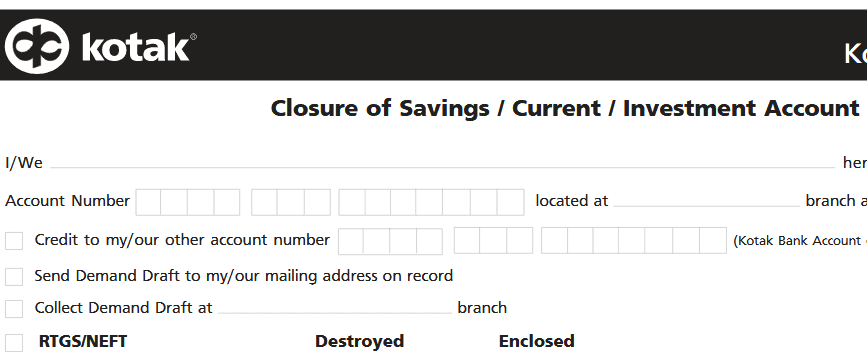 Important Note: If your account balance is lower than the minimum balance required to be kept in your account, you will get that transferred. However, for account balance below zero, the bank charges a non-maintenance fee as applicable.
Step 4: Prerequisite of address proof: It may be that the branch where you have your account may ask for an address proof so you must keep that ready with you.
If you have a valid reason for closing the bank account then definitely you can go forward. However, if there are no such reasons and you are closing it just for the sake of closing it, then you can give a second thought.
A bank account is necessary for a number of purposes such as it acts as a valid address proof. Also, a bank account statement is necessary for credit card approval or loan sanction. Therefore, you should think twice before you decide to close your account.