Kotak Mahindra Bank introduced a new age bank account Kotak 811. Downloading the Kotak Mahindra Banking App, you need to register using the Aadhaar number and PAN number.
If you are using Kotak 811 account, you must have provided other essential details while opening the account. You must be aware that the validity of this account is one year. To continue banking services with the account, you need to convert it to Full KYC Account.
If you are not satisfied with the banking services or don't wish to extend the services or want to close the account for any reason, you can get it done quickly. Unfortunately, you can't close Kotak account online, you have to visit the nearby branch to complete the process.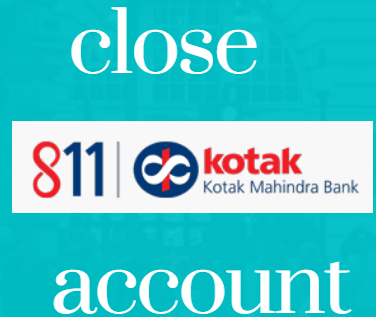 Way to close the Kotak 811 Account
To close Kotak 811 account, you need to visit the nearest Kotak Mahindra Bank.
Make sure to carry original ID Proof, Aadhaar Card, and PAN Card as well as a photocopy of the documents.
Request the bank official for an Account Closure form.
Fill up the form and submit it with the photocopy of the documents.
The official may ask you the original documents for verification purpose.
After successful submission of the account closure form, your request will get accepted.
It would take few days to closing the account. Make sure to bring the landline number of the branch. Account closing process may get delayed.
If it gets too late for closing the account, you can remind the official to get it done fast. You must transfer the account balance or preferably make the account nil before closing the account.