Bank of Baroda is one of the best nationalized banks offering advanced facilities to satisfy its customer's needs. The bank gives high efforts to meet the customer's needs thus has a successful establishment across the major cities of the country.
Do you have an account with Bank of Baroda? Are you satisfied with the services offered at the bank? If you are upset with the banking services, you can close Bank of Baroda account following simple steps.
Important Note: You cant close Bank of Baroda account online, but account closure form can be downloaded online. You have to visit a home branch to close the account.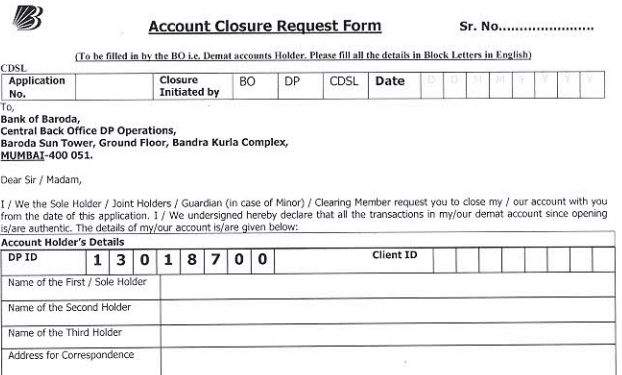 Steps to Close Bank of Baroda Account Offline
Visit the home branch, if you have finalized to close the existing account with Bank of Baroda.
Share your requirement of account closing at the 'Help Desk'.
The official representative will provide you with an 'Account Closure Form' or you can download it online.
Fill up the form without any mistakes mentioning the Account Holder's Name, Account Number, Mobile Number and the mode of payment you wish to receive the remaining account balance, i.e., cash, cheque or direct transfer to another account.
Duly sign the form after filling the form accurately.
While submitting the form, you have to surrender the passbook, chequebook and the debit card associated with the account.
You also need to attach the copies of Proof of Identity and the Address Proof along with the form.
After you submit the form along with the required documents, the bank will begin processing your request for account closing.
You will receive the notification about successful account closing on your mobile number.
The account holder will also receive the remaining account balance in the payment mode as selected in the Account Closure Form.
Bank of Baroda doesn't provide online option to request for closing the account. The account holders need to opt for the physical option to close the account.