Do you have an account with YES Bank? YES Bank is a popular commercial bank in the Indian banking sector with branches across the country. YES Bank delivers several banking services and products with an aim to meet the customer requirements.
YES Bank gives high efforts to satisfy its customers. However, the bank may not satisfy every customer. A situation may arrive when you will opt to close the bank account with YES Bank. There are several reasons when an account holder will take the final decision of closing the account.
If you have finally decided to close the account with YES Bank, you must learn about the way of closing it. You can't close Yes Bank online, you need to visit the branch to complete the whole process.
Steps to follow to close YES Bank account
Step 1: Visit the home branch or any other branch of YES Bank. Meet the executive and request for an Account Closure Request Form.
You can also download the Yes Bank Account Closure Request Form online from the official website of YES Bank.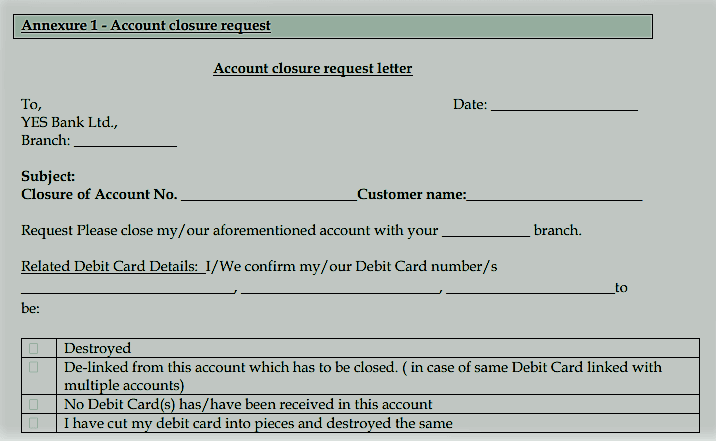 Step 2: Fill up the form providing Account Holder's Name, Account Number, and Mobile Number. You also have to select the option to receive the account balance amount by Cash or Cheque/Draft or Balance Transfer to any other Bank Account.
Verify the form and the details. After confirmation, undersign the form.
Important Note: You also need to return the debit card and chequebook as well as other documents received from YES Bank during account opening. The bank may demand the copies of the documents like Identity proof and Address Proof.
Visit the branch and surrender the bank documents along with the Account Closure Request form attaching the copies of the documents.
The bank will take some time to process your request. After verification, the request will get forwarded and processed. You will receive the balance amount from the account as per the option selected in the form.
The account will successfully close, and you will receive a notification. Before finalizing to close the account, you can think once again to find any other solution or option instead of closing the Yes Bank account!