HDFC Bank gives many facilities to its customers to make their work easy. The bank provides facilities like cheques, debit cards, Credit cards, and many other services. Different type of documents is required to maintain your account in the bank.
In a bank, sometimes you need a Cancelled cheque for various purposes. The cancelled cheque will be used for many types of financial work and loan purposes. To know how to write an HDFC cancelled cheque, you have to go through the whole article.
Why is a Cancelled Cheque Required?
When you buy a high-rated product on EMI, you need a cancelled cheque. You have to submit that cheque to the finance officer.
When you apply for a loan, insurance policy, or Trading account, you require a cancelled cheque.
To register with the electronics registration service, you need a cancelled cheque.
When you start a mutual fund or provident fund, you need a cancel ed cheque.
These are all the purposes where you required a cancelled cheque. If you have any other purpose where you need to submit a canceled cheque and do not know how to write the canceled cheque, then go through the process below.
Steps to Write HDFC Cancelled cheque
To write a cancelled cheque, you need to pick a fresh cheque leaf from your HDFC Cheque book and never put your signature on the cheque.
Next, you have to draw two parallel lines across the cheque.
After that, you need to write the word "CANCELLED" between the parallel line in the capital letter. An example is shown in the image below: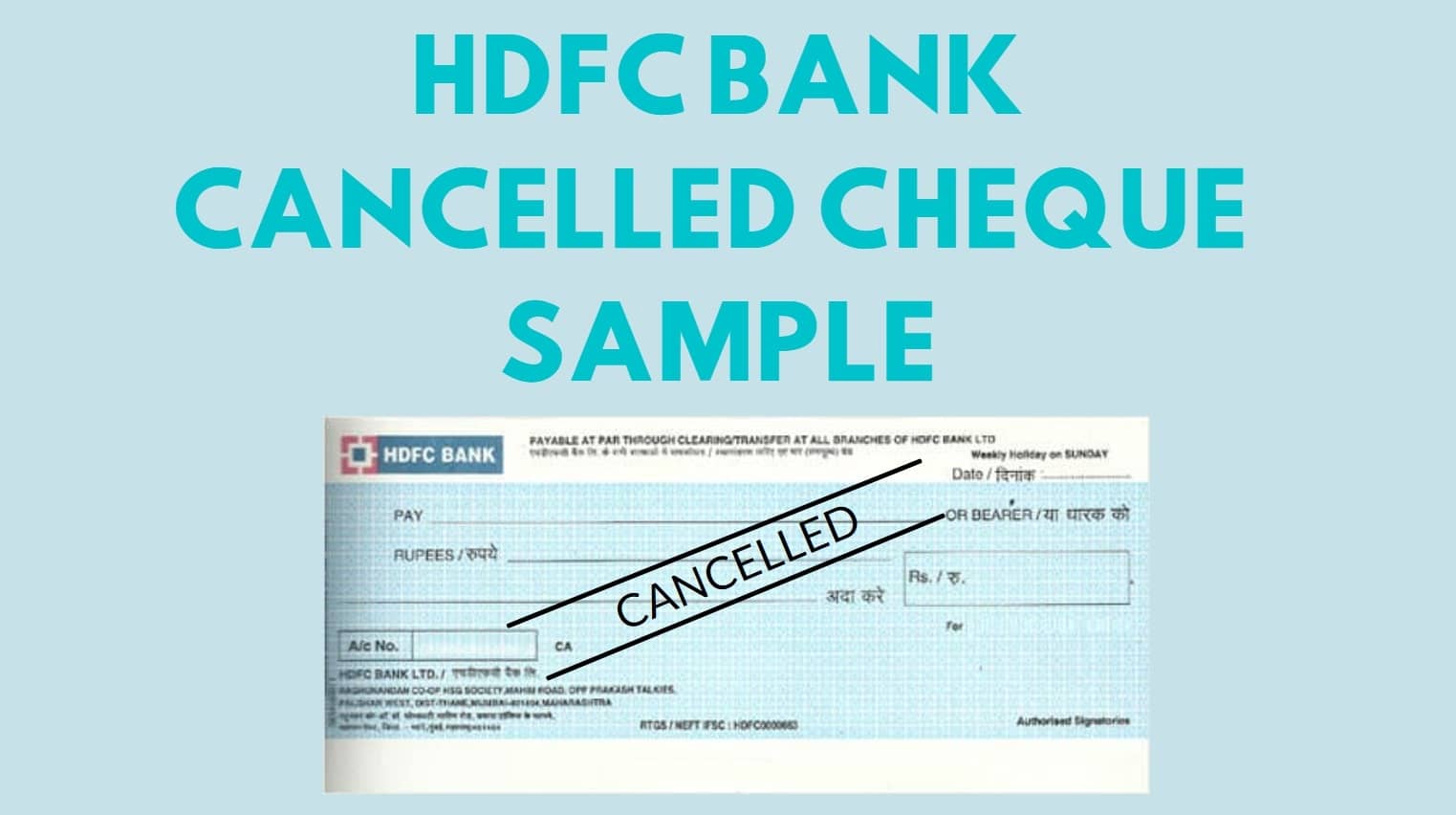 Important Note: You have to make sure that the parallel line should not cover details like account number, account holder's name, MICR code, name, and address of the bank on the cheque.
A Cancelled check can be needed at any point in the future. But you have to ensure that for the purpose why you need an HDFC canceled cheque. A cancelled cheque is specially used for loans, credit, or takes some product on EMI.
It is also required when you start an investment in a mutual fund for your future. You need to submit the cancelled cheque to the bank officer who will help you to create a mutual fund. An HDFC cancelled cheque is also needed in the process of clearance of an EMI. You need to submit some cheques to the finance officer when you are taking some product on EMI.
That cheque will be canceled after every payment of your monthly EMI. The financial officers very much need these cancelled cheques as they maintain their data through it. And they will have the right to withdraw money if you did not pay your monthly EMI of your product.