Do you know how to make a Cancelled cheque? If not, then you have come to the right page. Cancelled Cheques play a vital role in the banking sector. It has become dealing with the banking issues easier than usual with the modernization of days.
You can get your account details, passbook updates, credit and debit information, cheque details, order cheques, and many other things online. But have you ever thought about why people would need canceled cheques in the first place? If you do not know, then you can check the following article for the details.
Why are Cancelled Cheques required?
You must have heard that people need cheques from the respective banks to deposit or withdraw money. But what could be the exact possible requirement of Cancelled cheques?
Well, canceled cheques are of great use to the banking sector. It is a bank and customer thing where it comes to action for proving your account's existence. There are times when you decide to open a second account in the same bank where your current account exists.
The bank asks for proves of your present-day active account's existence in the bank. You cannot prove it in any way unless with a cheque. A cheque with your signature on it is more vulnerable than an open chest of gold.
You need to provide the bank with a Cancelled check of your existing bank account. The bank can also ask for a Cancelled cheque for various other purposes like taking bank loans, home loans, making investments in different banking sectors, including insurance policies, stockbroker Zerodha, and even mutual funds.
You might also need to make a canceled cheque for electronic clearances in the bank. But the main question remains unanswered, which is how to make a Cancelled cheque. Continue reading the article to know Cancelled Cheque Format with Example.
Ways of making a Cancelled Cheque
When it comes to making a Cancelled cheque, the first and foremost thing you should keep in mind is never to sign on it. If you sign a Cancelled cheque anytime, then it starts becoming more vulnerable to the world, which can even leave you bankrupt.
There are mainly two different ways to make a Cancelled Cheque. One is for offline purposes, and the other one is for online purposes. Let's go with the offline method of making a Cancelled cheque with the format as well as an example:
You will have to grab a cheque from the respective bank with your name, account number, and other details printed on it.
The next thing you will have to do is draw two parallel lines across the cheque leaf, cutting it over.
You have to write "CANCELLED" in capitals in between the parallel lines.
But you need to make sure that the details printed on the cheque do not get covered.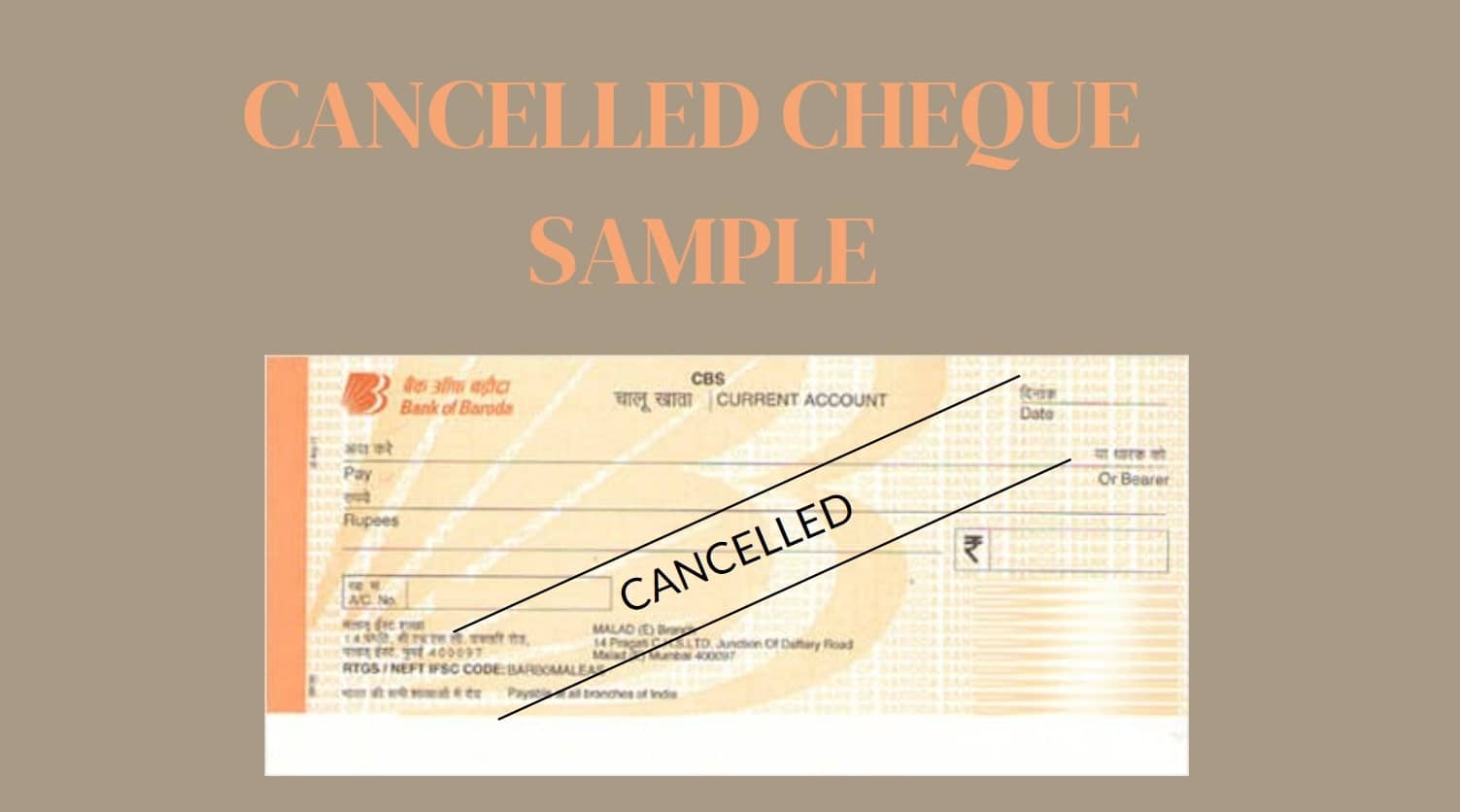 It is time to know the online procedure where you do not make the cheque Cancelled but order it online.
The bank takes copies of your Cancelled Cheque once in all for the use of 7 years.
It would help if you started working on online banking services from home.
You can visit the customer service section and click on "order copy of the check."
Choose the type of cheque and your account for the detailing.
After following the above steps, you can quickly get a Cancelled cheque online. Both the online and offline processes are easy and convenient for bank uses.