Do you have an account with Punjab National Bank? Do you use the cheque for making payments or withdrawing cash? Business persons mostly use Cheque Books for making payments.
The bank provides a booklet of Cheques upon account opening, but the cheque slips are limited. If you most often use cheques as the means of transaction, soon the Cheque Book will finish.
You need to request a new cheque book to avoid uninterrupted transactions. PNB introduces different options for the account holders to require Cheque Book.
Different ways to obtain Cheque Book in Punjab Nation Bank
Method 1: Request PNB Cheque Book Through Internet Banking
Step 1: Login your PNB internet banking account. From the top menu, click on other services and scroll down to the service request.

Step 2: Now in the Service request, select new requests and click on OK button.
Step 3: In request type, click on request new Cheque Book.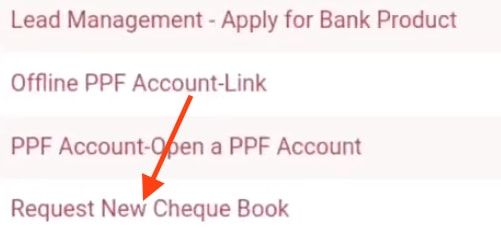 Step 4: Next select your account and choose the number of Cheque leaves, then click on submit button. Finally, you have to confirm the details by entering the transaction password.

Method 2: Request PNB cheque Book through SMS
PNB introduced SMS banking services. There is a unique code which you need to send to a dedicated number to request Cheque Book.
Type SMS in format 'CHKBK ACCOUNT NUMBER MBANKING USERID NUMBER OF LEAVES FOR CHEQUE BOOK' and send it to 5607040 or 9264092640 from the registered mobile number.
If mobile number did not register Read: How to register mobile number in PNB account online
Method 3: Request PNB cheque Book by Calling Customer Care
You can dial the customer care number 18001802222 and follow the IVR options and request for the New Cheque Book.
Method 4: Request PNB Cheque Book by Visting Branch
Visit your home branch and get Cheque Book request form from the counter. Fill all necessary details in the form and put your signature in required place. Finally, submit it to the bank.
Important Note: If you have the Chequebook, you can turn to the middle of the booklet. You will find a page which you need to fill up and drop in the cheque drop box. Within few working days, you will receive a new Cheque book at the postal address as per the records of the bank.
Requesting for a new cheque book is quite more accessible these days! If you missed seeking Cheque book when opening the account, you could obtain the same later. Upon your usage, you can request a new Cheque book with 25 slips or 50 slips.
Any account holder can access either of these options. It is convenient and straightforward to ask Cheque book. You can either opt for the modern methods or select the traditional methods.
Make sure that you obtain the Cheque book before your financial transactions get interrupted due to unavailability of cheques!