Punjab National Bank (पंजाब नेशनल बैंक), commonly known as PNB, is India's leading multinational bank and financial service company. The bank is a state-owned based corporation in New Delhi.
At present, the bank has more than 80 million customers, 10,681 ATMs and 6,937 branches across the country. It proves how much good services the bank provides its customers. The bank has many international branches.
However, with the rapid expansion of technology the bank has also introduced the latest technology-based services like mobile banking services for its valuable customers.  The mobile banking service saves the valuable time of the customers.
No need to wait for a long time in a queue in the bank, just register your number with the bank and avail the benefit of the mobile banking service. Whether you are a new customer or old one, it is very urgent to know the exact procedure about how to register your mobile number with your bank account number.
You may follow any one of the following methods for registration of your mobile number in Punjab National Bank:
Method 1: Register Mobile Number By visiting PNB Branch
Visit the nearest PNB branch and fill-up the mobile number registration form and submit the form to the appropriate staff. After a few days, the bank will register your mobile number.
You can get register your mobile number through ATM and calling Customer Care also. So here we are describing a few steps which would help you to Register Mobile Number with PNB Bank Account For SMS Alert.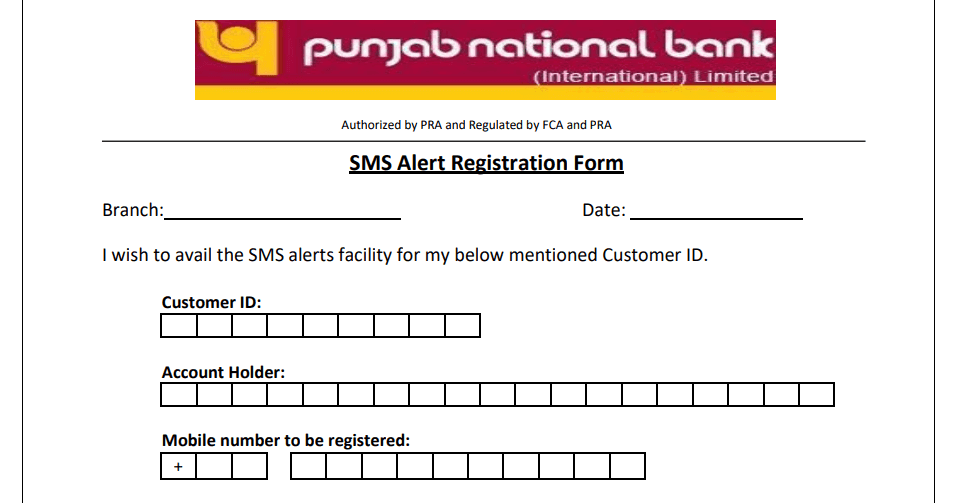 Method 2: Register Mobile Number by calling Customer Care
Another easy to register your mobile number is the contact of Customer Care:
From your mobile number call Customer Care at 18001802222,
One of the PNB's representative will authenticate the After successful authentication your request for mobile number registration will be accepted,
After some official formalities, your number will be registered for banking services.
Method 3: Mobile Number Registration from PNB ATMs
Insert your debit card or credit card in the PNB ATM machine,
Carefully press your ATM PIN number,
Choose 'mobile number registration' option,
Now enter the mobile number that you have used to open your bank account,
For confirmation input your mobile number again,
AT last, select your account type: you are now ready for accessing the mobile banking facility of PNB.
| Services | Contact details |
| --- | --- |
| Toll-free Customer Care number | 1800 180 2222 or 1800 103 2222 |
| Email ID | [email protected] |
| Landline Number | 011-28044907 |
Now, you are ready for taking the advantages of multiple services like SMS Alert, your transaction history i.e. withdraw and deposit in the account, information on Cheque deals etc.