ICICI Bank is one of the largest multinational banking and financial service providers in India with headquarter in Mumbai. If you are looking for a method to change your mobile number in ICICI bank online then you have come to the right place.
As an ICICI bank customer, you definitely have the privilege of using net banking that gives you the freedom to carry out your banking transactions online from any corner of the world.
Let's go step by step on how to update the mobile number in your ICICI bank account using the Internet and other methods.
Method 1: Changing Mobile number online
1. To do this, you need to visit this page – http://www.icicibankrefer.com/user/changeMobileNo.php.
2. When you go to the page, you will find the option to change your mobile number. You will be required to first enter the 'email address' that is registered with the bank.
3. Next, you need to enter the 'old phone number' that you already have register with ICICI bank. Below the old number, you will enter the 'new mobile phone number' that you wish to use from now on.

4. After you have filled in the required details, click on the 'submit' button. You have successfully requested the change of mobile number in your ICICI bank using the Internet.
You will get an email on your registered email id regarding the same, and your mobile number will be immediately updated.
Update 2023: They have discontinued Registering and changing through Customer Care and internet banking due to security reasons.
Method 2: Visit the nearest ATM
You can also change the mobile number in your ICICI bank online from the bank's ATM without having to visit the branch.
You simply need to visit any ICICI ATM that is located close to your home. When you are there, insert the ATM card and enter your 'pin code' to proceed.
On the Home screen, you will find 'more options' that allow doing perform various banking activities.
On the next screen, you will find an option that says 'Register your mobile number'.
You will need to enter your new mobile phone number and select 'yes'. The system may ask you to again enter the mobile phone number to confirm the details. Your new mobile phone number will be updated to your account within 2 working days.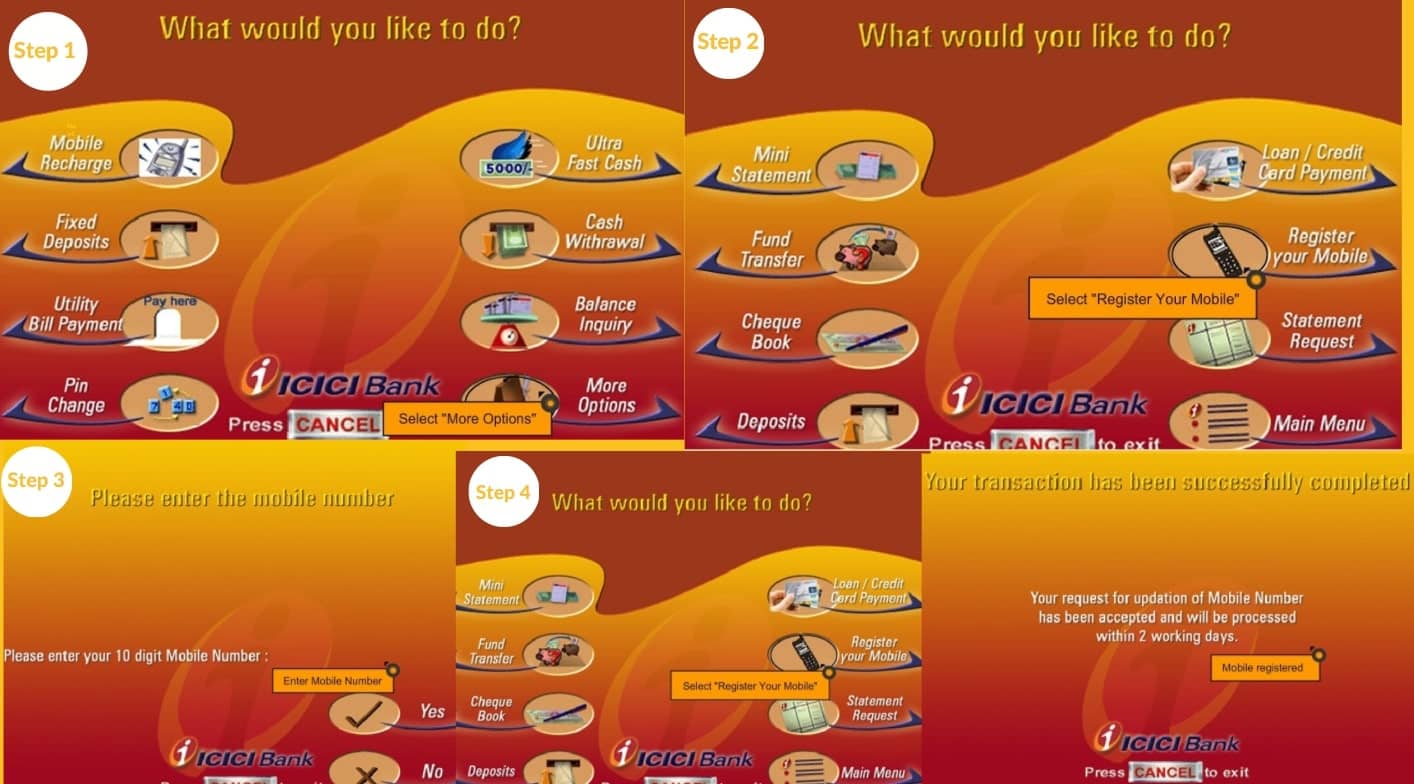 Method 3: By Calling Customer Care
If you are too pressed for time to visit your ICICI bank account online or go to the nearest ATM, you can always call customer care and request them to change your mobile phone number.
They will ask a few questions to ensure that it is your account and then change the registered mobile number to the one you wish to update with.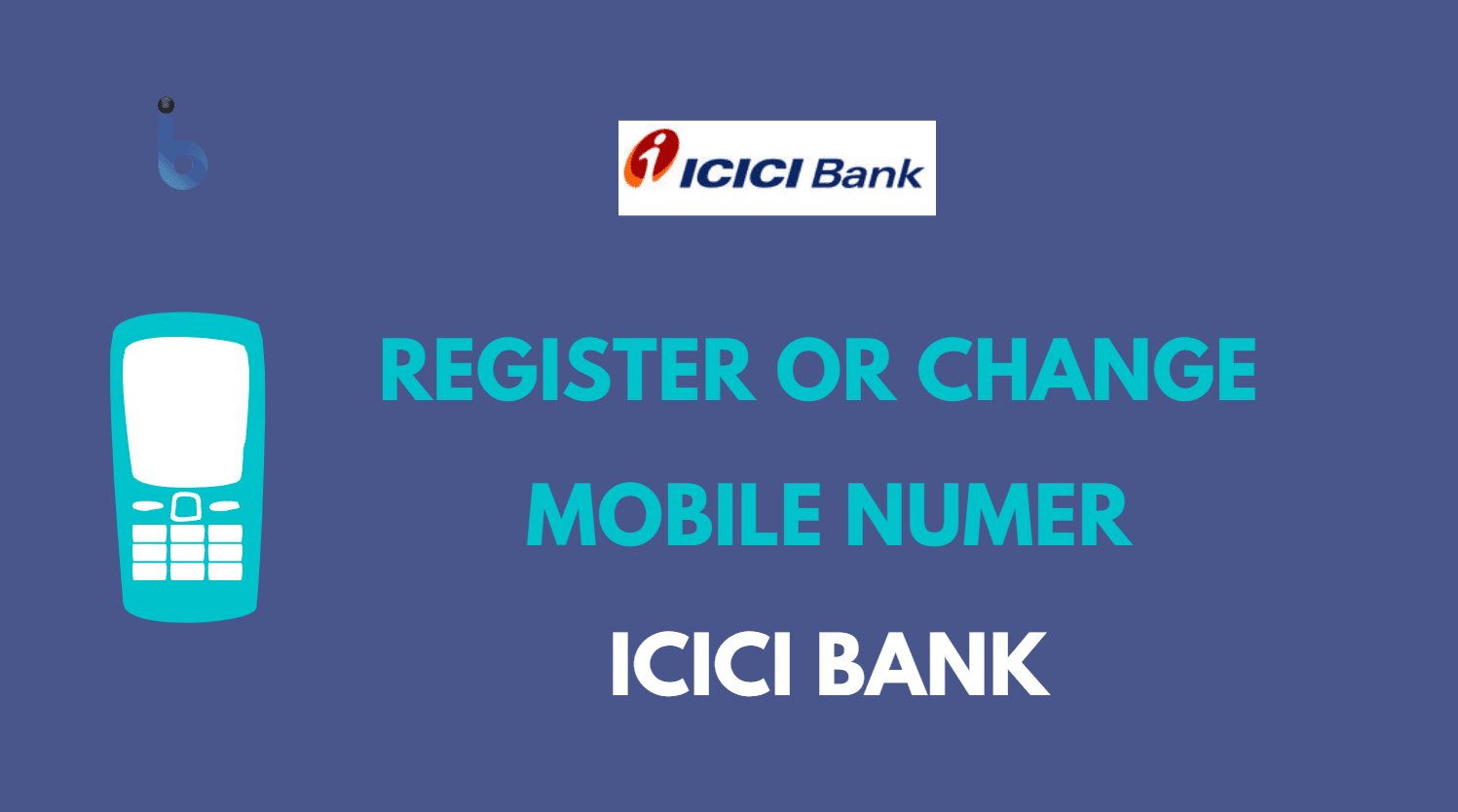 Method 4: Through Branch
Visit your ICICI home branch with the original and photocopies of your Aadhar and Pan Card. Now ask for the Request change form. Duly fill out the request change form and submit it with photocopies of your Aadhar and Pan Card.
Method 5: By Sending an Email
You may send an e-mail to [email protected] to Change your mobile number. NRI customers can call from the international number and submit a request. Download the request form online and send the Duly filled request form to the address mentioned inside the form.
Type of Services
Contact/Address
Toll-free Number
1860 120 7777
Email ID
[email protected]
Address
ICICI Phone Banking Center, ICICI Bank Tower, 7th floor, Survey no: 115/27, Plot no. 12, Nanakramguda, Serilingampally,
Hyderabad – 500032.
There may be several reasons why you might need to change the mobile number in your ICICI bank. Whether you have lost your mobile phone or you have got a new number, thankfully updating your mobile number in the bank is not tough anymore.
We hope this article helps you get the answer for changing your mobile number in ICIC bank online. Keep watching this space for more information like these.
Updated: 18 Feb 2023