Are you having a bank account at Karnataka Bank? Are you currently looking forward to registering or changing your mobile number in Karnataka Bank?
If yes, this guide is going to be a perfect help for you. Karnataka Bank is one of the most renowned banking institutions in India that provides millions of users with safe and secure banking services. A mobile number is usually being linked to the main bank account for sending informative messages and alerts during various transactions.
In case you just have lost your mobile phone or are willing to change your mobile number for some reason, you need to inform the bank for the same also for enjoying seamless access.
How to Register or Change Mobile Number in Karnataka Bank?
Changing the mobile number in Karnataka bank is surely not a difficult process. One just needs to go through a detailed step-by-step process for enjoying easy access over it. You just have to visit your nearby Karnataka Bank's branch and have to perform the mentioned tasks very carefully.
Go to the home branch of Karnataka Bank and then ask the Accounts Executive for the KYC details change form. You can simply ask for the Mobile Number Change Request form also. You can also download Karnataka bank mobile number change form online.
Make sure to keep a valid copy of proof of address such as a passport Aadhar card along with you.
Fill in the asked details very carefully and then don't forget to add your new mobile number in the given column also.
Add your signature wherever required in the requisite form for proving your safe access.
Once done, submit you're filled-up form along with your address proof for the Accounts Executives.
The Account Executive will check your details and verify them with the ones you have provided you previously while opening the account at Karnataka Bank.
Once done successfully, your registered mobile number will get changed and you will get the notification alert for the same on the new provided mobile number also.
Don't forget to confirm with the Accounts Executive of Karnataka Bank whether your mobile number has been changed or not yet before leaving the branch.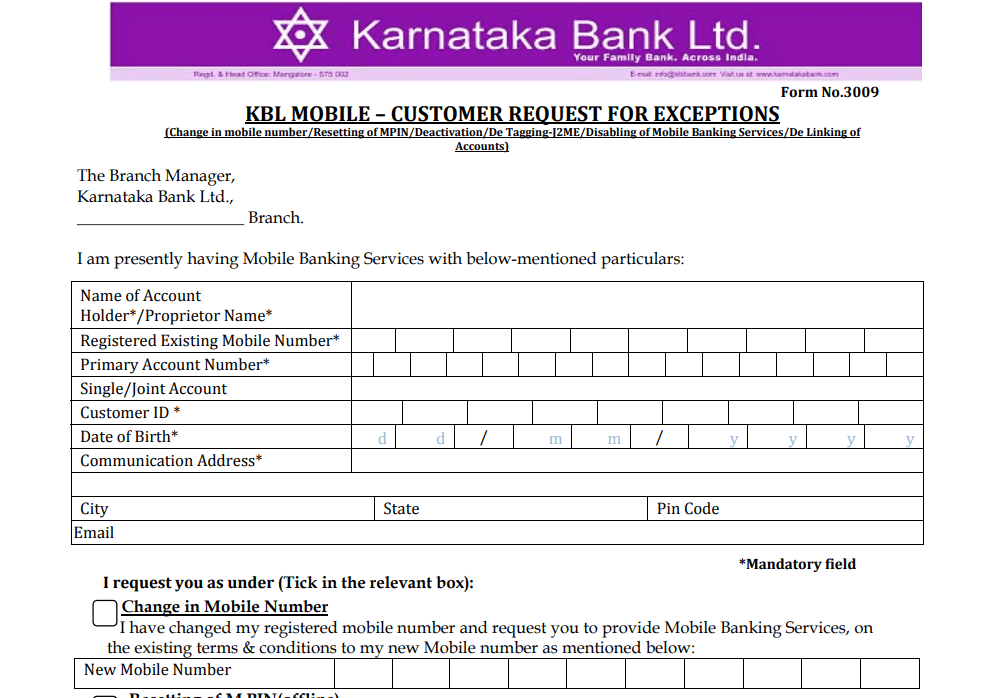 | Services | Contact |
| --- | --- |
| Toll-free customer care number | 18004251444 or 080-22021507/08/09 |
| Email | info@ktkbank@com |
Conclusion
Changing up the mobile number at Karnataka Bank is surely not a big deal. One just needs to go through a simplified process for enjoying easy access. The guide is being designed to help you in making this journey of yours absolutely successful.