IndusInd Bank is a universal Indian new generation bank with its headquarters in Pune, Maharashtra. It has a widespread network baking footprint with over 2.5 crore customers, over 5,000 distribution points, and nearly 2,000 branches across the country.
Keeping in mind Sustainability at the core, they offer a wide array of products and services for individuals and corporations, which includes microfinance, personal loans, personal and & commercial vehicle loans, credit cards, and SME loans.
They also preferred banking partners for various Government entities, PSUs, and large corporate.
How to Register the phone number in Indusind Bank
To register your mobile number to the IndusInd bank, visit the nearest ATM, and follow these steps:
 Swipe Your ATM card in the slot.
Select the language, either English or Hindi
After selecting the language, enter your four-digit PIN.
A menu will appear with different options; you have to select the "more option" option.
Another menu will appear, with various options. Click on the "registered mobile number".
Then it will ask you to enter a 10-digit mobile number.
Enter a 10-digit number and click on yes.
It will ask you to re-enter your 10-digit. Enter your phone number and click on yes.
It will show that your transaction was successful.
After that, it will show you the message "Your mobile number registration has been successful".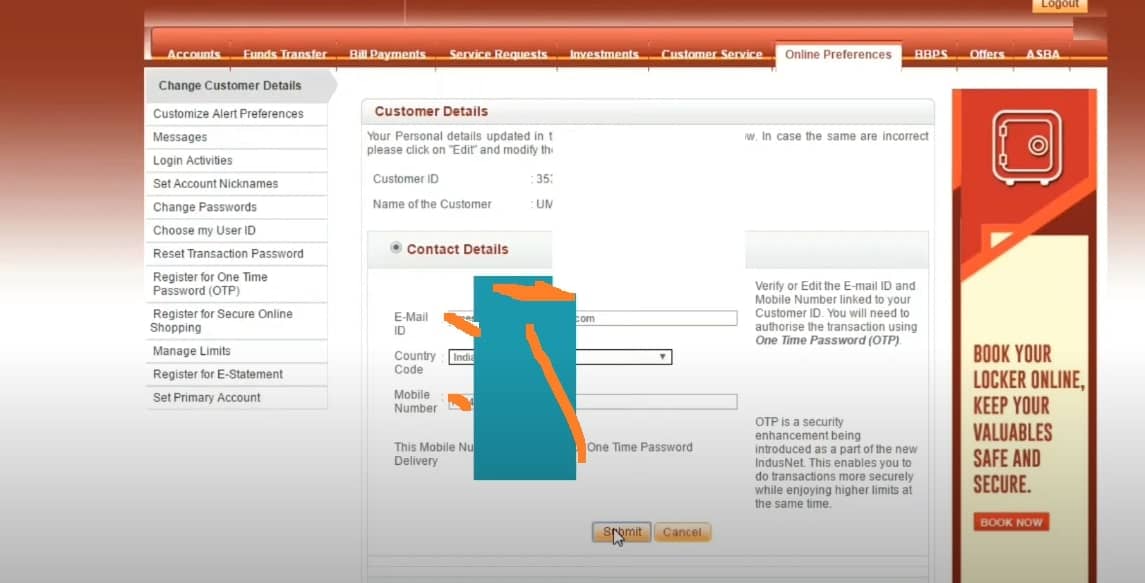 How to change your mobile number in Indusind Bank Online
Follow these steps to change the already registered phone number:
Open the official website of IndusInd bank. To open the Website click on the below link; https://www.indusind.com/in/en/personal.html
Click on the login option.
After clicking on the login option, a page will open. You have to type your username and password and click on the sign-in option.
A new page will open, that will open your net banking interface.
Click on the option 'update contact details'.
You will be met with two options, that is e-mail and phone number.
There will be an option of edit somewhere below those two options, click on it, and a new page will open.
There now you will be able to edit the g-mail and your mobile number. It will ask how you want to edit it.
There will be three options Credit card or debit card or OTP. OTP will be the easiest way, so click on it.
An OTP will be sent to your previous number. Enter the OTP and click on the submit option. A pop will show you that your request has been confirmed. A mobile number change request sms will be sent to your registered mobile number.
| Services | Contact |
| --- | --- |
| Customer Care Toll-free number (India) | 18602677777 |
| Calling From Outside India | 022-44066666 |
| Email Address | [email protected] |
Conclusion
Almost all the banks provide online banking and net banking, which make things done easily and quickly, that too by just sitting at home. The process to change the phone number or register is just a simple procedure.
If you follow the steps carefully and in order, you will find the whole process, completed in a few minutes.