Bank of India is one of the most customer friendly banks in India.  The Public bank is known for on the go updates and banking facilities.  A customer can use the registered mobile number to use the wide variety of services from checking account balance to suspend facility through SMS banking.
However,  one needs to register the mobile number or change it in case the number is not current. Here is procedure how you can do that.
Fill mobile number registration forma & Submit at BOI home branch
Visit your bank of India home branch and ask for Mobile number registration form. Fill the form and submit it along with photo copy of passbook and Aadhaar card. You will get confirmation sms on your mobile number.
There are two methods to change/update mobile number
बैंक ऑफ इंडिया अकाउंट मे मोबाइल नंबर रजिस्टर ओर बदलने के तरीके..
Method 1: Update/Change Mobile number via Bank of India Internet Banking
Step 1: Log on to the www.bankofindia.co.in , the official web address of the Bank of India.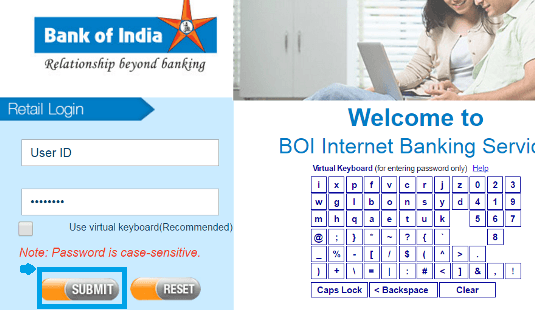 Step 2: The user must click on the 'विकल्प/Options' link displayed on the page top menu.

Step 3: From sidebar as shown in Image, click on 'Profile' link to proceed further.

Step 4: Next Go to the option of 'Update Mobile Number' option and set your desire mobile number.  The registered number should receive an OTP and once you enter the same,  your number will be changed.

Simply click the update option and you are done.  You should receive an OTP on your old number and once you enter,  your new number is updated.
Method 2: Update Mobile number by visiting nearby BOI ATM
If you have active Bank of India ATM card, visit nearby atm and follow Insert ATM<Select Language<other requests<Mobile Update.
Important Note: However,  if you do not have the existing number then you must visit the nearest branch of Bank of India.  You need to submit an application for the change of number and you are done.
You can also use mobile Banking to Update the mobile number. Many people confuse the Internet banking and the mobile banking for Bank of India.  It is to be understood that both are same and same credentials are used.
Registering and changing the number with Bank of India is very easy and if you follow these steps then you can do that in few minutes.