TMB or Tamilnad Mercantile Bank Limited is a private banking company, which provides banking and financial services. TMB earlier was known as Nadar Bank, but it changed its name to Tamilnad Mercantile Bank, which got founded in 1921.
Its main headquartered is located at Thoothukudi, Tamil Nadu, India, with 509 branches all over India, 12 Regional offices and 11 Extension Counters, and 1094 ATM throughout India.
The bank also has six central processing centers, one Service Branch, four Currency Chests, 19 ELobby centers.
This bank was rated as the fastest-growing bank and also won awards for the same, for the years 2013, 2014, and 2015. A mobile number is the most vital thing to take advantage of the latest banking facilities. In this article, we are going to tell you the process to change or register a mobile number in TMB bank.
Steps To register Mobile Number in TMB Bank
Visit your home branch of Tamilnad Mercantile Bank, where you maintain your account, with necessary documents like Adhar Card, Pan Card, or Passport.
Meet the employer and ask them for the form to register the mobile number.
Take your time to fill in all the information correctly that the form is asking for so that the form does not get canceled. They could request information like your bank account number and mobile number and other info.
Make your signature on the registration form wherever required, and remember to put the same sign that you did when you filled the form for opening your bank account.
After filling the form, recheck it again and then submit it, with necessary details that they can ask you like a photocopy of your Adhar Card or Pan Card.
The Bank's employer will check your form if he finds everything right, and then they will request the changes.
After a few working days, your Mobile number will be registered.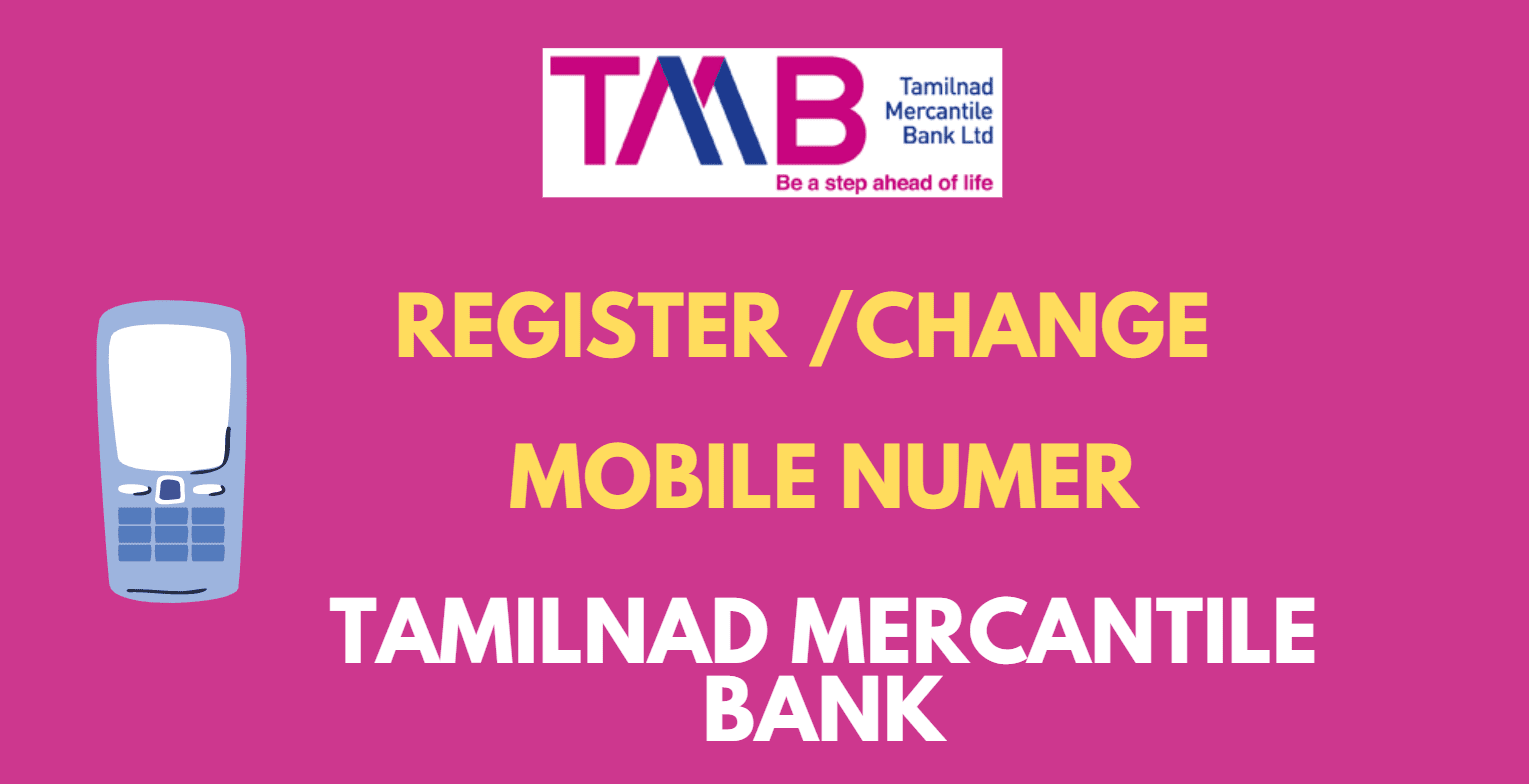 Steps to Change the mobile number in TMB Bank
Visit your home branch of TMB Bank with necessary documents like Adhar Card, Pan Card, or Passport.
Ask the bank employees for the form to change or update the mobile number.
Fill up all the details carefully. Information like your account number, Adharcard number should be filled correctly. Tick on the box of change mobile number and write your new mobile number.
After filling the form, revise it thoroughly and submit the form to the bank executives with the required KYC details like a photocopy of your Adharcard or Pan Card.
If the bank executives find everything right with the form, then your request will proceed.
Your Phone number will be changed in a few working days.
Conclusion
The Tamilnad Mercantile Bank is the fastest growing bank. It has also availed the Netbanking, which has made things easier for the customers. In the coming days, the forms for registering or changing the mobile number will also be availed online. So, you won't have to go to visit your home branch.
The current process is also not that hectic. All you have to do is visit your home branch, ask for the form, fill it, and submit it and your mobile number will be registered or updated within a few working days.