Bank of Baroda is one of the lean on banks and providing the best banking services to its customers. There is an amazing service that most of the banks are provided to their customers and that is the net banking.
Apart from this, getting all the details about the account transactions on your phone number with also an amazing facility that has been given point but for this, it is necessary for you to have the registered number with you.
Now, what if you forget or lost the number that has been registered in your account? In such a situation, all you need to do is to update or register a new mobile number in the bank. Considering such a situation, we are going to help you get your number. So let's get started.
Visit Home branch and Submit Filled Mobile number Updation Form
In case, you are not able to change or update the mobile number on your own then all you need to do is to visit the bank authorities. Thereafter, you need to fill up the Mobile number Updation application form asking you details like your account number, previous mobile number, and the new number you are willing to get registered.
Important Note: Also, Mobile number Updation form can be downloaded online from here https://www.bobibanking.com/MobileNoRegnForm.pdf. So you can fill-up the form at home and then submit it to branch with necessary identity proofs.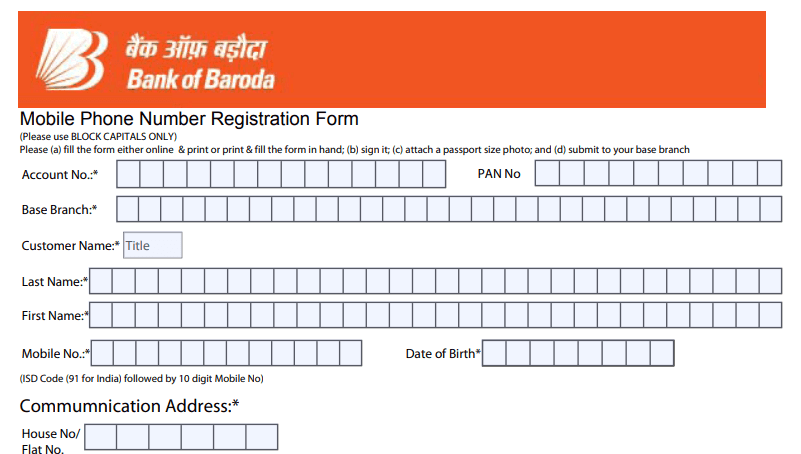 If you are going to get registered for the first time then you do not need to enter any previous number. Thereafter select the options like what are the services you are willing to have with this number. In this option, you need to select the SMS services, transaction notification services, and others.
Now you need to submit the form to the Banking the qualities and within one or two business days, your account number will be linked to the phone number you have entered in the form.
Sometimes, when you visit the bank for the first time for getting a number registered in the bank authority asks you to provide an ID proof like your driving license, Aadhar card, or PAN card.
Conclusion
Hence, with the help of the above-given details, it will easiest for you to get your phone number registered and updated with Bank of Baroda easily even without facing any complexities.