Hdfc Bank is one of the leading banks and financial services companies of India from the private sector, headquartered in Mumbai, Maharastra. It received the approval from Reserve Bank Of India to set up a private sector in 1994. The bank commenced its business as a Scheduled Commercial Bank in January 1995.
Now, the Hdfc bank network has increased its network to 5,345 branches and 14,533 ATMs with 104154 permanent employees spread across 2,787 cities and towns. Hdfc offers different offers like Retail Banking, Wholesome Banking, and Treasury.
For registering your mobile number to the Hdfc bank account, all you have to do is to download the form online from the official website, or you can directly get them from your nearest branch of the Hdfc bank.
Then fill in all the details in the form and sign your signature on the form and submit it to your Hdfc bank nearest branch. The bank does not take any amount of fees for doing this.
Steps to Register Mobile Number in HDFC Bank Online
Download the form
There are two ways to get the form; either download it from the official Hdfc bank website, if you don't want to travel to your branch for a minuscule thing, or visit the nearest Hdfc bank account and get the form from there. The easiest way is to get it downloaded and take out the print.
Fill the Details
Take your time to fill in all the information correctly that the form is asking so that the form does not get canceled. They could request information like your bank account number and mobile number and other info.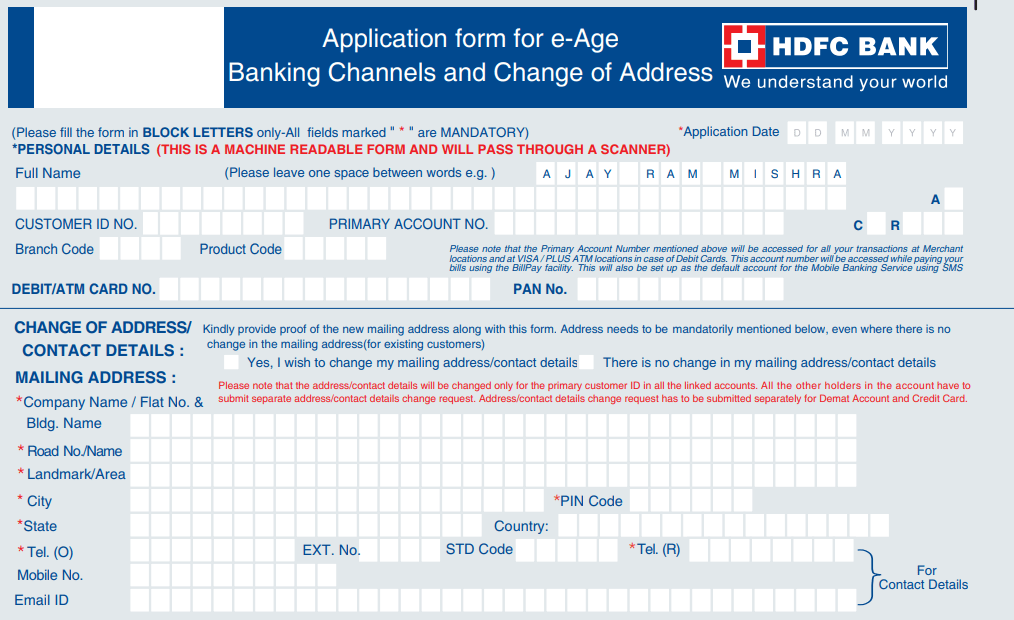 Sign the form
Make your signature on the registration form wherever required, and remember to put the same sign that you did, when you filled out the form for opening your bank account.
Submit the form
The form should be submitted to your home branch. So visit the nearest bank account of Hdfc and submit it. You won't have to wait for weeks to get this done. The number will be registered within two working days.
Conclusion
If you still have a problem you can directly contact the customer care of the bank or, you can dial the toll-free phone number 1800 22 1006 for any query.
The registration of the mobile number in HDFC Bank is not a hectic thing to do. The forms are available online, all you have to do is download them, or you can also register from your home branch. Also, make sure to fill in the details correctly, so the form does not get canceled, and in case of a joint account, all the account holders have to fill out the form.