HDFC Bank is one of the highly respected private banks with headquarter located in Mumbai, Maharashtra. As a customer of the bank, you will enjoy numerous benefits. If you want to change your registered mobile number in HDFC bank, the process is very simple.
It can be done both offline and online.  Thankfully, you no more have to visit a bank, fill out forms and stand in long queues to change your mobile number. In this article we will tell you how to change mobile number in HDFC bank.
To change your contact number online in HDFC bank, you will have to use your Net banking login credentials. Here are steps that you need to follow to be able to change the contact number:
1. Login to your HDFC Net Banking account using your customer ID and password.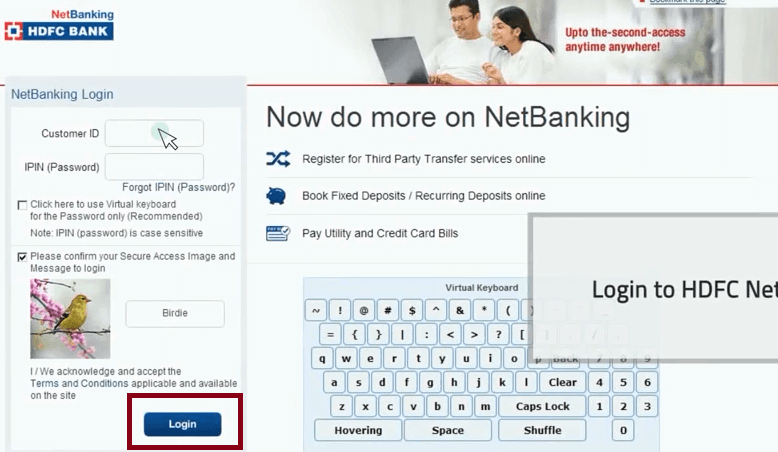 2. On the top right side of the window, you will see a section that gives an option saying 'Update Contact Details'. You simply need to click on it.
3. When you click on it, it will display your contact information that will include the email ID and number that is registered with the bank.

4. To update the number, click on the link that says update mobile number. Now download the given form, fill the form and scan the required documents for verification.
5. Now click the 'continue' button and then upload the documents. Details will be updated after verification.
Update 22 FEB 2020:
Due to security reasons, currently, the Mobile number Updation through online banking is not available.
Download the form via NetBanking by following these steps:
Login to your net banking account
Go to 'Update contact details' and Download 'Email ID update form'
and Submit to the branch
2. Change Mobile number by submitting the application at Branch

Download mobile number change form and fill up it with the correct information, then submit it to your HDFC home branch. The application should be addressed to the banking staff. After receiving your request, the bank will verify your credentials and update your mobile number after completing the verification process.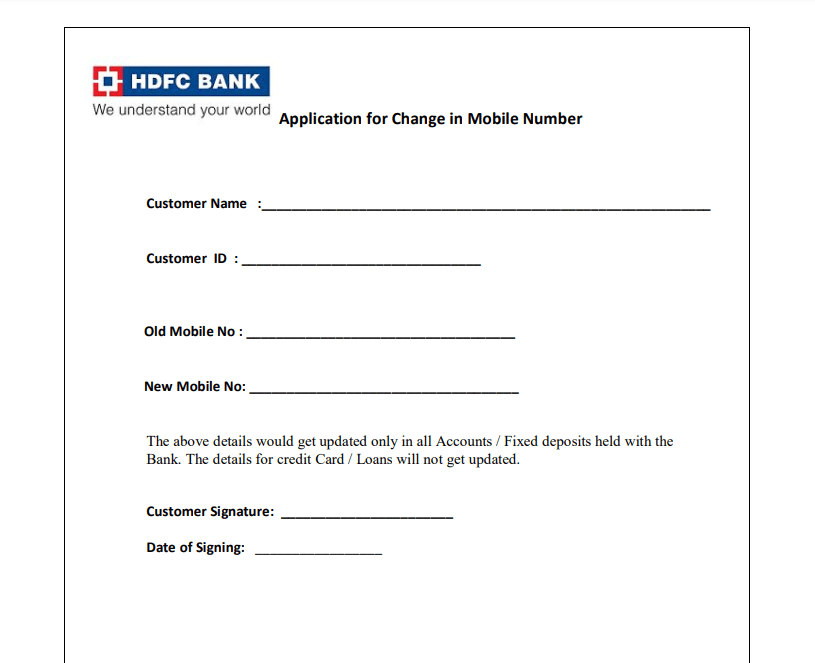 Please bear in mind that the process to change the mobile number in HDFC bank takes some time so don't expect it to happen overnight. Sometimes it can be done within 24 hours while at other times it might take as long as 4 working days.
3. Change the mobile number in HDFC using mobile banking
You can also take the help of mobile banking to change your mobile number in your HDFC bank account. To do this, you simply need to go to the profile settings and then choose the applicable criteria. Update the old registered mobile number with the new number.
4. Update mobile number through HDFC Bank ATM
Visit the nearest HDFC Bank ATM with your debit card.
Insert the atm card and choose the language of your choice.
Select the main menu, go to more options and click on it.
Choose 'update registered mobile number'.
After selecting the option, enter your new mobile number and click on 'confirm'.
next re-enter the mobile number and confirm it again.
Then, you enter your atm PIN. Your request will be accepted and your mobile number updated within 2 working days.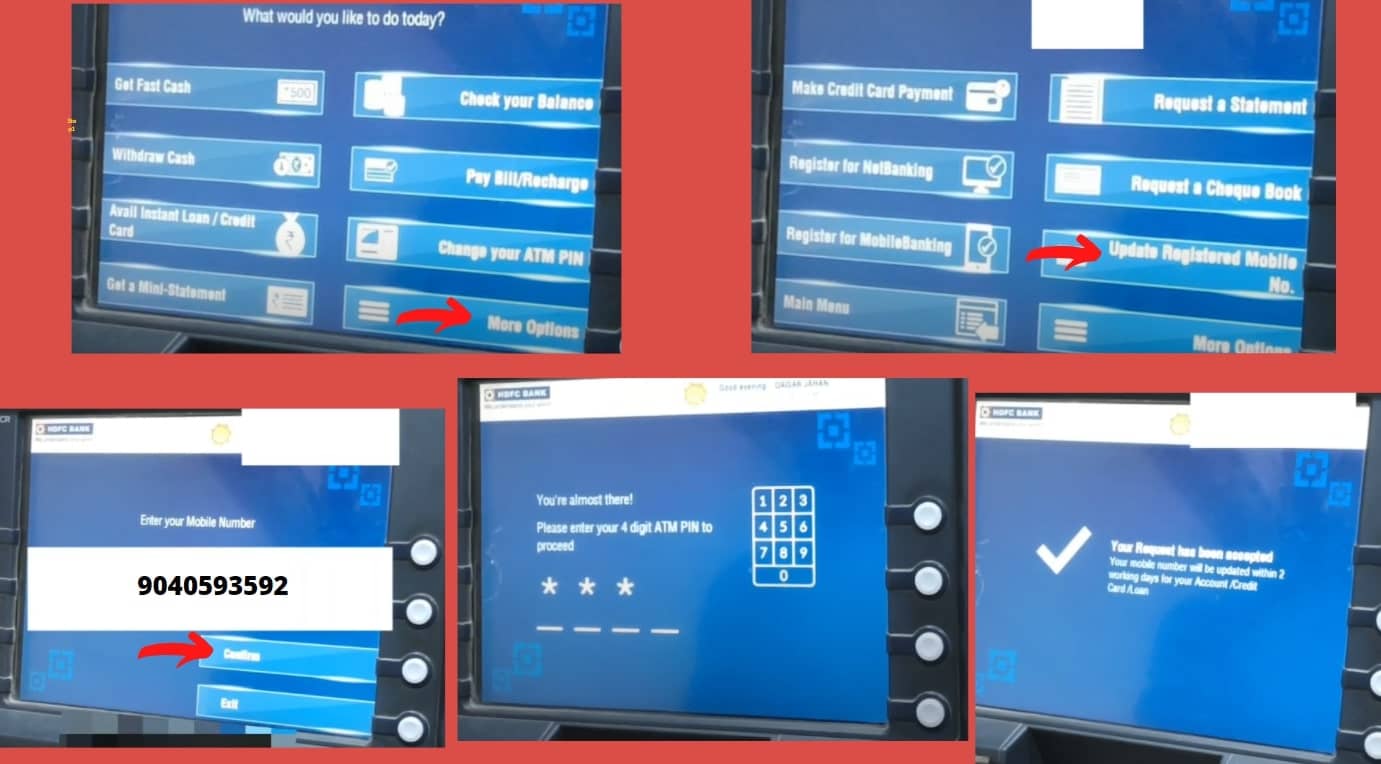 Mobile banking is a safer and more convenient method of doing bank transactions on the g. However, you should be really careful regarding security and never leave your mobile phone unattended.
| Services | Contact |
| --- | --- |
| Toll-free number | Check Statewise number at hdfcbank.com |
| Email ID | [email protected] |
| Missed call Banking Registration Number | 5676712 |
Online banking has added a lot of convenience to the lives of modern people. From sending and receiving the money to people online, to getting account updates and alerts. So much can be done right from your mobile phone or laptop.