Your name plays an extremely important role in your legal documents that need to be corrected no matter what. But still, there are many scenarios where one has to change their name. Such cases are when a lady gets married she changes her last name.
When you change your name in one document you have to change it in all other legal documents as well. Otherwise, it will not match and you will run into some serious legal troubles.
In this article, we will particularly tell you about how to change your name in HDFC bank.
Important Note: You can not change your name in HDFC bank online. You have to visit the home branch with the necessary documents.
Steps To Change Name In HDFC Bank Account
Step 1: First Download Name Change Application Online and fill up. To change your name on your bank account, you have to submit a name change application to the manager of Hdfc Bank. You can download HDFC name change request form online. The following information should be included in this application:
Your current name on file with the bank and your new name;
your bank account number, and CIF Number;
the proper justification for the name change;
registration mobile number
and Sign off at the end with your registered email address.
Step 2: Go to your local Hdfc Bank location to maintain your account. Please come to the Hdfc Bank Nearest Branch with suitable identification, such as:
Aadhaar card, PAN card, and name change affidavit (with a new name on it)
Newspaper publications copies
Notice of Name Change in the Gazette
Certificate of Marriage (In case of name change is due to marriage)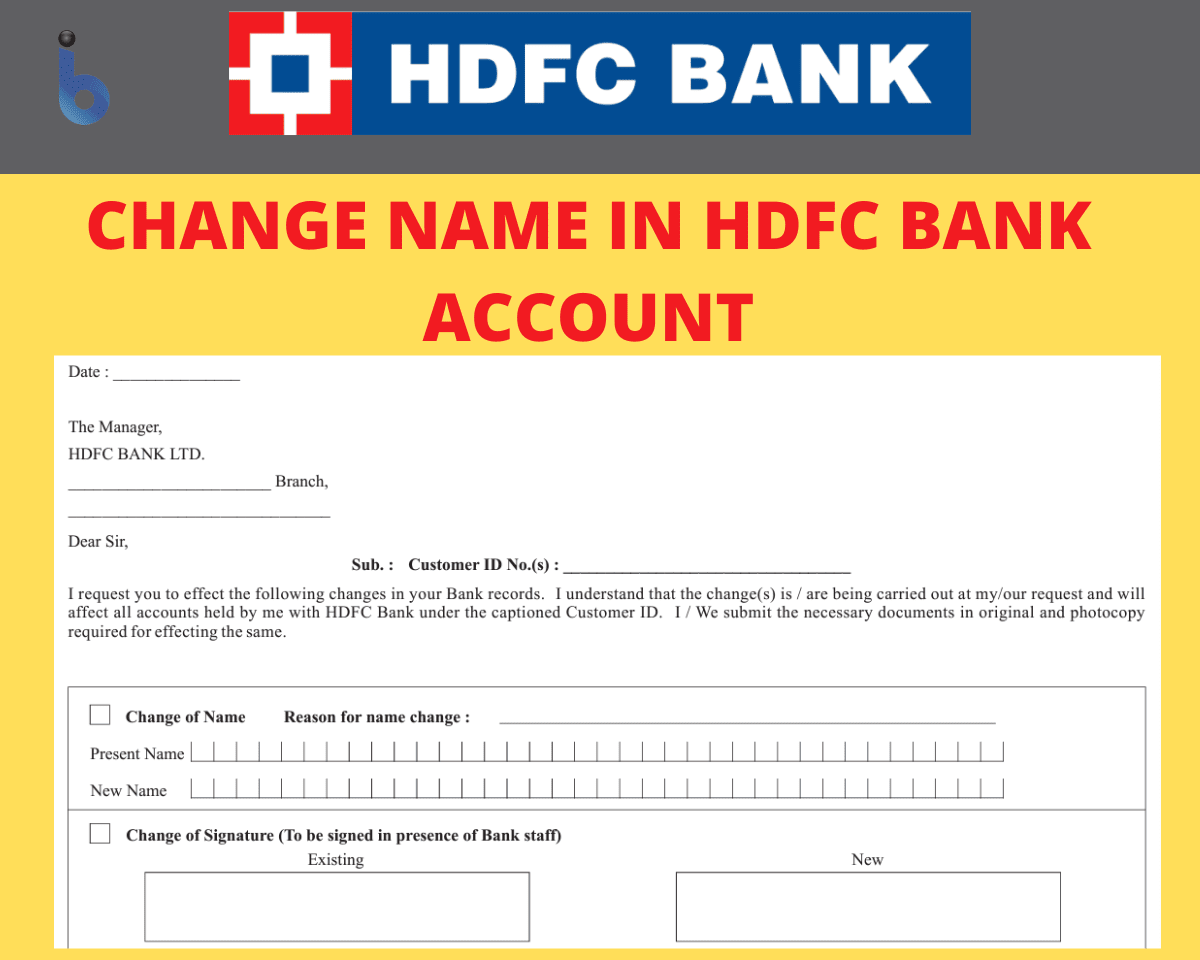 Note: Along with the application for a name change, you must include a verified copy of the necessary documentation justifying the change in your name. Additionally, the requisite proof copies must have your signature on them for them to be considered valid.
Make sure to bring your original documents when you visit your bank to submit your application because the branch manager might need them for verification.
Step 3: Submit the relevant paperwork to the banker together with the application for a change of name. Send the bank executive the proper application Form for Name Change along with the Evidence of the Change of Name.
Step 4: Your application, signature, and other information will be verified by the Bank Executive. If he determines that the application is complete in every way, he will send you a confirmation of your submission.
Hdfc Bank will update your Name/Surname in your bank account and the records after proper authentication.
Step 5:  Within a few days, Hdfc Bank will notify you through email or SMS on the registered cellphone number you provided about the name change in your account. If you do not get any notification, you can call your branch to find out if the adjustments have been made.
Final Step: It's time to get a new passbook with a new name after changing it on your bank account. Submit a request for a new chequebook with your updated name put on the cheques as well. To avoid any future issues, you can also ask for the issuance of a new debit card in your new name.
Conclusion
So that's how you get your name changed in HDFC bank no matter what the reason is. However, you still have to mention the reasons why you wish to change your name. You can follow the same process even if you have an account in some other bank. The process of changing names in banks is the same.