Generally, nowadays, most of us have a bank account with some bank. However, there may be such occasions when you may need to change your name in the bank account.
There can be various reasons for making a change in your bank account name. For example, suppose you have already changed your name, but you are still running your bank account with your old name and now wish to change it in your bank account as well.
In such a case, you can do it as many times as you want to. ICICI Bank Limited is one of the largest and most reliable banks providing its banking services in India. If you own a bank account with this bank, then you should know the process to change the name in the ICICI Bank account.
Steps to Change the Name in the ICICI Bank Account
Suppose you have a bank account with ICICI Bank, and for some reason, you have changed your name. So now you also want to update your new name in your ICICI Bank account record as well.
Suppose you are still skeptical, confused, doubtful, and bewildered, and looking for help, guidance, information, and procedure to change the name in the ICICI Bank Limited account. Then just stay tuned with us and read this well-designed and immaculately prepared perfect solution for your problem and complete knowledge to quench your queries quickly. We have provided the simplest of the best available instructions, true facts, and relevant information with authentic procedures in order to do the needful in this post.
Therefore, please follow the below-written beneficial tips, simple and quick procedure, and the most convenient steps to learn and know the needful requirements, such as:
Note: You should know that you can easily change your old name in ICICI Bank records. However, the bank needs proper proof of documents to do so. You will have to fill in the Application form to update your Personal details along with submitting all the photocopies of documents as required by the bank, in the following manner:
Suppose your name is Mohit Sharma, you have changed your name to Mukesh Sharma, and you make a request before the ICICI Bank to change your old name in your bank account records as well.
Step 1. Visit the ICICI Bank and attain a physical form (Form 5 ) to update/revise your name in the ICICI Bank's records. You can download the "Update personal details form(Form 5)" online.
Step 2. After filling in the request application to update your personal details, you should take the photocopies of the required documents to be attached with your request application form. You should also make sure that you make your signature on the photocopies. Otherwise, these photocopies of the documents may be deemed to be invalid.
However, you will have to visit your ICICI Bank home branch to submit your name-changing request application form to the branch manager of the ICICI BANK home branch.
Step 3. It would be best if you went to the same branch where you have your bank account. You should also make sure that you make photocopies of the original documents because the branch manager may ask you to show the original documents for verification purposes.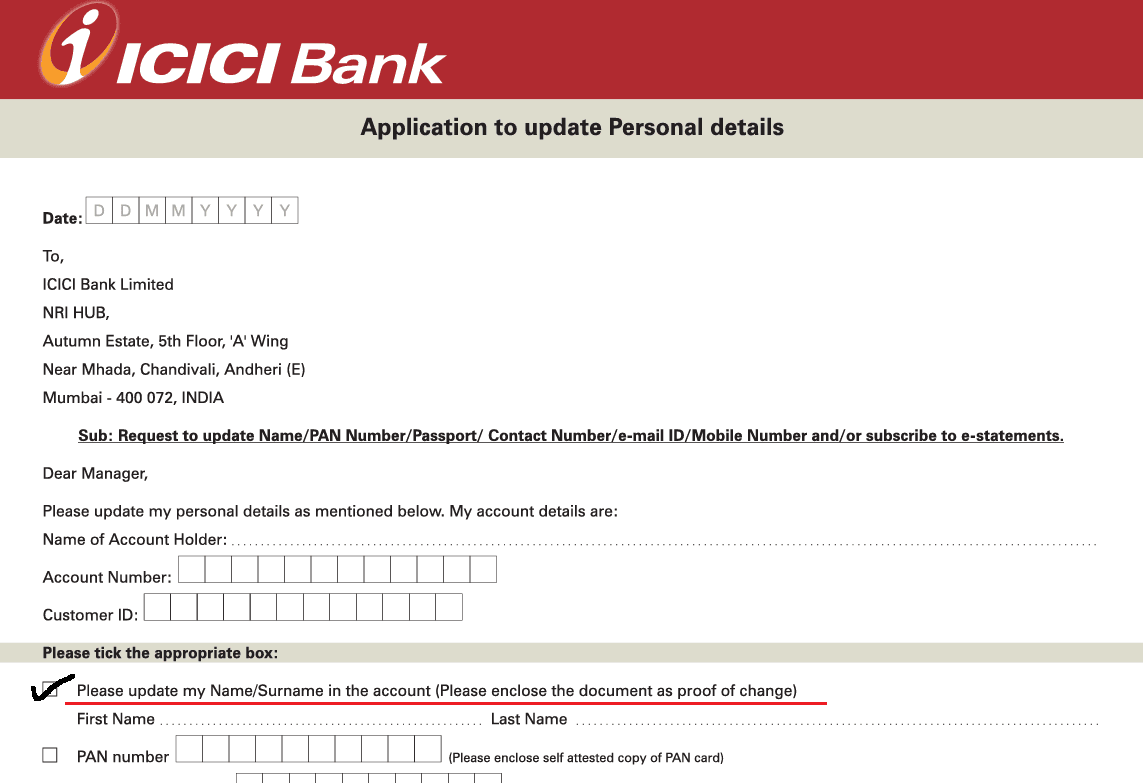 Step 4. You should know that, after due validation/verification, ICICI Bank will change your Name/s or Surname/s in your bank account and in the bank records as well. And you will receive a message notification from ICICI Bank through SMS on your registered mobile number or/and your registered e-mail ID regarding changing your name in your bank account within a few days.
Suppose you do not receive any information like this. Then you should contact your home branch and get confirmation if the changes are processed or not.
Important Note: Please note you should make sure the account holder's signature must match perfectly with the signature as per bank records. Otherwise, in case of any mismatch in the signature, you will have to fill in the signature update form as well.
So this way, you can very conveniently learn seamlessly way to name change the ICICI Bank account.
Conclusion
Now, we can't see anything left aside that should be brought to your cognizance. You would have also admired our efforts to produce an excellent article that provides such a simple, easy, and helpful guide to learning ICICI Bank account name change.
However, after your name is duly changed in your bank account records, you should also get your new (revised) name printed on your passbook as well.
Further, you should send a request to issue a new cheque book with your name (new) printed on its cheque leaves. You can also request to issue a new ATM/debit card with your new name in order to avoid any problems in the future.