HDFC bank (एचडीएफसी बैंक) is known for its service but this service comes at a premium price as you need to maintain a certain amount of balance in the account on monthly basis. The balance requirement differs from one place to another and on non-maintenance of the balance, the customer is penalized with a certain charge.
If you are also sick of paying non-maintenance charges then probably it is time for you to close the HDFC Bank Account. The process of account close is really simple and you can close your account is just a couple of steps. Here is how you can do it.
Note: You can't close HDFC Bank account online, but account closure form can be downloaded online.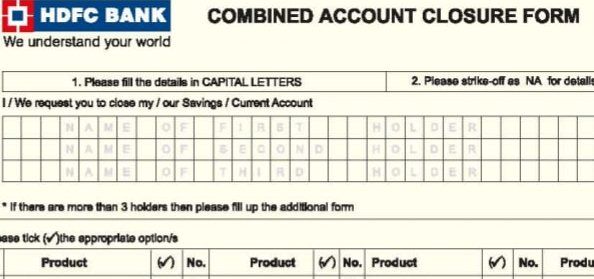 Steps to Close HDFC Bank Account
To close your account in an easy way, ensure that you drain out all the funds parked in your account. The easiest way to do this is through net banking. Simply transfer all the money to some other account through NEFT, RTGS or IMPS. The balance in your account should be Zero.
Now you can go to the nearest branch and approach the bank executive. Obtain an account closure form from the executive and fill in the form with correct details.
Alternatively, you can also download the form from the comfort of your home and take a filled form to the branch. Download the account closure form from hdfc website.
Now, you can submit the form to the executive along with the debit card, passbook, and chequebook. You must also take an ID proof with you as the executive may demand the same in some cases.
The executive will then give you a copy of the acknowledgement You can keep the slip safely with you and your bank account will be closed within 10 working days.
If you face any trouble during the procedure then feel free to seek help from the executive or you may alternatively call 1800 22 1006 for assistance over the phone. You can also register a complaint about the toll-free number shared here.