In this daily busy life, if you want to send money to someone, then it's indeed a very irritating and time-consuming task. Wait! It's time consuming only for those who don't use Net Banking. Via Net Banking, one can send money to anyone in a very fast manner. Almost every bank provides the Net Banking service.
HDFC is one of the best banks in India. When you open a new Savings Account in this esteemed bank, you are provided the Net Banking facility at the same moment. So, if you have HDFC Net Banking service, and want to send money from it to other banks, but don't know how to do it, then this article is nothing less than a boon for you.
This article will teach you how to send money from HDFC to other banks via Net Banking. You can send money from HDFC to Punjab National bank, state bank of India, Axis Bank, Union Bank of India, Bank of Baroda and many other banks.
Axis Bank user Check out @ Send Money from Axis Bank to Other Banks
In order to transfer money from HDFC to other banks via Net Banking, you must add the intended account as a beneficiary. Here are the steps on how to do so.
Step 1: First of all, point your browser to HDFC Net banking site.
Step 2: There enter your Customer ID, IPIN (password), and Confirm the Secure Access Image (if applicable). Click Log In. You will be taken to your HDFC Net Banking account.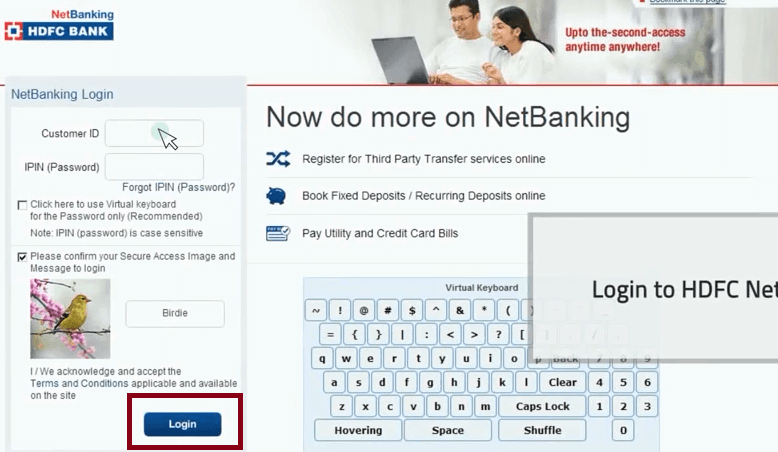 Step 3: Look for the tab that reads 'Funds Transfer' and clicks on it.

Step 4: The new page will list out different options for funds transfer. To transfer funds to other banks, choose "Transfer to other banks (NEFT)" as shown in the image below and click the "Go" button.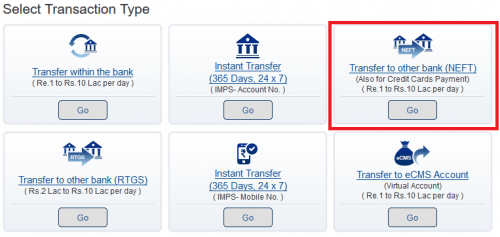 Here are what these options mean:
Transfer Within the Bank: If you want to send money to any HDFC Bank, then select this option.
If you are ICICI bank user, then check @ Online Money Transfer From ICICI Bank to other banks
Transfer to other banks/ Credit Card Payment (Using NEFT): If you want to transfer money to any Non-HDFC account or any Credit Card, then select this option.
Instant Transfer (Through Account or Mobile No.): This option is for instant transfers only if the other account has IMPS enabled or Mobile banking enabled on their account.
Transfer to other banks (Using RTGS): If you want to transfer fund without any waiting period, then select this option. Select it when you want to transfer anywhere between 2 to 10 Lacs.
Transfer to eCMS Account (Virtual Account): If the intended account is the virtual account, then select this option.
Step 5: Now if you have already listed the account number, where you wish to transfer funds into your beneficiaries list then you can choose the respective account on the form, add the amount, transfer description and continue. If you haven't listed the beneficiary yet then click "Add a Beneficiary" at the bottom of the form.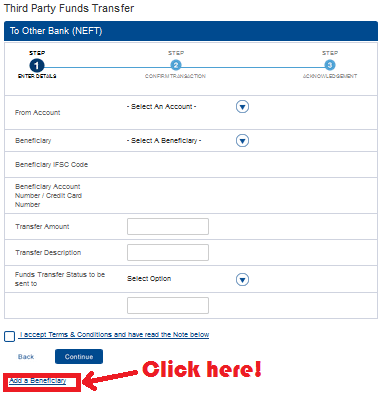 Step 6: Now again choose the appropriate Transaction Type for the account beneficiary and click "Go".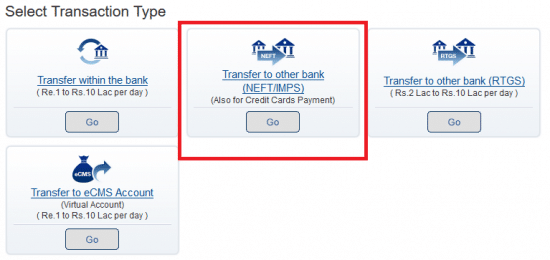 Step 7: Then you will be taken to the page where you are required to provide the details of account which you want to add as beneficiary.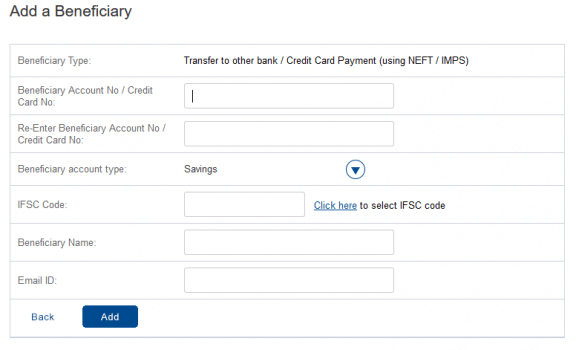 Step 8: You are required to provide Beneficiary Account No./Credit Card No., Account Type, Beneficiary Name, IFSC Code and Email ID.
Step 9: To enter the IFSC Code, you need to use the 'Click Here to select IFSC Code' option, that will take your IFSC Code Lookup. If you know IFSC Code, then enter it and click 'Search'.  If you don't know this, then you can 'Search' by using Bank Name and/or Branch Name.
Step 10: On clicking the 'Search', you need to select your bank from search results.
Step 11:  So, once you have filled all details on 'Add a Beneficiary Page', just click on 'Add' and then again 'confirm' the same details.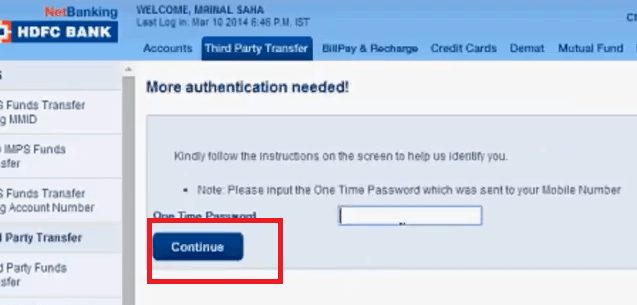 Step 12: For Security purposes, you will be sent 'One Time Password or OTP' to your registered mobile number. Enter this OTP in the field asking for it and click 'continue'.
Step 13: You have successfully added Beneficiary. It will take 12-24 hours for this just added the beneficiary account to get activated. Then only you will be able to transfer money to it.
Sending Money from HDFC to Other Banks via Net Banking:
1. Login to your HDFC Net Banking account and head over to 'Funds Transfer'.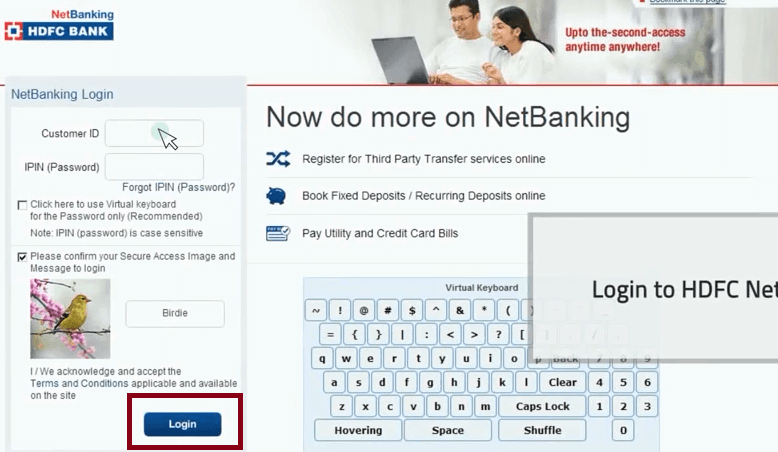 2. Now choose the appropriate transaction type.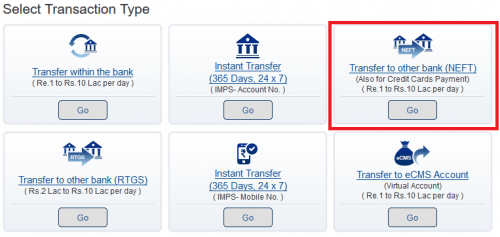 3. Select Transaction Type and click on 'Go'.
4. Select the Account from where you want to transfer the fund, Select the Beneficiary to which you want to send the money. Enter the Transfer Amount figure and description.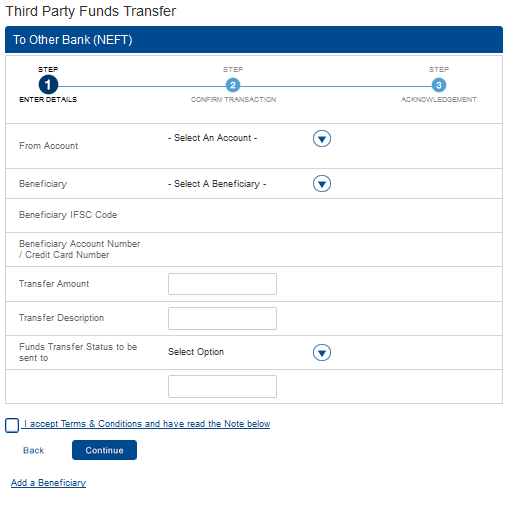 5. Select where you want the fund transfer status to be sent – Mobile or Email. Click on the checkbox to confirm that you agree to Terms & Conditions.
6. Click on 'Continue'.
7. Verify the details on the next page. Once you are done with verifying them, click 'Confirm'.
8. The NEFT Fund Transfer will be initiated. It's better to print this page or take the screenshot.
Some Important Points to Remember
1. If the beneficiary you added has not been activated yet, then you will not be able to transfer fund to that. It usually takes 12 to 24 hours for successful activation of a new beneficiary.
You can check the status of an added beneficiary by heading over to 'Third Party Transfer' tab and then clicking on "View list of Beneficiaries". The status of the intended beneficiary must be shown as 'Enabled'. If not so, then wait for it to get enabled.
2. Always provide a meaningful 'Transfer Description'. It will help you to keep track of your hard-earned money.
3. Take the printout of 'Fund Transfer Initiated Page' or take its screenshot at the very least.
4. After adding a beneficiary and initiating the fund transfer, it takes around 3-4 hours or less/more for a fund to appear in the recipient account. So be patient!
That's it. This is how you can send money from HDFC to other banks via Net Banking. Hit the comment box if you need any further help in this aspect.
Article Updated: 21 February 2019