Are you one of those many who depend on Axis Bank for their banking needs? If yes is your call, then let me tell you that you have selected right bank for all of your banking needs. Axis Bank is known to offer numerous facilities.Out of all, Internet Banking service is nothing less than a boon. You can send money to any other bank account from your own, while sitting at home. Comfort at its best, right?
If you want to know how to Transfer money from Axis to Other Bank Accounts, then just keep reading this article ahead. You can use this method to send money from axis bank to State bank of India, Icici bank, bank of Baroda, Punjab national bank, Canara bank, Hdfc Bank, Bank of India, Axis bank and other Indian Banks.
Send Money from Axis Bank to Other Banks Online
Obviously, the very first step is to login to your internet banking account. For this, head over to the www.axisbank.com. There in the left hand side, look for the option to login to Internet Banking. Seems tough? Don't panic! You can head over to Internet Banking login page directly.
Enter your Login ID and Password so as to login into your Internet Banking account.
When you are in your Internet Banking account page, look for the tab that reads 'Transfer Funds'. Click on it.
In order to transfer money to any account, you must add that as beneficiary. To do so, click on the 'Register New Beneficiary' button.
For HDFC internet Banking User: Transfer money from Hdfc net Banking
Adding Beneficiary
In the 'Enter Beneficiary Details' form, enter the Beneficiary Name, Account Number and IFSC Code. Don't know about how to add IFSC Code? Here are the steps that you need to follow: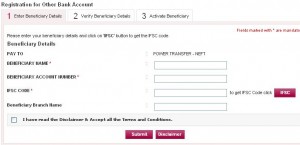 Entering IFSC Code
To get IFSC Code of beneficiary's bank, just click on button that reads 'IFSC'.
Select the Bank, and then click on the button that reads 'Click Here to Get Details'.
Now you need to select specific branch of selected bank. That's simple to do. Just enter the starting alphabet of branch name, you'll be suggested all branches starting with your entered alphabet. Pick the right one from the list.
Once you are done with selecting branch, just click on 'select' button.
That's it. IFSC Code will get entered to the appropriate IFSC text box itself.
After you are done with entering details, just tick the check box given at the end. It ensures that agree to terms and conditions set by the bank. After doing so, click on' Submit' button.
Icici Banking user: Online Money Transfer From ICICI Bank to other bank
Verify Beneficiary
To do the headlined task, you need to enter your Internet banking username and password.
You will get Net Secure password on your registered mobile number.
That's it. You have successfully added beneficiary in your online banking account of Axis Bank. Now you can send money to that bank account. For this, keep reading ahead.
Sending Money
In the 'Transfer Funds' section, click on 'Make Money' option. Yeah, the one that lies under the 'Other Bank Account' section.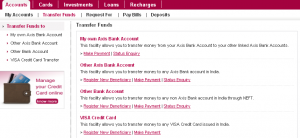 You will be now taken to 'Enter Payment Details' page. Here, select the account from where you want to send the money, which will be of course, your Axis bank account. Then select the account where you want to transfer the fund. Enter other important details like Amount that you want to transfer, payment remarks, etc. Click on 'Transfer' button.
You need to enter your login ID and password, so as to authenticate the transaction.
After doing the above steps, the fund transfer will get initiated. You will be taken to 'Confirmation' page. Make sure to save the receipt for any future inquiry. It's better if you take its printout.
That's all. This is how you can send money from Axis Bank to Other Bank Accounts online. Simple, isn't it?
If you need any further help in this aspect, then please leave your queries in the below comment box. We'll solve them asap.