As you know, Axis Bank (ऐक्सिस बैंक) is one of the best private banks in India. There are many organizations which open the salary account of their employees in Axis Bank. The best part about this is that these salary accounts are zero balance accounts which means you can simply withdraw all the funds from the account. But it becomes a problem after leaving the job.
If the salary is not credited to the bank for 3 months then the bank converts it into a normal saving account which makes it mandatory for you to maintain certain minimum balance. In case of urban branches, the minimum balance to be maintained is Rs 10,000. On non-maintenance of the balance, you are penalized and the certain penalty is deducted from your account every month.
There is one way to stop this and that is to maintain the minimum required balance but if you do not wish to do so then you must close your Axis Bank Account as soon as possible. In this article, we have listed the procedure to close the Axis Bank  saving or current Account.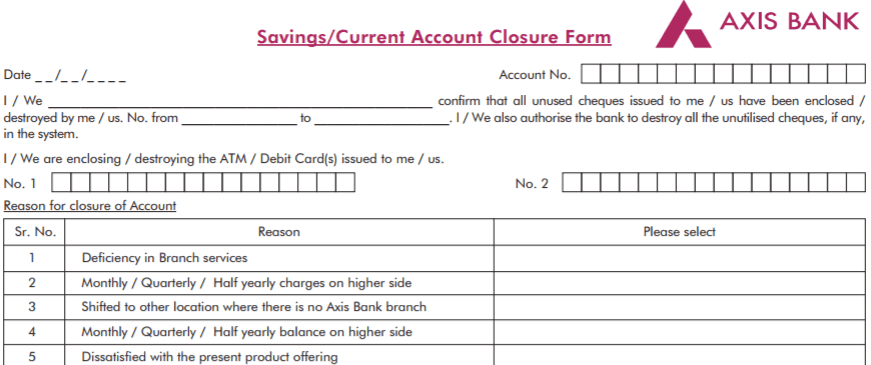 Note: It is not possible to close axis bank account online. Only account closure form can be downloaded online.
Follow these Steps to Close Axis Bank Account
If you have any balance in your saving or current account then the first step is to reduce the balance to Zero. You can withdraw the money through ATM or you may even go ahead and transfer the money to some other bank account through NEFT.
After withdrawing all the money, you can visit the branch and obtain an account closure form from the bank. Once you receive the form, you can fill the form. Do remember to take your passbook, debit card, checkbook and an ID proof along with you. You can also save a photocopy of these documents for future reference.
It should be noted that you can also download the account closure form from the internet, print a copy and fill the form. This will certainly save a lot of your time when you visit the branch. Open axis bank account closure form link and save the pdf version on your computer.
Once you have filled the form, you can then submit it to the bank executive along with the above-mentioned In most of the cases, the bank would return your passbook for your reference.
This is a part of the standard operating procedure. The bank executive will also provide you with an acknowledgment slip for the closure of the account.
Your account will then be closed in next 10 working days and you will receive a message from the bank confirming the same.
In case of any query or issue, you may contact the toll-free number of Axis Bank customer care and the number is 1860 419 5555.