Axis Bank is one among the leading banks in the private banking sector of the country. If you have an account with Axis Bank, you must be aware of the active services provided by the bank.
You must be using the Cheque Book to make payments or withdraw money for any reason. The bank offers a booklet of limited numbers of cheques.
If you are a new account holder at Axis Bank, you may not be aware how to claim or request Cheque book in Axis bank and obtain a new. You must get a new Cheque Book before you run out of cheques to avoid any unpleasant circumstance.
Three methods to request cheque book at Axis Bank
Axis Bank offers different advanced options for the account holders to require Cheque Book. You can opt for one of the options and obtain a new cheque book and continue uninterrupted services.
Method 1: Request Axis Bank Cheque Book Via Internet Banking
Step 1: First login to your Axis Internet Banking account. From the top menu, click on the 'services' tab and scroll down to 'Request for'. Finally, click on 'Cheque Book Request' as shown in the image below.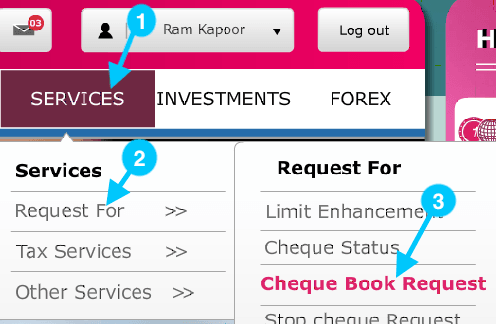 Step 2: In next page, select the Account number, number cheque leaves, remark anything and then click the 'proceed' button.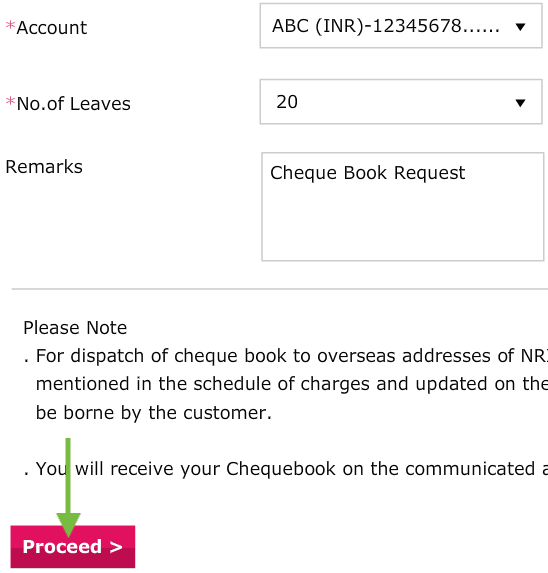 Step 3: To confirm the Cheque Book request, enter the 'transaction password' and click the 'confirm' button.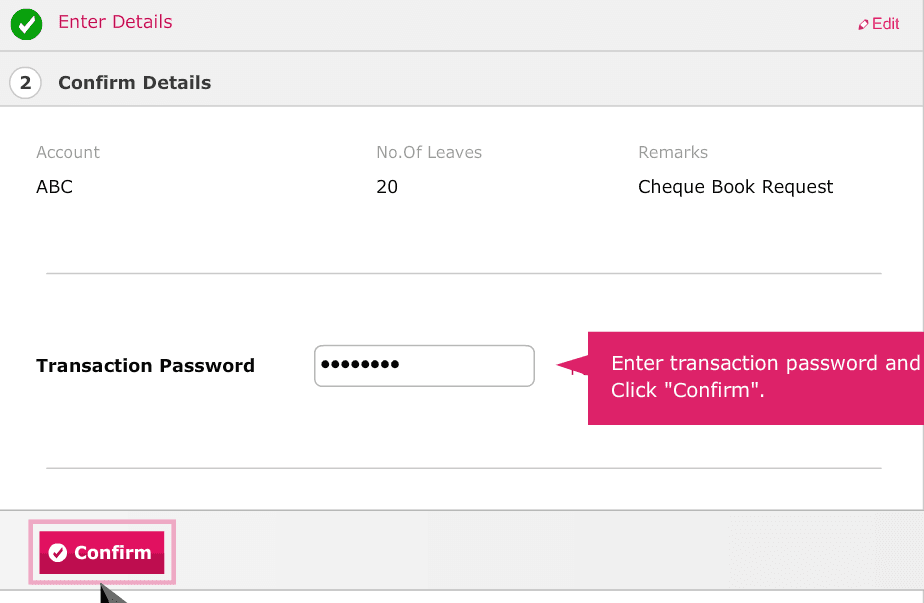 Method 2: Request Axis Bank Cheque Book Via SMS
You can also request a new Cheque Book via SMS banking services.  To initiate a request, send an SMS 'CHQBK last 6 digits of your account number' and Send it to 5676782 or 9717000002 from your registered mobile number.
NRI customers are requested to send SMS to number +919717000002.
Important Read: How to register mobile number in Axis Bank Online
Method 3: Request Axis Bank Cheque Book by visiting Nearby ATM or Home Branch
Visit Nearby Axis Bank ATM,  swipe your card and follow the instructions given on the screen [Follow pattern = Special services – Enter Pin – CHQ BK REQ]. Otherwise, visit the branch and ask for Cheque Request form. Fill all details as in your in bank passbook with your signature and submit it to the Bank.
The bank offers a Cheque Book to the account holders while opening a new account. If you missed asking a Cheque Book while opening the account, you could do it later. Visiting the ATM or branch or calling the customer care are traditional ways of requesting Cheque Book.
Other options like SMS banking and Internet Banking options are advanced and simple. You can access any of these services from your convenient place and convenient time. Enjoy the advanced services offered by Axis Bank.