The primary purpose and foremost goal of Small Finance Banks (or SFBs) as financial institutions are to meet the financial requirements of poor people, small farmers, Small Business units (SBUs), and micro and small industries, among other unorganized entities.
Small Finance Banks do this through traditional banking activities and further financial inclusion by providing their banking services to unserved and underbanked regions of the country by extending credit facilities to them when it comes to loans, etc., that otherwise would be turned away by commercial banks.
These banks provide their target communities with the essential banking services generally offered by commercial banks. They are registered as public limited companies under the Companies Act 2013. Here is a simple and quick list of the top 5 small finance banks in India to help you get started with your worthy investment.
What is the Difference Between Small Finance Banks & Commercial Banks
You should know that most Small Finance Banks function the same services as commercial banks, including accepting deposits, lending, and non-risk-sharing financial activities, such as mutual funds and insurance. These financial activities are, however, quite different from other commercial banks. Some fundamental differences between Small Finance Banks and Commercial Banks are as follows :
The primary objective of Small Finance Banks is to provide and promote banking services to the underbanked and underprivileged segments of society, such as the poor as well as the working class, small laborers and farmers, etc. On the other hand, commercial banks provide their banking services to individuals from different sections of society.
Small Finance Banks used to operate on a small scale, catering to the needs of a very small segment of the population by permitting a limited amount of borrowing. Instead, commercial banks operate on a large scale and offer more significant loan amounts to all parts of society depending on qualifying criteria.
Small Finance Banks essentially need to have a minimum capital of 100 Crore Rupees, and commercial banks must have a minimum capital of 500 Crore Rupees.
Small finance banks include AU Small Finance Bank, Equitas Small Finance Bank, Ujjivan Small Finance Bank, Suryoday Small Finance Bank, Utkarsh Small Finance Bank, and others. On the other hand, commercial banks include all public and private sector banks, such as SBI, PNB, Axis Bank, ICICI Bank, and HDFC Bank.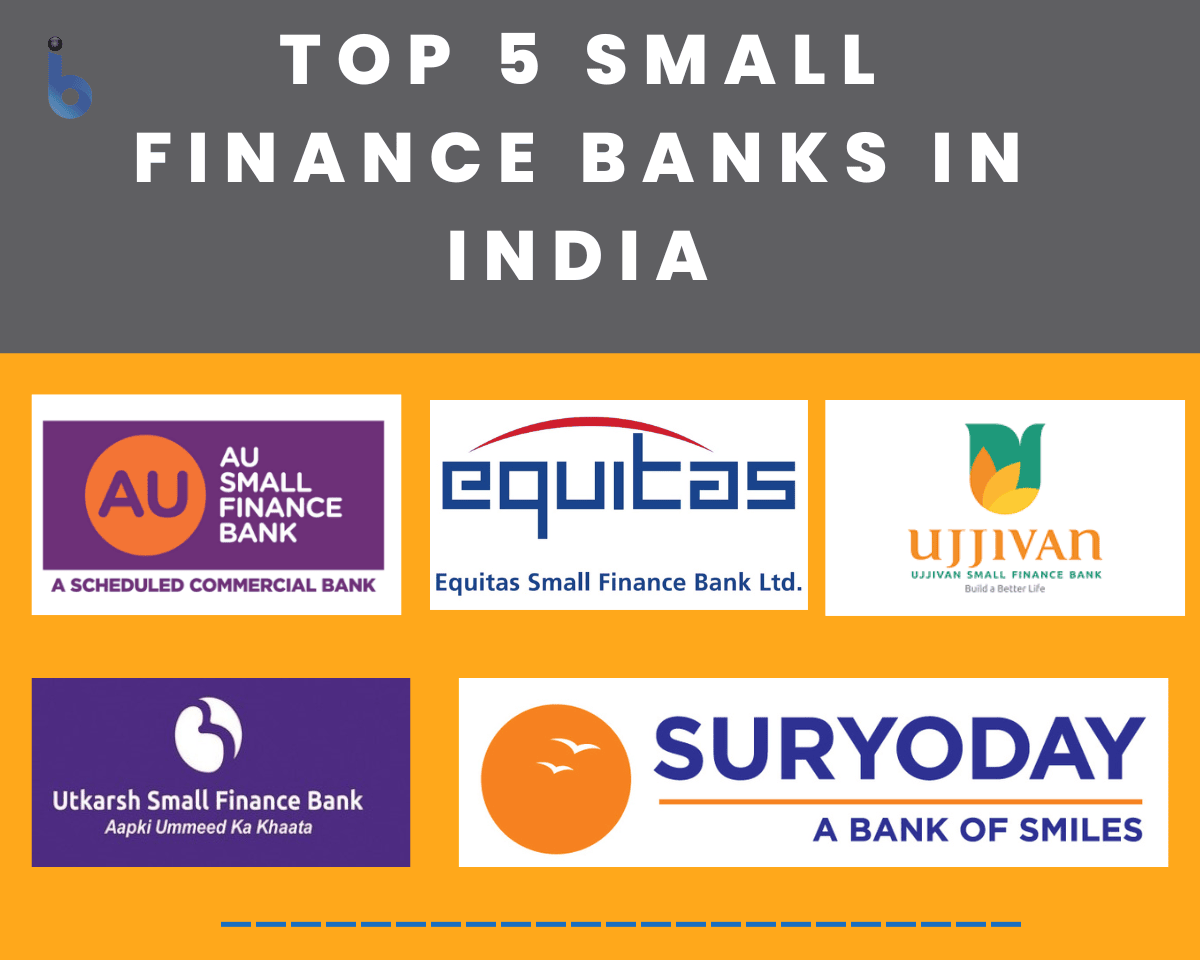 Comprehensive List of Top 5 Small Finance Banks in India
So now let us check a list of the 5 best small finance banks in India with their service details, headquarters, and taglines, too.
Bank Name
Services
Headquarter
Tagline
1. AU Small Finance Bank
AU Small Finance Bank provides
various banking products and
services, as follows: –
Savings Accounts
Current Accounts
Premium Banking Accounts
Debit Cards
Credit Cards
Fixed Deposits
Jaipur, Rajasthan
Chalo Aage Badhe
2. Equitas Small Finance Bank
This bank offers a wide variety of
banking products and services,
as follows: –
Savings Account
Lockers
Fixed Deposits
SIP
Loan
Insurance
NRI
Chennai
It's Fun Banking
3. Ujjivan Small Finance Bank
Here you can avail of these banking
products and services,
as follows: –
Savings Account
Salary Account
Current Account
Flexible cash deposit limit
Free IMPS, NEFT & RTGS
No additional charges for
non-home branch transactions
Loan and Overdraft facility
Personal net banking portal
and Mobile App
Bengaluru
We believe in your belief
4. Utkarsh Small Finance Bank
This bank offers the following banking products and services: Savings Account, MSME Loan, Fixed Deposits, Insurance and Investments IMPS, NEFT & RTGS, Debit card /ATM card, and Internet banking and Mobile App.
Varanasi
Aap ki Umeed ka Khata
5. Suryoday Small Finance Bank
This bank offers the following banking products and services: Next Gen Savings Account, Fixed Deposits, ATM card, NPS: Flexible and portable, retirement savings account, Internet banking, and Mobile App.
 Navi Mumbai
 A Bank Of  Smile
Significant Challenges of Small Finance Banks Currently
When it comes to maintaining an optimum technology platform that will benefit both clients in terms of transaction convenience and the bank in terms of cost savings, it is always challenging.
Earlier, Small Finance Banks were used to operate as simply Microfinance Institutions (or MFIs), but they did not provide deposit services then.
It has now been critical that they invest in infrastructure that allows deposits to be made through an ATM network and through partnerships with banks.
New aspects to be managed now include the capital adequacy ratio, cash reserve ratio (CRR), and statutory liquidity ratio (SLR). On account of that, earnings will be lower until SFBs establish a large depositor base to manage.
These are the Products Offered by Small Finance Banks
Small Finance Banks provide a number of financial products and services to their customers, which include primary lending and deposit activities, like loans and deposits, facilitating and providing funds to poor people for housing, lending for agriculture and related activities, funding for micro and small industries, and funding for weaker sections of society.
These practical activities and the most necessary provisions make these products enjoyable and different from others. The Reserve Bank of India (RBI) regulates such directions, which enable Small Finance Banks to deal with the following products:
All Small Finance Banks provide their customers with Fixed and Recurring Deposits. These deposits pay higher interest rates as compared to the interest paid by regular banks. For this reason, you can earn more money through a Fixed Deposit from a Small Finance Bank.
You can avail of Retail loan products such as personal, housing, and auto loans provided by all Small Finance Banks. These banks are required to essentially offer 75 percent of their Adjusted Net Profit to the priority sector. In addition, 50 percent of the loans need to be essentially sanctioned up to Rs. 25 lakhs.
Small finance banks also used to deal in other essential products, such as mutual fund distribution, pension, insurance products, foreign exchange, debit cards, savings and current account deposits, and foreign exchange.
Conclusion
The Small Finance Banks have become a blessing in disguise for those sections of the country that commercial, financial institutions often ignore. For example, the Small Finance Bank provides financial assistance to small and medium enterprises, small and marginal farmers, micro and small business units, etc. So we hope we successfully resolved all your queries and provided you with the top 5 small finance banks in India to help you start your investment for more significant financial planning.