Bank of Baroda is the 2nd largest bank in India, Its headquarters located in Vadodara. The bank offers all modern net banking facilities like IMPS, NERFT and RTGS to transfer fund any banks in India. You can register for bank of Baroda net banking online without visiting the branch.
But, before you become able to send money from Bank of Baroda to any other bank account via net banking, you need to add that as beneficiary. This is one time process only. Means, you need to do it once for one payee unless you don't delete it.
Adding beneficiary in Bank of Baroda requires you to follow below two steps:
Step 1. Beneficiary Registration
Firstly you need to register beneficiary. It's quite simple to do. Just follow the below details.
1. First of all, go to Bank of Baroda's online portal https://www.bobibanking.com/. In the login screen, provide the user credentials. You will be taken to your account's home page.
If you are login your Net banking account follow this article: How To Login First Time In Bank Of Baroda Internet Banking.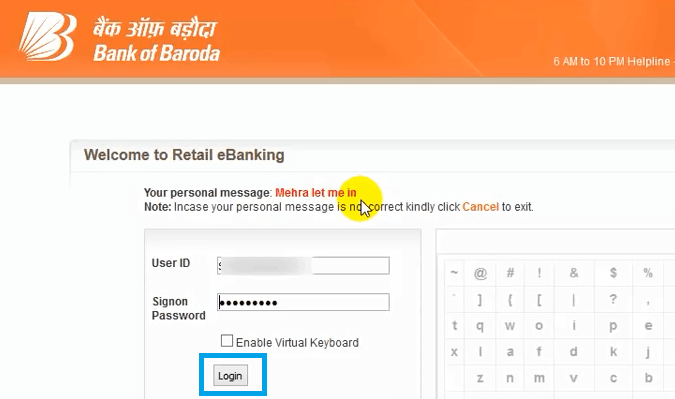 2. Look for the 'Funds Transfer' part and click on it.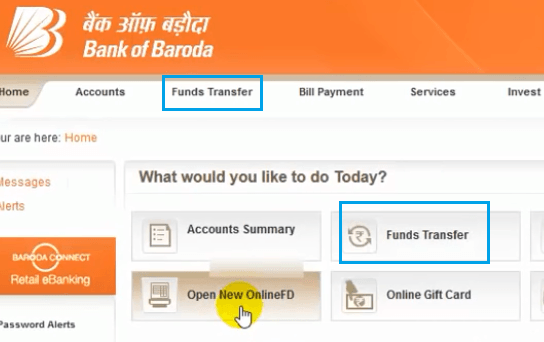 3. Now you have to select Fund transfer type. For sending money to other banks account, here I am selecting 'Non-BoB accounts Transfer (NEFT/RTGS)'.
Note: For transferring fund to other BoB accounts, choose 'third party transfer' option and add beneficiary.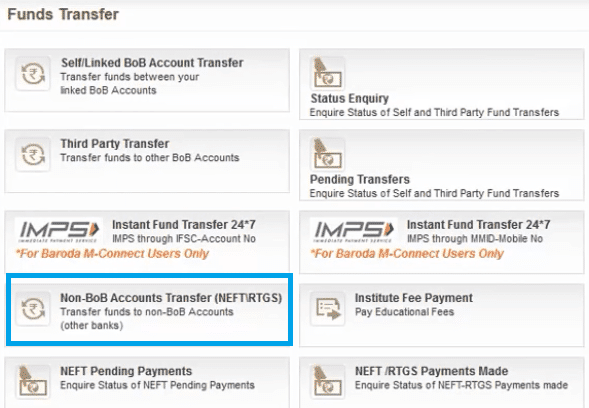 4. There you will see link with text 'Register Beneficiary', Click on it.

5. Now, if you know, just enter NEFT/RTGS IFSC detail of beneficiary. In case you don't know it, you can click on the link available there to search for required details.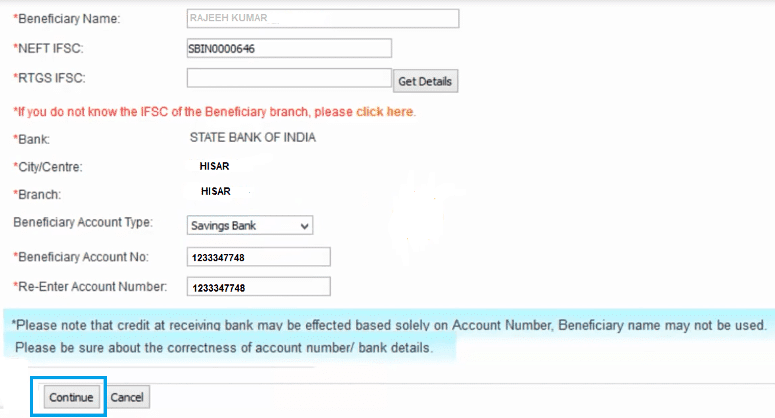 6. Provide other details regarding beneficiary. Of course, the details that on-screen page seeks from you and click the 'continue' button.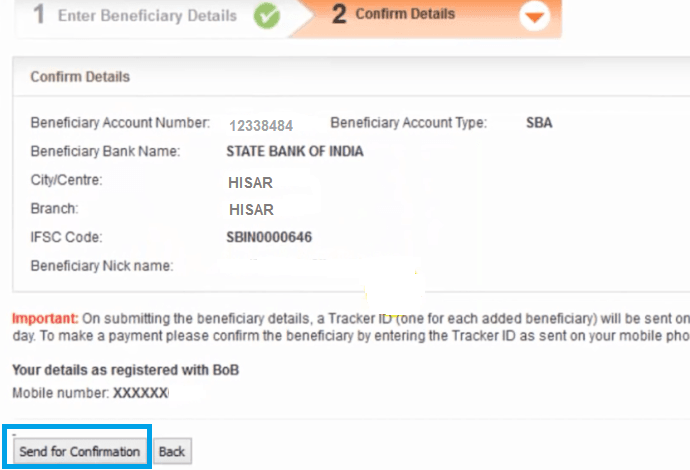 7. Do a quick review of the details you provided and make sure they are all correct. Input details like beneficiary's bank's branch name, account type, account number, etc. All data is correct? Just click on 'send for confirmation' button there.
Step 2. Beneficiary Confirmation
Next step is beneficiary confirmation:
1. You will be notified about beneficiary's registration via SMS and email which are sent to mobile number and email ID linked to your account. Click on name link for Beneficiary Confirmation.

2. Just enter the 'tracker ID' that you received in your registered mobile number.

3. Pressing enter will bring a new page that displays all details of beneficiary you just added.

4. To confirm the beneficiary registration, you just need to click on 'Confirm Beneficiary' link.
Your new beneficiary account will be activated within 24 hours. After that you can transfer money.