Oriental bank of commerce is one of the most popular public sector banks having branches all across in India. If you have an account with Oriental Bank of Commerce and you want to check Oriental Bank of Commerce account balance then worry not. Her we are going to discuss all the traditional, modern and digital ways of getting your account balance immediately.
ओरिएंटल बैंक ऑफ कॉमर्स का अकाउंट बैलेंस ऑनलाइन जानने के तरीके:
Modern Ways: There are four modern ways to get the balance of your Oriental Bank of Commerce account.
Method 1: By calling on Missed Call balance Enquiry number

It is one of the new features of modern banking. In this method you can to make a call to Oriental Bank of Commerce's missed call banking number – 08067205757 from your registered mobile number.
| Facility | SMS |
| --- | --- |
| Missed Call balance Enquiry | Give Missed call to 91-08067205757 |
| Mini Statement | Missed Call to 91-8067205767 |
| SMS Banking | SMS 'ACBAL < 14 digits Account number>' to 9915622622 |
After first few rings, the call gets disconnected and you will be not charged for it. Within few seconds you will get SMS from Oriental Bank of Commerce stating the current balance in your account. To get account mini statement, give missed call to number 91-8067205767.
Method 2: By dialling Customer Care toll free number

Dial 18001801235 from any mobile and talk to the Oriental Bank of Commerce's customer care executive. He/ She will help you with the requested information. The number is toll free so you need not worry about the charges.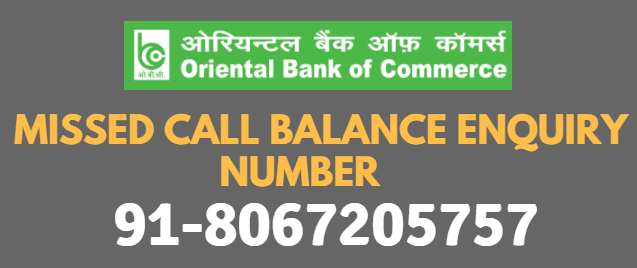 Method 3: By using SMS Banking
You can get the account balance information using SMS banking. You need to send SMS to Oriental Bank of Commerce's SMS banking number – 9915622622. The text format for balance enquiry is 'ACBAL < 14 digits Account number>'.
To use SMS banking you must register your mobile number with your Oriental Bank Of Commerce account so that the system can fetch the data required based on your enquiry.
Method 4: Through ATM
Visit your nearest Oriental Bank of Commerce ATM. Use your debit card and ATM password to complete your transaction. Select Balance Enquiry option to generate statement regarding the same. However, the method is simple but we ask customers to not opt for this.
Oriental Bank of Commerce has limited his free ATM transactions per month and if you do more ATM transactions then a fee per transaction will be deducted from your account. When there are other free methods available then why use the paid one.
Digital Ways: There are two digital ways by using which you can get the balance information related to your Oriental Bank of Commerce account.
Method 1: Via Internet Banking
If you know how to use Internet banking and have user id and password for the same then you can easily get account balance information using it.
Method 2: Using Mobile App
You can also download a mobile app from Google play store and do the various transactions including balance enquiry by using it.
Traditional Way: There are two traditional methods of using which you can check your account balance. Both the methods are time-consuming and require your visit to your nearest bank branch.
Method 1: Update your passbook
Visit your nearest Oriental Bank of Commerce branch and update your passbook by queuing up at the help desk or passbook printing counter. Once your passbook is printed with the latest transactions you can check the last printed page on your passbook to know the account balance.
Method 2: Inquiring Balance Information
You can also ask for balance information in your Oriental Bank of Commerce branch. The officer may ask you few questions related to your personal information before disclosing your account balance information to you.
Hope you checked your account balance successfully using above methods. For more banks missed call balance enquiry number visit – https://www.bankindia.org/2015/04/missed-call-balance-enquiry-number-for-all-banks.html.