There are many situations when you need to know the balance of your KVB account instantly and in such situations you must know the ways to do so otherwise you may lead yourself in trouble. If you have an account with Karur Vysya Bank and want to check KVB account balance online then this article is for you. Here we are going to discuss the various ways by which you can know your account balance easily.
Method 1: Using Missed Call Service

If you have registered your mobile number with KVB bank for mobile banking then you can use the facility of Missed call banking offered by KVB. You need to dial 09266292666 from your registered mobile number. After few rings the call gets disconnected automatically.
Within few seconds you will get a message from bank with the account balance mentioned. It is one of the easiest and fasted methods of knowing your account balance instantly.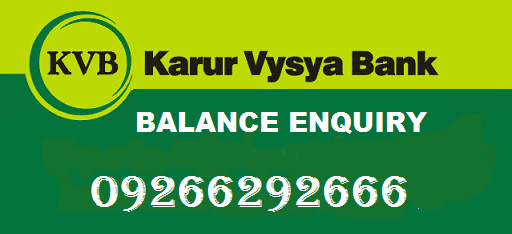 To get kvb account statement, just give missed call to the number 09266292665. You will get last 3 transactions details via sms.
To get kvb customer id, give missed call to number 08882101234 from registered mobile number. You will receive kvb customer id through sms.
Method 2: By Calling Customer Care Number

You always have the option to call the customer care number 18001021916 and know your KVB bank account balance.
Method 3: Via Internet Banking
If you have opted for KVB internet banking facility then knowing your account balance anytime is just a few clicks away. You just need to login to your KVB internet banking account by using your credentials.
Once you are in home page of your internet banking account you can easily know the account balance of all your KVB accounts
Method 4: Using Mobile App
If you are using Android Smartphone and have applied for mobile banking facility then you can use KVB mobile app. Download and configure it from Google Play Store.
If you are using it then login to your Karur Vysya Bank mobile app and go to the home page. Now go to 'balance enquiry' option and get the account balance instantly.
Hope this article has helped you to check KVB account balance online. If you have any problem, let us know via comment we will try to solve it.