Karnataka Bank (कर्नाटका बैंक) is one of the most well-known Mangalore based private sector banks with branches all over the India. If you have an account, whether it is a saving or current account and want to check your present balance then no need to feel worried.
If you have bitter experience about banking service and feel bored to check your account balance in Karnataka bank, then you have opened a right page in the website. This article will give you an elaborate information about how to check Karnataka bank account balance instantly.
Now, Karnataka Bank provides various ways to check your bank account balance instantly:
Using Karnataka Bank Missed Call Balance Enquiry Number
Karnataka bank has launched a service known as "Missed Call Banking Facility" to provide account balance information with a Mini Statement on your mobile at free of cost.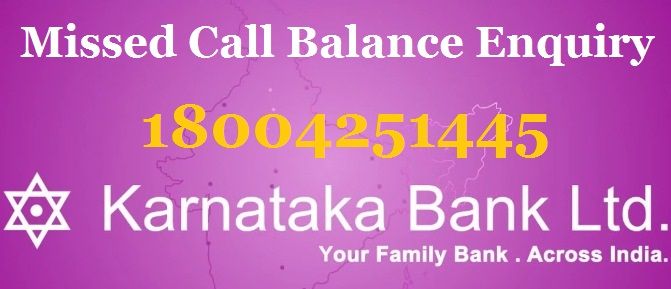 For balance inquiry just give a missed call to 18004251445 and to get Mini Statement give a missed call to 18004251446 from your registered mobile number and get your information instantly.
कर्नाटका बैंक अकाउंट बैलेंस जानने के सभी तरीके:
Service
Balance Enquiry
Missed Call
18004251445
Mini Statement
18004251446

Sms "TRN <space> <Account Number / Account Nick Name>" to number 9880654321

SMS Banking
SMS "BAL <space> <Account Number / Account Nick Name>" to number 9880654321
Toll Free Number
Dial 18004251444
Ussd Banking
Dial *99*76#
Using Karnataka Mobile Banking SMS Alert Service
Request facility under mobile banking SMS alert service lets you know your account balance. Send SMS to the 9880654321 with 'KEYWORD' and get your required detail. Below are Keyword Format:
For Balance Enquiry: BAL <space> <Account Number / Account Nick Name>
For Mini Statement: TRN <space> <Account Number / Account Nick Name>
By Calling on Karnataka Bank Toll Free Number
For your balance inquiry or other information, you may contact through this Toll free number 18004251444 and get your balance update without any delay.
Using Karnataka *99# Banking Facility
By using the *99# ussd banking facility from your mobile you can also check your balance easily and in a very convenient way. Use *99*76# for balance checking without using internet.
Using UPI App Facility

Download UPI App and then link your bank account and check your account balance. This is also another easy way to know your account balance without visiting the bank and waiting in a queue.
Hope this information will help you a lot and certainly save your valuable time to inquire your balance.