Yes Bank (यस बैंक) is the India's 5th largest full service commercial private sector bank and the only bank that got the 'Greenfield bank License' award from RBI. The bank operates multiple businesses like Investment Banking, Branch Banking, Financial Markets, corporate banking, the wealth management business across the country.
Like other corporate private sector banks, YES BANK also provides multiple facilities to its customers to inquire his/her account balance instantly. So, if you are an account holder of this bank and for many reasons, if you feel an urgency to know your exact balance, the bank will offer you multiple options in front of you to inquire your exact balance in your account.
Not only that, you can also receive mini statement against your account within an eye blink. Here are various methods by which you may check your account balance:
Using Yes Bank Missed Call balance Enquiry Number

Like other banks, YES BANK also has missed call banking facility that helps you to know your exact account balance instantly. To get the benefit of this service, you have to register under this system by sending an SMS to "YESREG <Cust ID>" only from your mobile number which is registered to the bank database to +91-9840909000.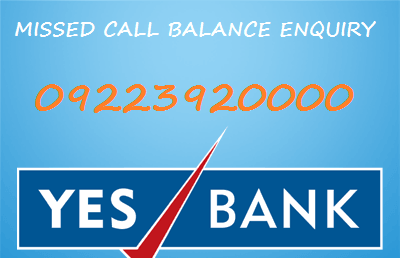 When the registration is completed, you are ready to get the benefits of this Missed Call Banking. Now, give a missed call to 09223920000 and get your information. Give missed call to number 09223921111 to get mini statement via sms.
By using Yes SMS Banking
If you want to get all information about your account balance at your fingerprints, then take the advantage of the cutting-edge technology of SMS Banking by only registering to (+91-9840909000) by sending sms 'YESREG <Cust ID>'.
यस बैंक अकाउंट का बैलेंस ऑनलाइन जानने के सभी तरीके:
Services
 Balance Enquiry
Missed Call Balance Enquiry
 Give Missed Call to 09223920000
Mini Statement
#Give Missed Call to 09223921111
#Send "YESTXN <Cust ID> to +91-9840909000
# Dial *99*66*2#
Balance Check via SMS
 Send "YESBAL <Cust ID>" to +91-9840909000
USSD Banking
Dial *99*66*1#
Toll Free Number
18002000
After completing the registration process, type "YESBAL <Cust ID>" and send it to +91-9840909000 for current account balance enquiry. To get mini statement, type"YESTXN <Cust ID>" and send it to same number +91-9840909000.
Through USSD Banking
By using YES BANK USSD channel you can also verify your account balance. For that dial *99*66# to initiate bank's USSD session, now select the desired menu and enter the last 4 digits of your account number and MPIN to receive your account information.
Dial *99*66*1# for Balance Inquiry and *99*66*2# for Mini Statement from registered mobile number.
By calling on Yes Bank Toll Free Number
For balance inquiry, you may also contact to the Toll-Free Number at 18002000 to get your account balance information.
Yes UPI Android App
To take the benefits of this service, first of all, download the UPI App and then link your account and check your account status.
Hope this article will be very helpful to get instant information about your Yes bank account balance.