Federal bank (फ़ेडरल बैंक) is an India based private sector bank with its headquarter in Kochi, Kerela. Till now the bank has 1252 branches with 1680 ATMs across the country. Federal bank on August 2013 introduced its Fedbook, the electronic passbook. This is basically a mobile app which helps its customers to view their passbook detail.
The most exceptional feature that makes the bank unique in the banking sector is its 'automated chatting facility'. The bank has introduced this system in 2015. With this system, a customer may check bank's products & services and chat with the virtual relationship officer who is responsible for answering the customer's quarries.
The bank has also multiple option to information about your balance inquiry. If you have urgent need of getting information about your account information, you may avail any one of these methods.
Using Federal Bank Missed Call Balance enquiry number

Like other banks, it also has missed call banking facility that helps its customers to know their exact account balance instantly. To get the benefit of this service, you have to register your mobile number first. For missed call based balance enquiry service Registration, send an SMS in below format to the number 9895088888:
Format: "ACTBAL <space> 14 digit account number"
Then you have to do a missed call to 8431900900. You need no smartphone or GPRS connectivity to avail this service.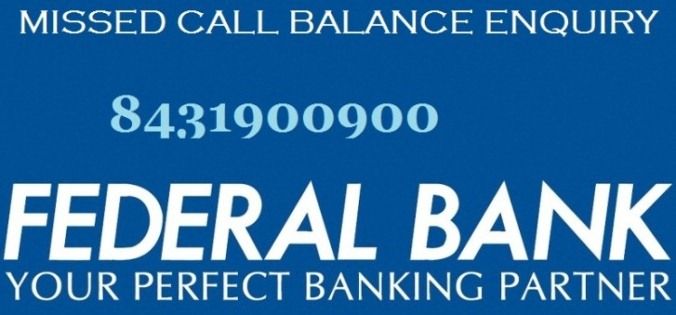 To get mini statement, Just give a missed call to the number 8431600600.
Through Federal Bank SMS Banking
If you want to get all information about your account balance at your fingerprints, then take the advantage of the cutting-edge technology of SMS Banking.
फ़ेडरल बैंक अकाउंट का बैलेंस जानने के सभी तरीके:
|  Services | Balance Enquiry |
| --- | --- |
| Missed Call Balance Enquiry Number | Give missed on  8431900900 |
| Get Account  Balance through  sms | Type "BAL <space> myshortno" and send to 9895088888 or 5676762. |
| Mini Statement | Give missed call to 8431600600 |
| Toll free number | Dial 18004251199 Or 18004201199 |
To know Federal Bank Account balance through sms, type "BAL <space> myshortno" and send it to the number 9895088888 or 5676762.
Note: myshortno = SB + last 4 digits of the account number.
By calling on Federal bank Toll Free Number
For balance inquiry, you may also contact to the Toll-Free Number at 18004251199 Or 18004201199 to get your account balance information.
Apart from all these methods, you may personally visit the bank and give a printed copy of your account information through this process is time taking and sometime monotonous too.