Bandhan Bank is a new Indian Banking, and Financial Services Company established in 2014. Fulfilling the licensing norms it obtained the license from Reserve Bank of India and is performing successfully.
Do you have an account with Bandhan Bank? As established in the modern world, the bank offers modernized banking facilities aiming to satisfy its customers. The account holders of Bandhan Bank certainly would expect convenient banking services under any circumstances.
What would you do to make Bandhan Bank balance Enquiry? Visiting the branch and updating the passbook is a traditional way to get balance update. You can also visit the ATM and request balance Enquiry.
What if you need to know the balance in your account late at night or in an emergency situation when you can't visit the branch or ATM. Bandhan Bank introduced Missed Call Balance Inquiry Toll Free Number for its customers to make balance inquiry anytime!
Bandhan Bank Balance inquiry via missed call
You need to dial the toll free number from your registered mobile number. 9223008666 is the toll free number introduced by Bandhan Bank. To make balance Enquiry, give a missed call at 9223008666 or else the call will disconnect automatically.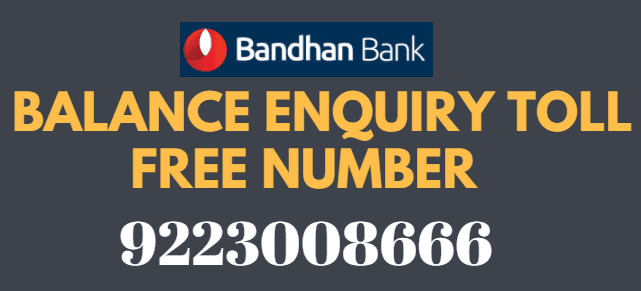 Within few minutes you will receive an SMS from the bank containing the updated balance info of your account. To get Bandhan Bank mini statement, please give missed call at 9223008777.
Important Note: If you have multiple accounts in the bank, you need to select one account as the primary account. To set one account as primary, send an SMS to 9223011000. The code to activate the primary account is SETPRIME <Account number>.
The missed call service remains active round the clock, and you can send a request for balance Enquiry anytime and from anywhere. If you haven't activated any mobile number, then request for the service at the branch so that the bank would link the mobile number to the account.