RBL Bank is a commercial bank and is one of the oldest banks in the private banking sector of India. The bank has around 244 branches and 387 ATM's across 20 states including Union Territories of the country.
It offers excellent banking services embracing the advancements in the banking sector. It has more than 3.15 million customers. Are you one among the customers of RBL Bank? If you have an account with RBL Bank, you must be enjoying the offered services and facilities.
Are you updated about the newly introduced Missed Call services? Missed Call service is one of the most advanced services for ensuring customer's convenience. The customers can access different facilities giving a missed call to a dedicated number. How do you make RBL Bank balance Enquiry?
RBL Bank balance Enquiry via missed call
Dial 18004190610 from your registered mobile number. Give a missed call, or else the call will get disconnected automatically after few rings. Within few minutes, you will receive an SMS from the bank containing detail info about the available balance in the saving or current account.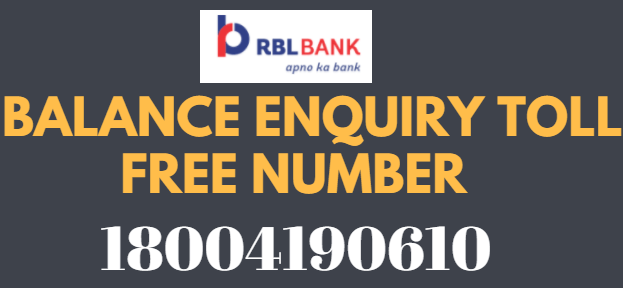 18004190610 is a toll free number introduced by the bank only meant for making the balance inquiry. You need not pay any charges for accessing this service. You can access the service round the clock and from any location. Customers having registered mobile number can access the missed call services.
Important Note: If you haven't yet registered the mobile number, do it as soon as possible. Request the bank concerned bank official to link the mobile number to the account. With this service, you need not opt for the traditional methods of balance inquiry.
Visiting the branch and updating the passbook, visiting the ATM or accessing internet Banking are the conventional methods. Making balance inquiry with the traditional techniques is time-consuming. The missed call services are quite convenient and act fast in comparison to other ways.