Indian Banking sector is upgrading with the latest tech advancements. The leading banks in public, as well as in private sector, are embracing the tech advancements to provide excellent banking facilities.
Do you have an account with HDFC Bank? Do you have access to the latest advancements and services? How do you check the available balance in your account?
There are several ways of making the balance inquiry. Updating the passbook, receiving the bank statement, receiving SMS after every transaction, accessing internet banking services, or visiting the ATM or bank are the general methods to check the balance.
But, what if you need to check the available balance at midnight or when you are not able to access any of the methods mentioned above?
HDFC Bank introduced missed call services for its customers with which they can easily get the available balance instantly. Dialing the toll-free number is an effortless way.
You can easily access, HDFC Bank missed call balance Enquiry number and received the updated info instantly.
Steps to make balance Enquiry in HDFC bank via missed call service
Dial toll free number 18002703333 from your registered mobile number. Disconnect the call after 2-3 rings or the call will get disconnected automatically.
Within few minutes you will receive an SMS stating the updated balance info along with the account number.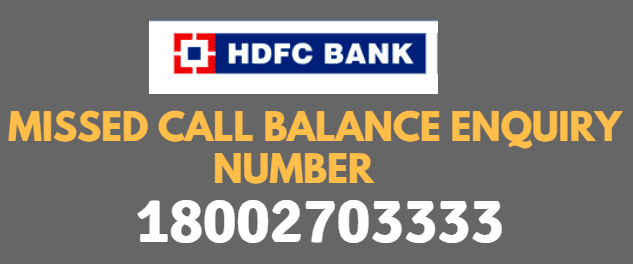 Similarly, you can dial toll free number 18002703355 to get mini statement through SMS.
The SMS is system generated, so you need not reply to the received message. As it is a toll-free number, you need not pay any fees to dial the number.
You can access the missed call service anytime and from anywhere. If you haven't registered for SMS banking, then send SMS 'REGISTER Customer ID Last 5 Digits of A/c No.' to 5676712 to get registered instantly.
Important Note: Make sure to dial the toll-free number from your registered mobile number linked to your HDFC account.
The account holders can access the missed call service for balance inquiry only from their registered mobile number.