DCB Bank is a commercial bank in the private banking sector of India. It has around 310 branches and 515 ATM's across the country in different locations of 19 states as well as three union territories.
The bank got ranked as the Best Small Bank in the country. This bank is expanding at a rapid pace. It gives its best efforts to satisfy its customers offering convenient banking services. If you have an account with DCB Bank, you must be enjoying advanced banking facilities!
How do you make DCB Bank balance enquiry? Visiting the branch or ATM for balance inquiry are traditional methods. You need to invest time and effort for getting updated info of the account's balance.
Do you want to know a simple way for DCB Bank balance inquiry? DCB Bank introduced toll free missed call services with which the account holders can make balance inquiry anytime and from anywhere.
Steps to get DCB bank account Balance info giving a Missed call
7506660011 is the toll free number introduced by DCB Bank and dedicated for balance enquiry. Dial 7506660011 from your registered mobile number and give a missed call.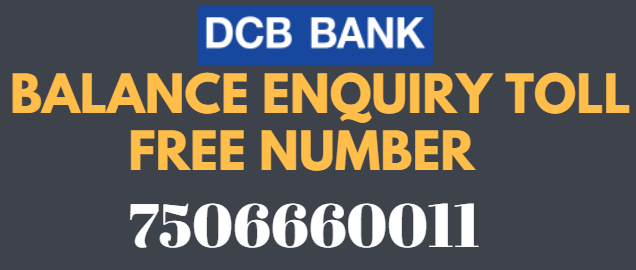 The call will get disconnected automatically after few rings. Within few minutes you will receive an SMS on the mobile number that would contain balance info of the account linked to the mobile number.
| Service |  Missed Call Number |
| --- | --- |
| Balance Enquiry | 7506660011 |
| Mini Statement | 7506660022 |
| Cheque Book Request | 7506660033 |
|  Get 1 Month statement by email | 7506660044 |
Important Note: The bank doesn't charge any fee to avail the service. But the account holders have restrictions to use the missed call service more than five times a day.
You can avail the service only from your registered mobile number. If you haven't recorded the mobile number at the bank, get it done as soon as possible!
To get the mobile number linked to the account, you need to visit the branch and request for the same. The bank official will register the mobile number and get it connected to the account.