Lakshmi Vilas Bank (लक्ष्मी विलास बैंक) is another renowned private sector bank that has almost 512 branches across India with its corporate office in Chennai. The bank also operates ATM in many corporate locations.
The bank has achieved a growing popularity from its customers due to its exceptional operating standard. Customers get a high level of satisfaction from this bank as always it provides its customers updated information regarding their account balance status.
Lakshmi Vilas Bank maintains some modern and updated methods to provide current information to its customers instantly. If when a customer plans his/her future expenses or goes for paying the monthly bill he/she requires current status of his/her account balance.
This article will help how the bank will provide you the current status of your account. Roll your eyes over the article now:
Steps to Register For Lakshmi Vilas Bank Missed Call Service
To register for Missed call service, send SMS under the format "LVB [space] REG [space] CUSTOMER ID [space] ACCOUNT NUMBER" to 9282441155. After successful registration, missed call service will be availed from next working day.
Using Lakshmi Vilas Bank Missed call Balance Enquiry Number

Like other banks, Lakshmi Vilas Bank also provides missed call services at free of cost and when the customers send a missed call from their registered mobile number to 8882441155, the customers may able to know their account balance.
Important Note: The Only customer who registered for missed call service will be able to use this facility.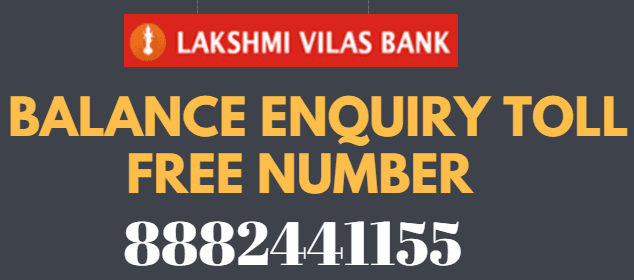 After registration, Type "LVB<one space>BAL<one space> Customer_id<one space> Account_Number" ( example: LVB BAL 123456 0489301000028764) and send it to the number 9282441155 to receive information about your current account balance in your mobile.
To get mini statement, SMS "LVB <one space>TXN <one space> Customer_id" to the same number 9282441155.
लक्ष्मी विलास बैंक का अकाउंट बैलेंस जानने के सभी तरीके:
| Services |  Balance Enquiry |
| --- | --- |
| Missed Call number | 8882441155 |
| Sms Banking | Sms LVB<one space>BAL<one space> Customer_id<one space> Account_Number to 9282441155 |
| Mini Statement | Sms LVB <one space>TXN <one space> Customer_id to 9282441155 |
| Toll Free Number | Dial 18004252233 |
By calling on Lakshmi Vilas Bank Toll-Free Number
If you want to get your account balance information from this bank, you may contact any representative through its Toll-free number 18004252233 and without any delay you may get your current balance update.
Through USSD Banking
By using Lakshmi Vilas Bank USSD channel you may verify account balance. Dial *99# to initiate bank's USSD session and select the desired menu and now enter the last 4 digits of your account number to receive your account status.
Printing of Passbook                                                  
In this case, you may physically visit the branch and ask the staff to update your passbook. It will give you all transaction history in printed form.
The bank mainly emphasis on the customer service. So, to satisfy its customer the bank uses all these methods tactfully so that the customers get full satisfaction.