Do you have an account with State bank of Travancore and want to login your account online. As state bank of Travancore merged with state bank of India, you need to visit online SBI portal to login your account. State Bank of India is one of the leading banks in the private sector banking industry. How often do you visit the bank for any banking services? With the advent of digital banking services, you need not visit the bank for simple reasons.
You can access the banking services from your zone of comfort accessing Internet Banking services. First of all, you need to get registered for SBI online banking services online or you need to visit the bank and apply to activate online banking services. You will receive the User ID and Password details with the Internet Banking Kit. Use the default User ID and Password to login to your online account. If you already have SBT online banking account, then follow below mentioned steps:
Steps to follow for accessing SBT online banking service
Step 1: Open the web browser on the device with Internet access. Before you need to visit sbtonline.in to login your account online. Now you have to visit SBI's official website for Internet banking https://www.onlinesbi.sbi/. Once the official website opens on the web browser, click on 'Login' button. You will get directed to a new webpage displaying some important messages. Go through the messages and click on 'Continue to Login' button.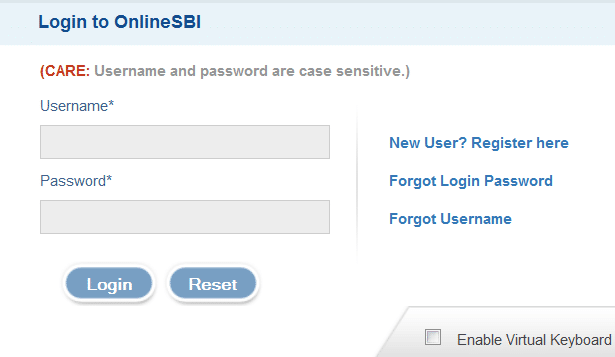 Step 2: A new window will appear on the web browser with specified boxes for entering Username and Password. Enter the Username and Password which you received from the bank with the 'Internet Banking Kit'. Click on 'Login' button. Now you need to change the default Username and Password provided by the bank.
Step 3: After recreating a new Username and Password, you also need to provide a Profile Password. After setting the Profile Password, you have successfully logged in to your Internet Banking account.
Internet banking services are one of the best inventories in the banking sector. With Internet Banking service, the account holder obtains complete control over the account. You can transfer money to another account, get the transaction history as well as the mini statement, and many other related works with few clicks.
The most important things to remember are to give a secure password including alphabets, digits, and symbols. A strong password will protect you from hacking. You must note the new User ID and Password for future reference! Access SBI Internet Banking services following the easy steps for SBT online login. If you haven't obtained the default User ID and Password for online banking, you can get registered for it following other steps!