State Bank of India is the largest banking and financial service provider in the Public Banking Sector of India. With the growing facilities of technology, the banking sector has embraced the advanced technology for reducing physical efforts of the banking customers.
Being a customer of this technological era, would you like to visit the bank every time and do your banking tasks?
Of course not.
And SBI has understood it.
For the improved convenience, with Internet Banking, the customers can conduct financial transactions and have control of their accounts. According to a data, 2012 had 66.47% higher online transactions than 2011.
Isn't the data good enough, even though old, but gives an idea that people are opting for SBI online more and more each day.
If you have an account in SBI, activate online banking facilities and reap the benefits!
Don't have Account Read: How to open New sbi account online
The SBI customers interested in Internet Banking get an Internet Banking Kit. This Internet Banking Kit contains Username and Password as well as the kit number for accessing Internet Banking.
What if you don't have the Internet Banking Kit and you wish to login to Online SBI for the first time?
Well, if you haven't applied to sbi Internet Banking and haven't received the Internet Banking Kit, from the bank, you can login to online SBI for the first time without the kit online.
You need to follow a step by step process for activating Internet Banking and login for first time.
Steps to follow for activating Internet Banking without Kit
Step 1: You need an Internet-connected device, i.e., Computer, Laptop or Smartphone. First register for sbi net banking online, after successful registration temporary username and login password will be generated. If have already completed the registration process, then directly move to second step.
Step 2:Enter https://www.onlinesbi.sbi/ in your web browser; you will get directed to the official page of SBI to login.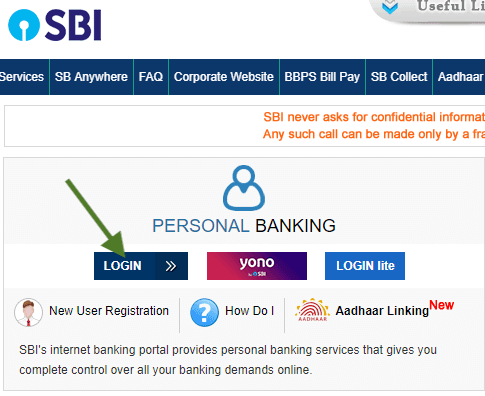 Step 3: The page will feature the Personal Login section. You need to click on the Login button under this section. You will get directed to another page featuring Continue to Login and other information about online banking. To proceed, click on Continue to Login featured on the page.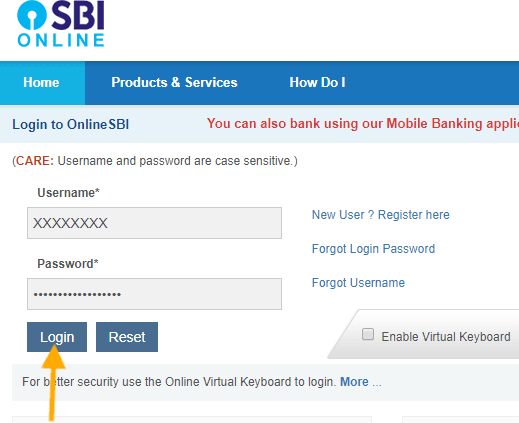 Step 4: You will get directed to the page featuring username and password. You need to enter the temporary username and login password received after completing net banking registration online. Click on Login to continue.

Step 5: Now you need to set a permanent username being cautious as the username will not get changed in the future. While entering the username, make sure to enter a strong username, and check its availability. You can set a username consisting up to 20 characters of only alphabets or a combination of alphabets and numbers. Accepting the terms and conditions, click on Submit.

Step 6: Now you need to enter the password of your choice. For security reasons, the password set must be strong. You need to set a password consisting of alphabets, numbers and special characters. You need to set a password of at least 8 characters and maximum up to 20 characters. Retype the password confirmation and click on Confirm.
Important Note: Username and Password are case sensitive! So, you must remember the username and password correctly for future use.
Step 7: You will get directed to the page Set Profile Password. You need to set profile password for continuing any profile-related works. Following the same rules of setting a Login password, you need to set a strong profile password with alphabets, numbers and special characters.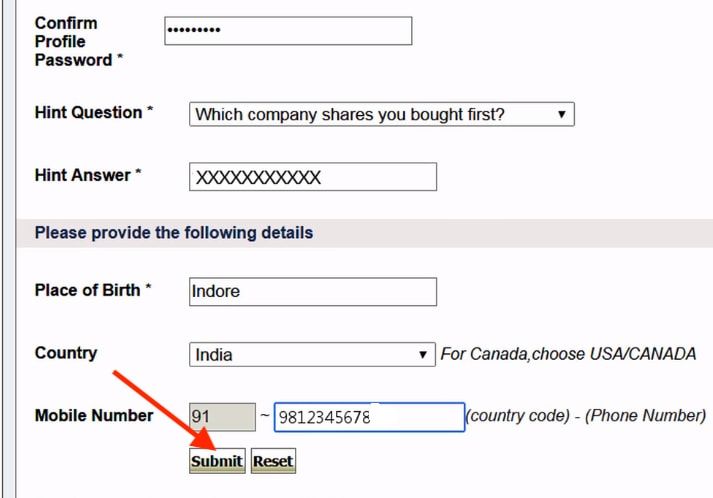 Reenter the profile password and move down to set the Hint Question or the Hint Answer. Select the appropriate question and set the appropriate answer! This hint question and answer will be helpful for you in case you forget your profile password in the later period.
After setting the Hint Question and Hint Answer, move down to enter your Place of Birth, Country, Registered Mobile Number and click on Submit.
Note: You will get a message instantly about the confirmation of password. Now your Internet Banking facility is activated, and you can easily access the online banking facilities.
Activate your Internet Banking and reap the benefits of online banking. You need not go to the SBI bank every time for transactions or account balance inquiry and waste your valuable time. Operate and control your SBI account from your home, office or anywhere!