When you think of opening a bank account, of course, the name of State Bank Of India (भारतीय स्टेट बैंक) comes to your mind.
And why not, it is the largest commercial bank in India and the biggest also.
Not only that, SBI is in the top 50 leading banks in the world. The reason? It has 33 trillion Rs in the Balance sheet, 420 million customers, 278,000 employees. Not to forget that it has 24,000 branches along with 59,000 ATMs.
Aren't you allured?
So, do you also want to open an account in SBI- State Bank of India online?
Yes! It's easy.
To open an account in SBI, you need not go to any branch extent of the bank to fill up the form and waste your valuable time! Being comfortable in your place, you can fill the account opening form to open the account.
To open Joint Account Read: How to Open joint account in State Bank of India
You just need a computer or laptop connected to the internet. Following the instruction, with just a few clicks, you can fill up the form, in your comfort zone and follow the guidelines for opening new account successfully at SBI Online. Same method can be used to open NRE, NRO or Salary account in sbi online.
The step-by-step process to fill up the application form for opening account in SBI:
Step 1: Enter https://www.onlinesbi.sbi/ in the search bar of the internet accessing search engine available on your computer/laptop. You will get directed to the official page of the State Bank of India.
Step 2: You can find several tabs on top of the page. Move the mouse cursor to Apply SB Account, you will get a pop-down menu with different categories, i.e., For resident individuals and For NRE/NRO. You need to select the applicable category as per your requirement. When you move the mouse cursor on For Resident Individuals, you will get a side menu displayed on the screen.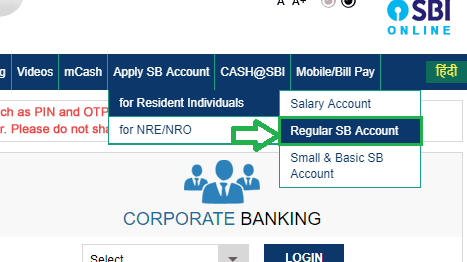 Important Note: SBI account is categorized into three, i.e., Salary Account, Regular SB Account and Small & Basic SB Account. As per the guidelines of SBI, you are eligible to open a salary account at SBI if you are an employee of any organization having a tie-up with SBI with Corporate Salary Package. You are restricted to open a salary account with SBI if you don't fulfill the objective, so you need to move ahead to open a Regular Savings Account.
Click on Regular SBI Account link (As shown in Image Above); you will get directed to www.oaa.onlinesbi.com and get the proper guidelines for form filling!
Step 3: You will get a page displaying Submit Info Online, Visit Branch with Documents and Your Account Opened Expeditiously. Opening an account is a step-by-step process, and these are the steps to be followed. You will also see Apply Now on the screen, move your cursor on it and click; you will get directed to the next step of opening the account.

Step 4: On Clicking Apply Now, you will get options for Start New and Continue with partially filled under two categories, i.e., Customer Information Section and Account Information Section.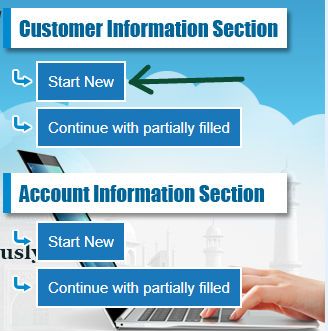 Step 5: Select Start New under 'Customer Information Section'. You will get directed to the page where you need to fill up your details for opening the account.
Step 6: Filling the star marked sections of the page is mandatory, i.e., Customer Type, Residential Status, Name, Date of Birth, Nationality, Mother's Name, etc. You will also get certain other sections to fill up, i.e., Maiden Name, Name of Father, Name of Spouse, Guardian's Name, City of Birth, Country of Birth and UID. Filling these sections is optional, so it depends on you to fill up those with authentic data and as would be applicable.
The next step is to the fill your address details in the section. Under Local Address, you need to fill the information details about the present address you reside at. You also need to give details about your permanent address. If your permanent address info is same as a local address, you can simply select Yes in the section Same as Correspondence Address.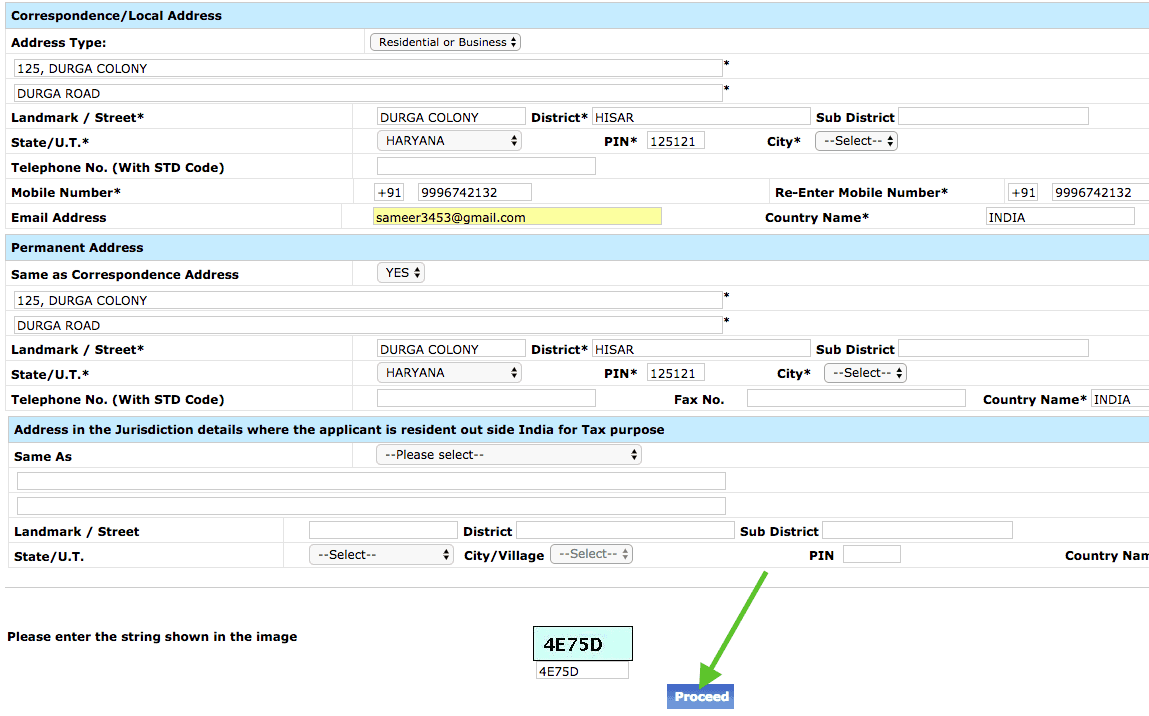 Once you have successfully filled up the details, you need to enter the string as shown in the image. Make sure to enter the words and numbers correctly in the space provided. Click on 'Proceed' for submission of the entered personal details.
Step 7:You will receive the Temporary Customer Reference Number (TCRN) on your entered mobile number via SMS, you need to save it! or directly note down from screen, you will need it later to edit the form. You need to click on 'Save and Proceed' if you have entered the information correctly.

Step 8: You will get directed to a new page, 'Additional Details'.  Enter the sections properly and as applicable. After filling the details, once again click on 'Save and Proceed'.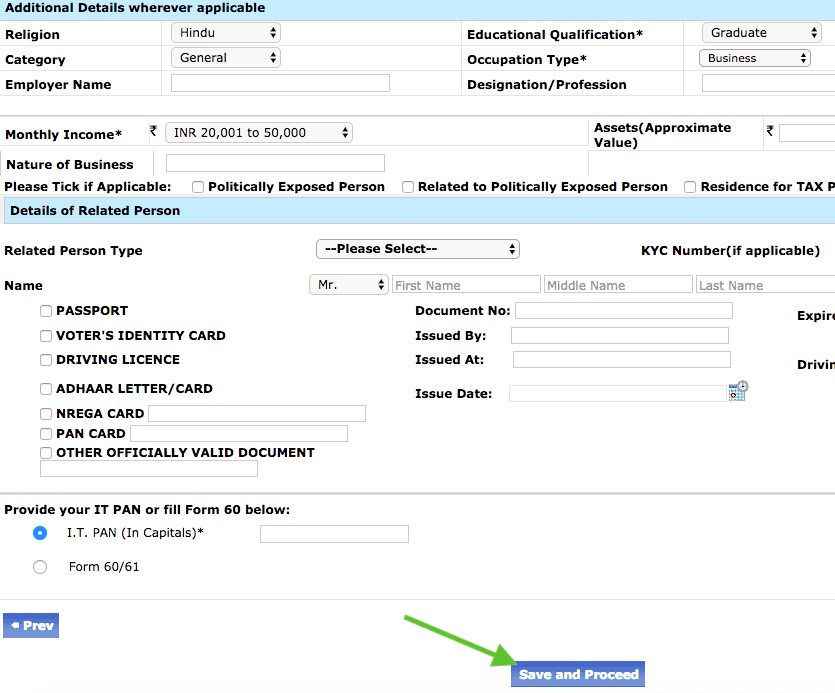 Step 9: Now you have to enter the information as required in the 'Identification' page. You get a message at the end of the page whether you would like to add a co-applicant or not. You need to select it as per your requirement and click on 'Save and Proceed'. Now customer information section has been completed.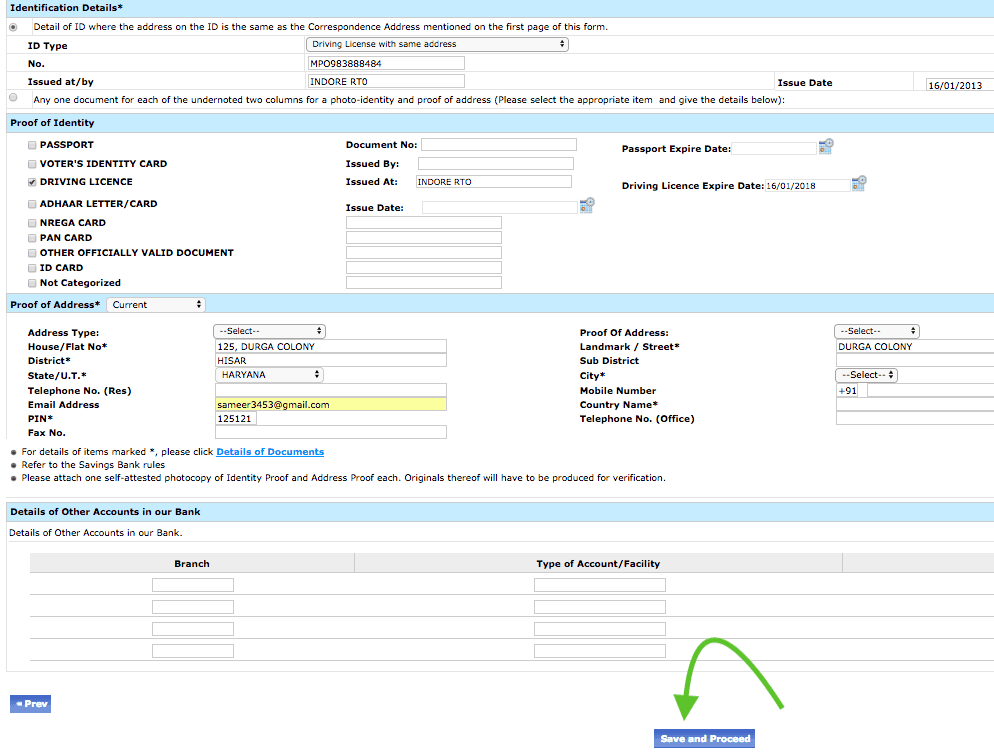 Step 10: Next you have to complete Account information section. Now you will be directed to Account Type & Services Required where you need to select the Type of Account, i.e., With Cheque Book and Debit card or any other type.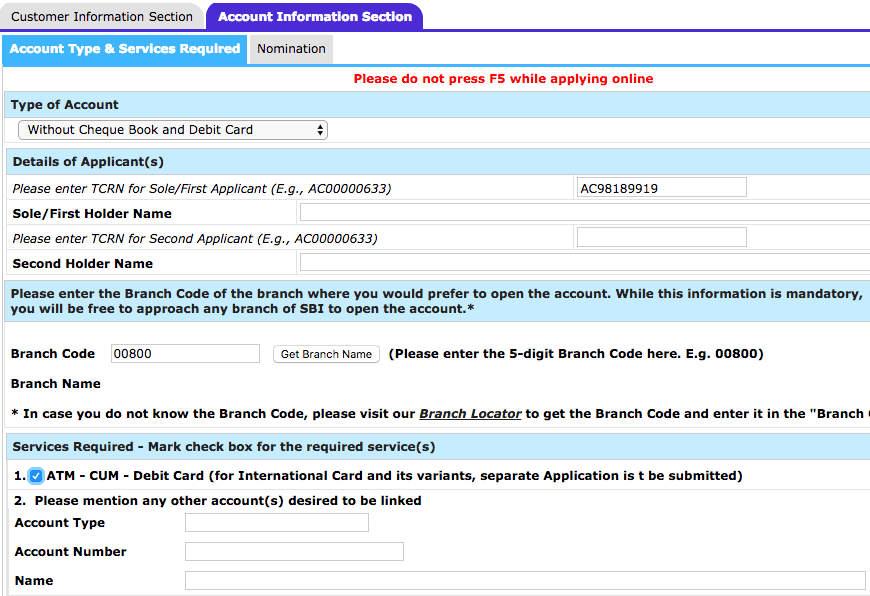 Now enter TCRN that you have received after completing customer information section. Enter branch code in next field or take help of branch locator to find nearby bank branch code.
Next choose the services that you need along with saving account: Internet banking, Mobile banking, ATM card, Cheque book, sms alert or any other.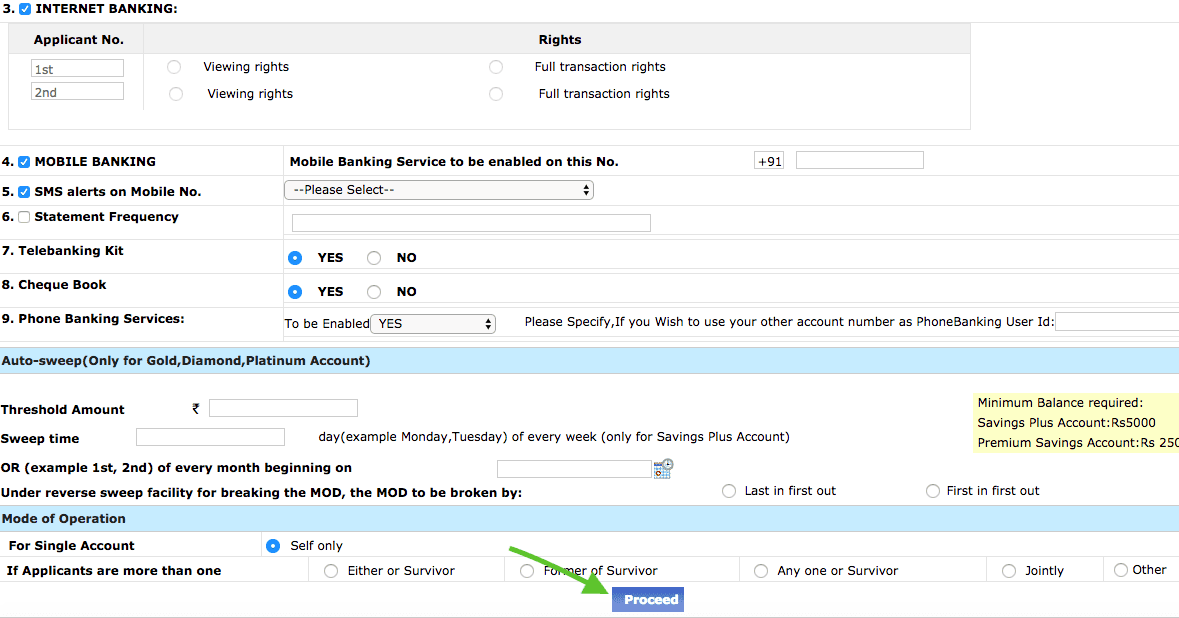 Step 11: After Filling the boxes as per the requirements and at last click on 'Proceed'. You will get a temporary Account reference number (TARN) on the screen as well as on your mobile number via SMS. Save that reference number for future use and again click on 'save and proceed' button.

Step 12: The next step is adding nominee or not. Proceed ahead with your selection by clicking on save and proceed button. Finally click on 'submit' button to complete online filling process.

Important Note:: You need to remember one thing! You need to fill up the form without any delay, or else you will get a message Session Expired. If in case your session expired while filling up the form and information, once again open the official page and click on 'Continue with partially filled' providing the TCRN number you received via SMS. You will be able to continue directly from the page you left in the midway.
Read: What is TCRN and TARN in SBI account opening
Step 13: Once you have completed the online form filling process, you need to enter the final submission. You can Download the filled application form by entering TARN, Date of birth and captcha, and you will get prompted to save a PDF file of the entered details in the form.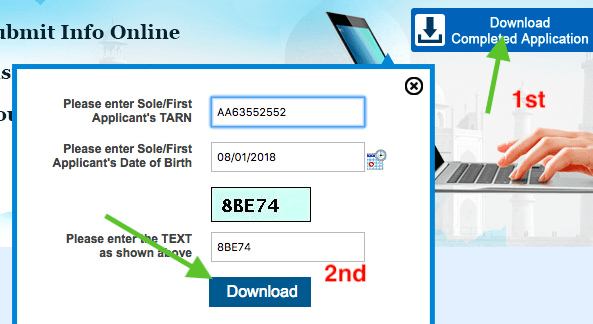 Step 14: Print this form and walk into the bank branch you selected for opening the account and Submit this form along with KYC and 2 recent passport size colored photograph at the branch.
The above-described information is the process of filling the form for opening an account at SBI. You would have to bear some expenses for the printouts of the filled form. But you will be able to save some time at the SBI Bank. Follow the guidelines without any errors and complete the first step of opening an account at your nearest SBI Bank branch.