State Bank of India is one of the most reputed banks in India, which is held in high regard because of its excellence in customer services as well as wide coverage across the country.
Included in the services and facilities provided by SBI to its customers is the online balance Inquiry feature, which enables the user to check the balance right from the comfort of their home or office, without actually having to visit the bank branch for the same.
All they have to do is simply login to Sbi online banking account and the whole information is available to them with just a click of the finger. In this way, net banking is an ideal way to make online balance enquiry for SBI account holders.
1st Method: Making the Balance Enquiry of SBI account Online through Net Banking
When one wants to make the balance check regarding an online account, the conventional way is to visit the nearest bank branch or ATM to enquire about the same, which is not always feasible and may cause inconvenience to the bank customer.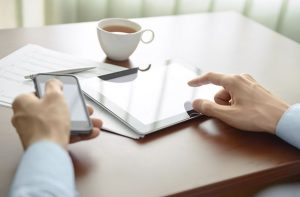 On the other hand, the internet has ushered in new technology and opened new doors for bank account holders by introducing online or net banking. This innovative way of banking enables the customer to access his account online and also check out the summary of his bank account along with his account balance, making things very easy and convenient for him.
For Punjab National Bank: Check PNB Account Balance online
The whole procedure is quite quick and easy and can be carried out following some simple steps, which are listed as follows:
1. Log in to your bank account by visiting the online site of SBI at https://onlinesbi.com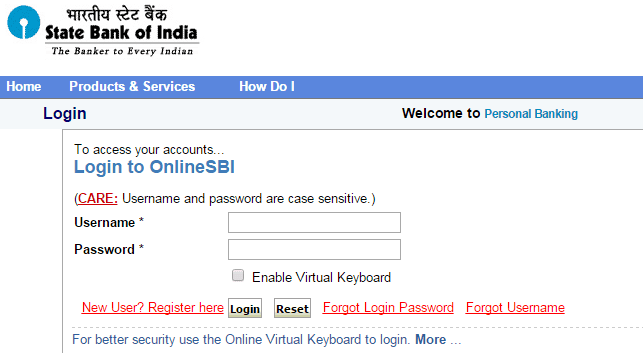 2. Now click on the option of personal banking.
3. The user will be asked to enter his user name as well as password, which he can do by using the virtual keyboard option made available by SBI for enhanced security.
4. There will be an option "Click here for balance". The user has to select this option and the account balance will be available to him. You can also view last ten transactions in account details.


Pre Requisites of Availing the Facility of SBI Online Balance Enquiry
In order to avail of the useful facility of SBI online balance enquiry and many more of them, the account holder has to fill up the form choosing the option of internet banking when he opens his account at SBI.
In case the form has not been filled by him at the time of opening the account, the account holder can again approach his bank branch and fill and submit the net banking for in order to get this facility.
For HDFC Bank: How to Check HDFC Account Balance Online
The bank will furnish a user id and password to the account holder a few days later, which can be used to operate his online banking account in the future, along with viewing the bank statement of his account and learning about the balance in his account. Account holders of SBI can learn more about internet banking and account balance facility by visiting the bank's website at www.statebankofindia.com.
2nd Method: Enquiry sbi balance by SMS
You can use "sbi quick"  facility to know your account balance. To enable this facility, you have to send an SMS REG 'Account number' to "09223488888" from the mobile number. Mobile number should be added before your saving account.
After successful registration, type "BAL" and send it to the number "09223766666". An SMS with account details will be sent to your mobile inbox.
To know the mini statement (last four transactions details), SMS "MSTMT" to the same number "09223866666".
3rd Method: SBI Balance Enquiry by missed call
You can know account balance by just giving miss call at the number "9223766666 or 9223866666" from your registered mobile number. An SMS with account balance information will be sent to your mobile number.
4th Method: SBI balance enquiry by calling SBI customer care number
Call to sbi toll-free numbers 1800112211 & 18004253800. The customer care executive asks you to provide your account number or last transaction details. Now you can know the account directly from them.
5th Method: Check SBI Balance and mini Statement through Freedom App
1. First log in to your account in SBI Freedom app.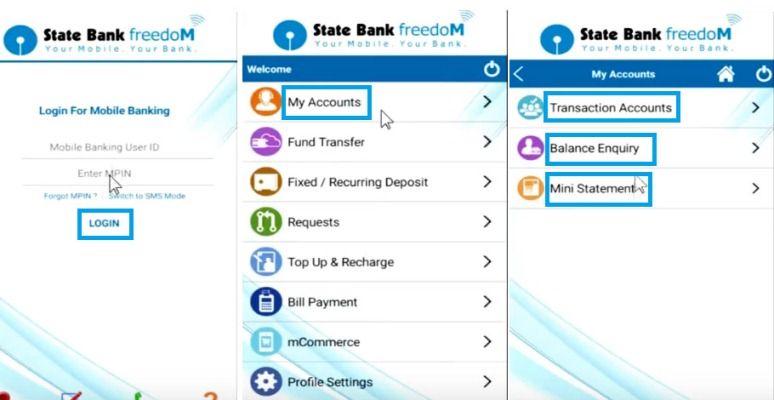 2. Now click on 'My Accounts' option displayed on the screen. Now choose any one option from transaction Accounts, Balance Enquiry or Mini Statement and get details.
Method 6: Check SBI Balance through USSD Code
If your have registered number for mobile banking, then you can know your account balance by dialing USSD code *99*41# without internet.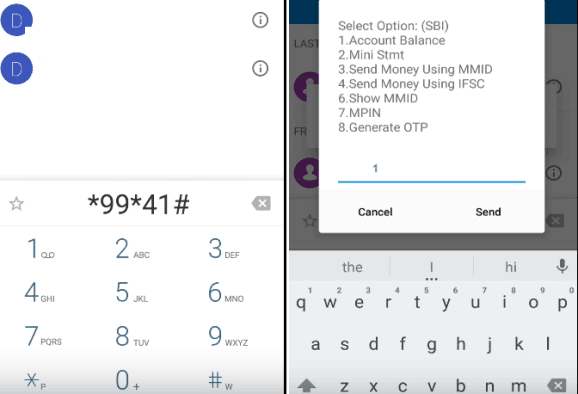 Method 7: SBI Balance Enquiry through ATM
Visit a nearby ATM and insert your ATM card
Now click on 'Balance Enquiry' and enter your ATM pin
Just select 'from Saving' and the balance will be displayed on the ATM screen
Loan Enquiry:
For a car loan, Type "CAR" and send it to "09223588888"
For a Home loan, Type "HOME" and send it to "09223588888"
NOTE: SMS & CALL charges:
Premium charges will apply for calling and sending SMS on 6-digit numbers (example: 567676).
SMS charges will be as per the customer's mobile bill plan for 10-digit numbers.
There is no charge for missed calls. But if the caller listen to IVR which is played after 4-5 rings, then they will be charged as per the mobile bill plan.
Article Updated: 19 Sep, 2022
I have updated all possible methods to check sbi account balance without visiting the branch. Check out all Indian banks missed call number for more.