Do you have an account with Indian Overseas Bank? Have you yet activated Internet Banking facilities? If not, you are losing many opportunities of accessing smart banking services. Today, in this digital age, banking services have digitalized, and it has become easier for the customers to access the services anytime without visiting the branch in person!
If you haven't yet activated Indian Overseas Bank net Banking, you can get registered online and avail the services. You need to follow simple steps to get registered, and you can do this anytime from anywhere. Activating Net Banking services is few clicks away from you.
Steps to Get registered for IOB Net Banking Online
Step 1: Open your web browser on your computer with Internet Access. Open the official website of IOB for Internet Banking https://www.iobnet.co.in/ibanking/login.do on the web browser. The homepage of the Internet Banking services will get displayed on the web browser.
Step 2: As you are New User for Internet Banking, click on New User? Register Now link.

Step 3: You will get directed to a new page for Individual Registration. On this page, you need to enter few details like Login ID and Password under User Particulars section. Re-enter the password for confirmation.
Important Note: Make sure to enter a strong password which must include at least eight characters, and the characters must include a symbol, alphabet, and number.
The next step is to enter the Personal Particulars. You need to enter the Salutation, then the First Name, Middle Name, Last Name, Resident Status, Country, Email ID and Mobile Number. Make sure to enter the credentials precisely and enter a registered and active Email ID and Mobile Number.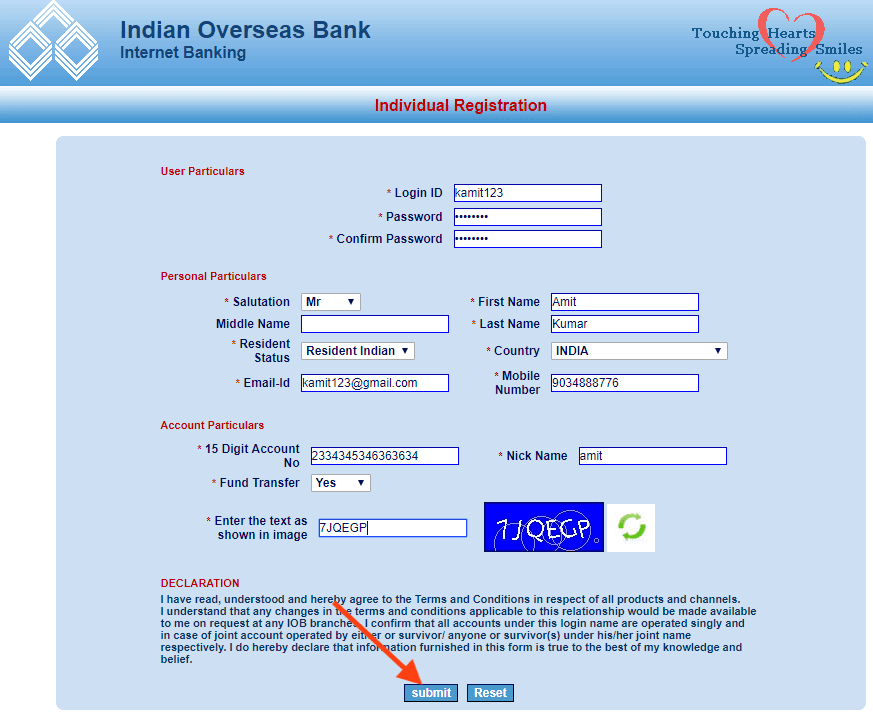 Now you need to enter the Account Particulars. Enter the 15 Digit Account Number, Nick Name, and Fund Transfer in the respective boxes. Now Enter the text as Shown in Image.
Click on Submit button displayed at the bottom of the page. Next you have to confirm the same details.
Important Note: Entering the credentials in the Star Marked boxes is mandatory.
Final Step:Now a PDF file will be generated and take print out that pdf file. Submit that printed application to the branch and request the bank officials to activate IOB Internet Banking Services. You will also receive confirmation of successful registration on your E-Mail ID and Mobile Number.
Following the steps, you can get registered for Internet Banking services from anywhere and anytime. Activate Internet Banking Services and get access to the entire banking services provided by the bank. It is easy to get registered for IOB Net Banking.