Punjab National Bank is one of the best government banks when it comes to providing reliable services. The bank has branches all across the country and that makes it quite an accessible bank.
To make the services more accessible, you can also use the net banking facility of the PNB Bank and that will give you the privilege to make transaction anytime anywhere.
If you net banking for PNB is not registered yet then you can register it by a simple process and we have mentioned the activation process below.
Process to Register for PNB Net Banking through Online Medium
Step 1: The first step is to visit the net banking website of Punjab National Bank. You can access the website directly by clicking https://www.netpnb.com/. Click on the 'Retail internet Banking' and then click on 'New User'.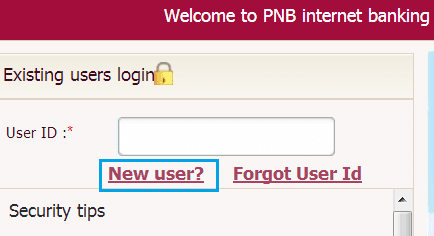 Step 2: You will now be redirected to a new page wherein you will be able to enter the account number. Once the page is displayed, enter account number and select registration type Internet or Mobile Banking for pnb as per the requirement.

You can click on the radio button for both as well and click on 'verify' button. On clicking verify, an OTP will be generated and the OTP will be shared on your mobile number.
Step 3: You would also have to select the type of facility you want. You may choose a read-only access or you can opt for the view and transaction access as well. Now enter otp sent to your registered mobile number and click the 'continue' button.

Step 4: You will now have to enter your debit card number along with ATM Pin and OTP.

Step 5: Once the ATM details are validated, you will get an option to set a new password for logging in and for making transactions. Set the password and click on the 'complete registration' button.
Ensure that you save your password and username with you as it will be required for the next time login.
Once you have completed the registration, you will be able to use the pnb net banking facility when required. User id will be shown after completing the registration process. Now you can add beneficiary and transfer money from PNB to other banks online.
If your mobile number is not registered with the bank then you will have to visit the branch to get the net banking activated. In addition to this, you can also call the toll-free number 18001802222 for any help.