The advent of e-commerce in the banking scenario has literally revolutionized the structure and working of banks in India. It has made things far easier for us in numerous ways- from conducting banking transactions to booking hotels, train and air reservations and shopping too. All these can be done from the comfort of our homes and offices, just at a click.
A few years ago, we could not even imagine that we could transfer money from one account to another, or for that matter, from one bank to another, without even having to go out. In this manner, online transactions are very instrumental in serving two basic purposes- it saves a great deal of time besides providing the benefit of safety, which is compromised when you have to carry huge sums of money from one location to the other.
In this article, I am going to tell you how to transfer money from Punjab National Bank to other Indian banks like SBI, HDFC, ICICI, IDBI, Axis, Canara, KVB, UniBankank of India etc. by using internet banking.
Online Money Transfer from Punjab National Bank (PNB)
Punjab National Bank is among several banks in India, from where you can carry out the online transfer of funds from one account to another in a simple manner. This bank has been known for providing best services with the latest technological improvements and friendly staff base, catering to the banking needs of a large number of customers around the country.
Read: Transfer money online from sbi to other banks
Opening a savings account here entitles you to the use of internet banking service provided by the bank, which is a great facility. It enables you to make the transfer from your bank account here to an account in some other bank with equal ease.
All you need to do is to follow some simple steps to carry out this online transfer. It is done using a procedure called NEFT, which stands for "National Electronic Funds Transfer".
How is Online Transfer of Funds Carried Out?
Listed below are some convenient and simple steps to be followed for making an online transfer of funds from your PNB account to some other bank account, followed by the process in which this transfer is completed:
1. Start with logging on to your internet banking account via Online PNB Banking website https://www.netpnb.com/. If you have a normal saving account, click on "retail user". In case you have a business account, click on "corporate user".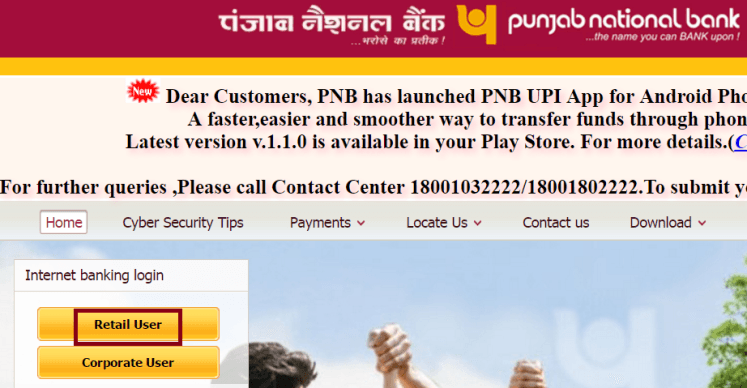 Note: In case you do not have an internet banking account at PNB, you can refer to a booklet specifying the procedure of the same, which is available at your PNB branch.
2. Now Enter your "user ID" and click "continue". A new page will have appeared, again you need to enter User ID and its password.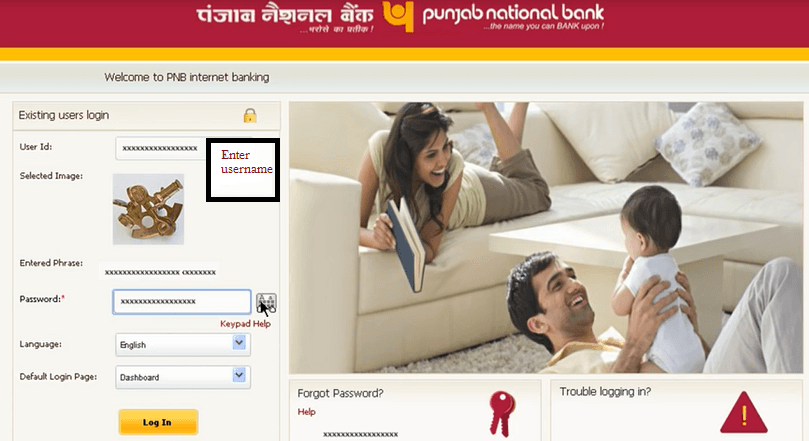 2. In order to initiate an online transfer of money from your PNB account to any other account (s), first of all, you will have to fill an application for NEFT form, with the particulars of the beneficiary. These include details like name, address, the name of the bank branch and account details and IFSC code of the beneficiary bank branch. So first Add Beneficiary in PNB net Banking account and follow remaining steps of this article.
Important Note: This transfer request can be initiated online. The branch is then authorized to remit the amount to the beneficiary by debiting the account of the remitter with the same amount. A confirmation regarding the transfer is sent to the beneficiary by email or SMS.
Requirement: The basic prerequisites of carrying out a transfer are that both the branches, originating and receiving, should be a part of the NEFT network. Secondly, you should furnish all details such as beneficiary name, account no, account type and beneficiary branch IFSC Code.
3. After entering login details, click on on "transactions" from Netpnb dashboard. To transfer Fund from Punjab National Bank to other banks, you have to select "NEFT" as shown in Image below.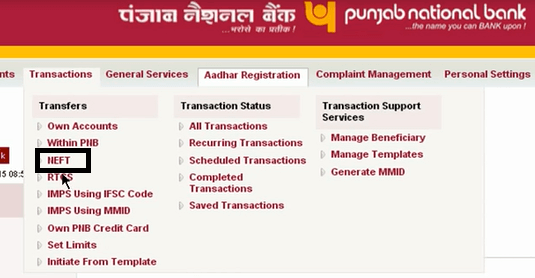 4. Now you have to Initiate simple payment from PNB by selecting your account and beneficiary whom you are sending money. Further, enter the amount and remark anything, then click "continue" as shown in the figure below.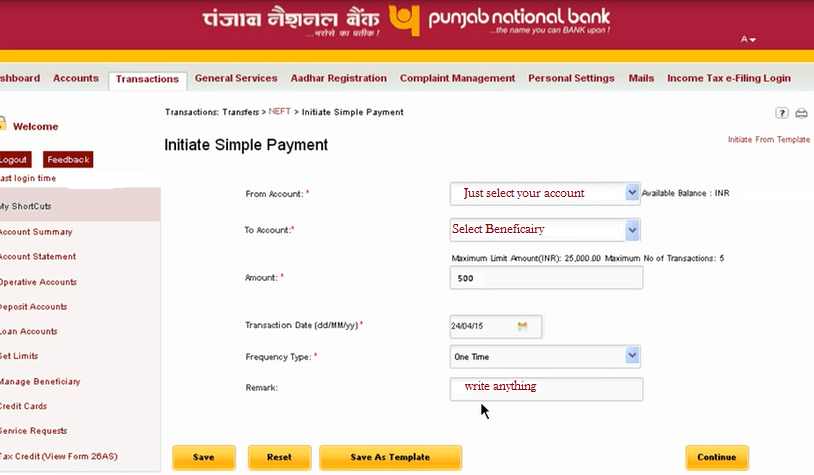 5. In next step, enter your transaction password and click submit.
6. Now you Payment will be sent Successfully, Just log out the page.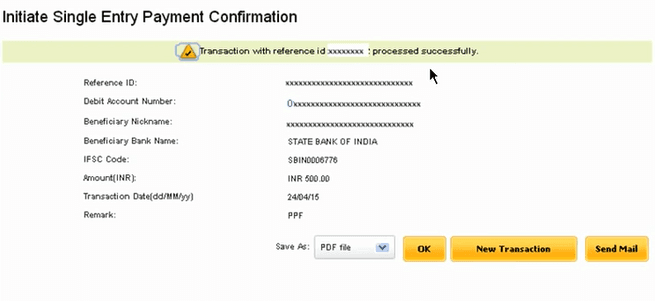 PNB to other banks fund transfer Time:
A Structure Financial Messaging Solution (SFMS) message is prepared by the remitting branch and sent to the service centre of NEFT. It is then forwarded by the service center to the local RBI for settlement.
The RBI makes the process of bank-wise clearing of all the transactions and makes entries of net debit or credit for passing on to the banks. The bank, on receiving the message from RBI, credits the account of the beneficiary.
After all these steps are completed successfully, the amount of transfer will be credited to the account of the beneficiary in some other bank within a period of 8 to 24 hours. Money can expect to get credit either on the same day or on next working day.
NEFT charges for transferring funds to other banks:
In this way, you can follow this procedure to carry out the online transfer of funds in such an easy and hassle-free manner. The bank charges a very nominal amount for processing and service charges of conducting a NEFT transfer, the maximum being Rs 25 + service tax, for transfers exceeding Rs 2 Lacs.
| Transaction Amount | Charges |
| --- | --- |
|  Up to Rs. 10000 |  Rs. 2.50 + service tax |
|  10000 – 1 lacs |  Rs. 5.00 + service tax |
|  1-2 Lacs |  Rs. 15.00 + service tax |
|  Above 2 lacs |  Rs. 25.00 + service tax |
The best thing about the online transfer is that all the details of the transactions conducted online will be available on your PNB online banking account on the website of the bank. You can have an access to this summarized information and look at it anytime online, without having to visit the bank personally.
Conclusion:
This system has a great benefit in saving your time to a great extent. You get an opportunity to send money to accounts in a large number of other banks in the country with great ease and comfort.
I hope you will transfer money online from PNB to other banks by using the above method. If you have any problem, leave us to comment we will try to resolve it.
Article Updated: 9 July 2018