Most of the Indian Banks provide internet and mobile banking facilities to their customers. Through the internet and mobile banking apps, you can transfer funds one bank to another bank without visiting the branch.
NEFT, RTGS, and IMPS are the most used payment methods to transfer funds online. First, you have to add beneficiary (payee) details to transfer fund using these three methods. You can initiate NEFT transfer using both internet banking and mobile banking app.
NEFT stands for National Electronic Funds Transfer, which is the most commonly used payment method to transfer funds one bank to another in India. In this post, we are going to discuss a list of required details to add beneficiary for transferring funds using the NEFT.
Here is the List of Details required to transfer money using NEFT
1. Name of the beneficiary
You need to enter the full payee name while adding a beneficiary. You have to provide the full name as written in receiver's Bank passbook or cheque book.
 2. Account number of the Beneficiary
The account number is the most important information that you need to enter while sending or receiving money through NEFT transfer. You can get the account number from the front page of your bank passbook or cheque book.
 3. Address details of Beneficiary
You need to provide address information mentioned in your bank account in some cases.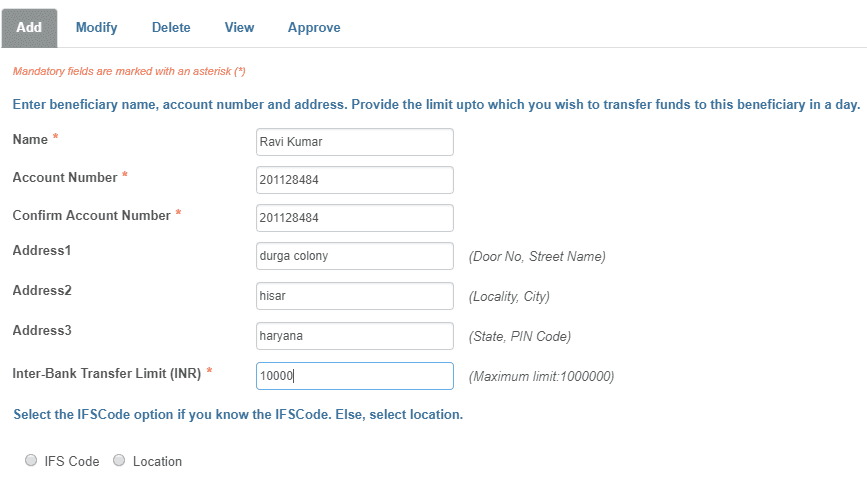 4. IFSC code of the receiving bank
IFSC code is a unique eleven-digit number that used to transfer funds online for NEFT. IFSC code can be found on the front page of passbook or cheque book. There are many online tools for searching IFSC codes for your branch.
5. Amount to be Transferred
You also need to enter the amount to be transferred using NEFT payment. Cross check the correct amount while transferring the money. So these are the basic details you need to provide to send money online using NEFT and its charges details are given below:
NEFT transaction charges
For transactions up to Rs 10,000 : Rs 2.50 + GST
For transactions Rs 10000 to Rs 1 lakh: RS 5 + GST
For transactions Rs 1 lakh to Rs 2 Lakhs: Rs 15 + GST
For transactions above Rs 2 lakhs: Rs 25 + GST