Due to the rise in the need for digitization in every sector banking sector has also developed the flexible services of internet banking. UCO bank is one of the most popular banks having branches all over India.
If you have a savings account with UCO bank and you need assistance in setting up your User ID and password for your internet banking online, you can find the steps below.
Note: We expect our readers not to be caught in any fraudulent activity that's why we always flash messages and important tips on our site to prevent threat activities.
Do not ignore safety policies and guidelines while using internet banking because it has been designed for the safety and security of your hard-earned money.
Things to be taken care of while registering for UCO Internet banking facility online:
A valid Debit card number with the password.
Your phone number should be registered in core banking system.
The only primary account holder is authorized to create online User Id and password.
The valid bank account number.
Now Follow the below Steps to register for UCO bank net banking online:
Step 1: Just visit the official website www.ucobank.com and click the section "e-banking" which is located on the right side of the web page or open the internet banking page https://www.ucobank.com/english/e-banking.aspx directly.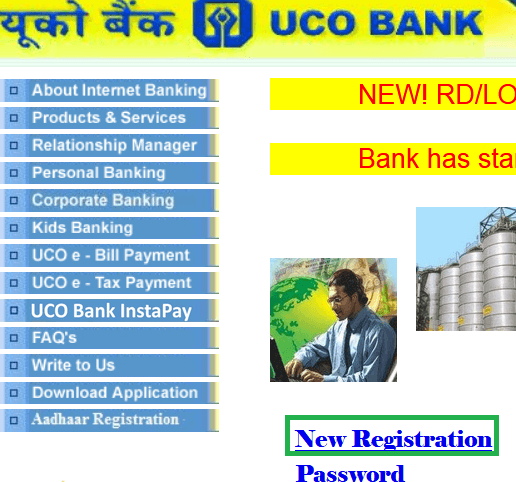 Step 2: There you can find four options – New Registration, login, Demo, password resent. You have to go for "new registration" if you want to register for the first time.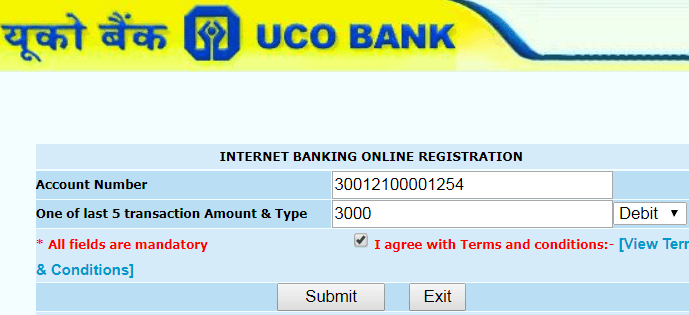 Step 3: In order to verify your bank account, you will be prompted to enter your bank account number as well as one of the last five transaction details along with debit or credit information. Enter details and click the 'submit' button.
Important Note: If you do not remember the last five transactions, you can check it while giving the missed call at 09213125125 from the registered phone number.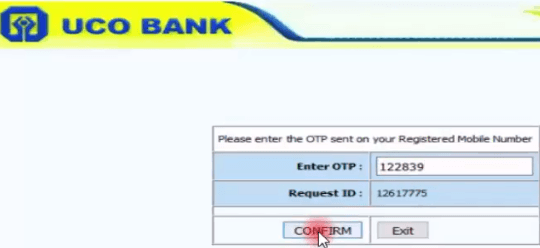 Step 4: After submitting the account number and transaction details, you will be redirected to a new window where you will have to enter the OTP which has been sent to your registered phone number. Enter the one-time password and click the 'confirm' button.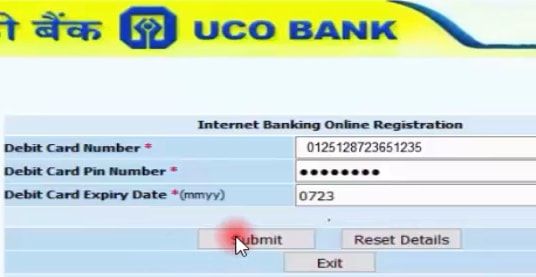 Step 5: After verifying with the OTP you will be redirected to the next page for the Debit card verification process, where you need to enter your debit card details like Debit card number, expiry date, and along with pin through the virtual keyboard. Enter all details and click the 'submit' button.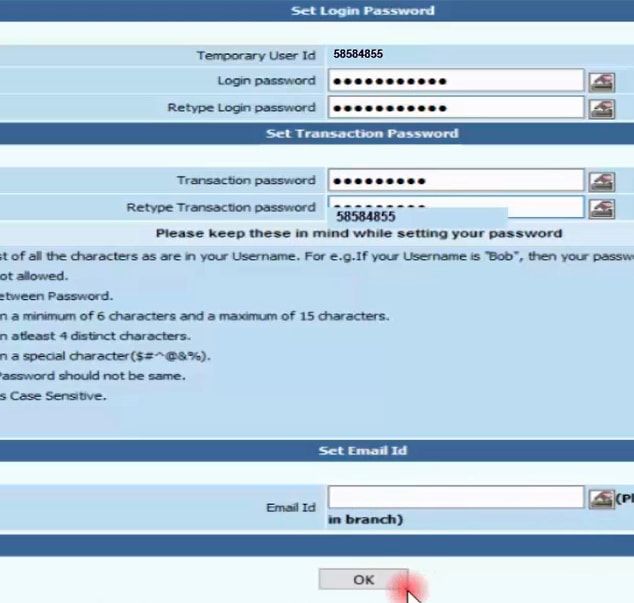 Step 6: After successful verification of debit card details, the temporary user ID will be generated and the next step is to create the login password and transaction password. After entering their email id along with login password and transaction password users can finish this step by clicking on 'Ok'.
Important Notes: The user will get a confirmation message on their registered phone number the user ID thus created should be noted for the first time login.
Finally, a temporary user id will be created to access internet banking, but it will be activated after one working day.
If you are trying to log in before activation, you will get the error Application set up error.
So, this is the simplified step-by-step method to register for UCO bank internet banking online. We suggest you follow each step carefully to get a valid User ID and password for the internet banking facility.
To avoid fraudulence issues never ever share your personal information like debit card number, Pin, or expiry date over the phone/SMS/email because we do not ask for such details from our valuable customers.