Do you have an account with Corporation Bank? What is the nature of the account? Is it Retail banking or Corporate Banking? If you individually operate the account, then it is categorized under Retail Banking, and if you have opened the account jointly or in a partnership or for a limited company, the account will get categorized under Corporate Banking.
Do you have access to Corporation Bank's Internet banking facilities? For Retail Banking, you would require User ID and Password to login to your net banking account, but for Corporate Banking, you would require a Domain ID.
The Domain ID consist a set of User IDs and passwords to Log In. You can obtain the Domain ID and Passwords from the bank upon request! The bank will also provide authorization passwords for the User IDs in the Domain ID.
Obtain the Domain ID at the bank upon request
As specified by the customer, the bank will provide viewing rights and payment rights to specific User IDs. The customers with specific User IDs can perform Fund Transfer, Opening Deposit, and other transactions.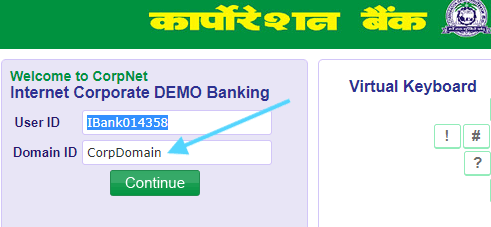 But without the authorization of another user having authorization rights, the customers can't access the services. Obtain the authorization right after logging into the Internet Banking services with the provided User ID and Password. To obtain approval, you need to provide the Authorization password.
Note: User IDs and Passwords are cases sensitive so make sure to enter those without any errors.
To access Internet Banking services for Corporate Banking, obtaining Domain ID is essential. If the account gets categorized under Corporate Banking, the bank will provide you the Domain ID with the set of User IDs, Passwords as well as Authorization Passwords.
Make sure to apply and activate Internet Banking services to reap the benefits. Keep the Domain ID, User IDs, Passwords, and Authorization Passwords secure.